People tend to think of Africa as a country, not a continent. But with 54 countries calling it home, Africa's topography, landscape, and activities vary drastically by region. To make it easier for you to plan a trip, I've highlighted some of the most popular National Parks in Africa for your next Safari challenge in Africa
1. Serengeti National Park (Tanzania)
#1 Best National Park in Africa
The Serengeti is one of the most famous parks in Africa and is synonymous with wildlife and classic African scenery. It is Tanzania's oldest park and a Unesco World Heritage Site. It is home to the spectacular wildebeest migration and offers top-class wildlife viewing throughout the year.
Every year, over 2 million wildebeest, zebra and gazelle migrate from the Serengeti to the Masai Mara Reserve in Kenya. If you're there at the right time, you can spot herds of wildebeest and zebra stretching to the horizon.
The Serengeti offers some of the best wildlife viewings in Africa. All the major safari animals occur in great numbers. Cheetah and four of the Big 5 are easily seen, but rhino sightings are rare, and only black rhino is present. Aside from the big cats, many other predators can be spotted including spotted hyena (especially in the morning), jackal and bat-eared fox.
2. Masai Mara National Reserve (Kenya)
#2 Best National Park in Africa
The Masai Mara National Reserve is widely considered to be the greatest game park on earth. It is the most popular game park in Kenya, Africa's top safari destination. Masai Mara is the quintessential African safari destination – the original 'Out of Africa' safari setting of endless savannah plains teeming with wild animals. Even seasoned safari-goers are struck by the wildness and beauty of Masai Mara.
One of the main highlights of visiting this legendary 1800km² wildlife reserve in East Africa, is The Great Migration. This annual wildlife spectacle sees millions of wildebeest, zebra and gazelle stampeding across the plains in search of greener grass, from around July to October.
This top African game park is also home to large predator populations, including numerous lions, leopards, cheetahs and jackals, as well as large numbers of other wild animals and over 450 bird species. Encountering the local Maasai tribes in their bright red robes is another highlight of visiting Masai Mara Reserve. These proud and striking-looking traditional people live in and around the Masai Mara, coexisting with its wildlife.
3. Mana Pools National Park (Zimbabwe)
#3 Best National Park in Africa
Mana Pools is one of the best places to travel in Africa for the adventurous. It is definitely where to go if you are looking for a safari destination that places no restriction on unguided and guided walking. Better still, it offers the thrilling opportunity to canoe through one of Africa's most pristine wilderness wetlands in the form of the forest-fringed Zambezi River and a network of associated pools. Whether you paddle or walk, expect to see an abundance of elephants, hippos, buffalos, crocodiles and water-associated birds, It also harbours healthy populations of lion and leopard.
4. Etosha National Park (Namibia)
#4 Best National Park in Africa
While Namibia falls short of its neighbouring countries for sheer wildlife density, it does offer wonderful sightings of desert species, along with perhaps the best chance to watch the region's iconic cheetah in fleet-footed action.
Etosha National Park is undoubtedly the star of the country's wildlife line-up, but it can get busy during the dry season (from July to September) when the wildlife concentrates closer to the waterholes.
Affordable camps and well-maintained roads and tracks make this one of the best options for self-drive safaris, and floodlit waterholes (like Okaukuejo in the southwest) offer an unusual opportunity to watch lions, hyena and even black rhino at night.
5. Kruger National Park (South Africa)
#5 Best National Park in Africa

There is no doubt that Kruger is the king of all African safari parks. It's one of the ultimate safari destinations in the world and also your best chance to see the "big five" up close and personal.
The park is located in northeastern South Africa in the provinces of Limpopo and Mpumalanga and is huge—over 7,000 square miles in area. The park has been around for nearly a century and attracts thrill-seekers from all over the planet. To sleep right in the middle of the action, andBeyond Ngala Safari Lodge is a perfect fit for families as well as first-time and returning travellers. A walled courtyard provides a sheltered space to indulge in the first-class cuisine, while the boma (a traditional African enclosure) creates a stunning setting for fire-lit dinners.
6. Amboseli National Park (Kenya)
#6 Best National Park in Africa
Crowned by Mount Kilimanjaro, Africa's highest peak, the Amboseli National Parks is one of Kenya's most popular parks. The name "Amboseli" comes from a Maasai word meaning "salty dust", and it is one of the best places in Africa to view large herds of elephants up close. Nature lovers can explore five different habitats here ranging from the dried-up bed of Lake Amboseli, wetlands with sulphur springs, the savannah and woodlands. They can also visit the local Maasai community who live around the park and experience their authentic culture.
Amboseli has over 80 different mammals to be found ranging from the tiny (and rarely seen) spectacled elephant shrew to the huge bulk of the African elephant. Few visitors will go home without superb elephant pictures with Kilimanjaro as a backdrop. There are over 400 bird species.
7. South Luangwa National Park (Zambia)
#7 Best National Park in Africa
Experts have dubbed South Luangwa to be one of the greatest wildlife sanctuaries in the world, and not without reason as the park offers uncrowded wilderness combined with a spectacular concentration of wildlife. With its western and northwestern edge bounded by the Muchinga Escarpment and the southern border lined by the meandering Luangwa River, there's no shortage of dramatic topography in this stunning park. Concentrations of the game along the river and on the wide-open plains are amongst the most intense in Africa. The park is especially known for its sightings of the elusive leopard and packs of wild dogs.
8. Bwindi Impenetrable National Park (Uganda)
#8 Best National Park in Africa
One of the world's most endangered and fascinating creatures, the gorillas are found in just a few select national parks in Africa, and Bwindi in Uganda is one of those magical spots where you can undertake gorilla trekking.
Home to over half the world's population of gorillas, this UNESCO-listed forest is probably the place where you have the best chance of spotting these beautiful beasts in the wild and the misty mountain trek to get to them will only heighten your anticipation!
Having the opportunity to watch a family of one of our closest relatives in the wild is an experience that might not be available forever and certainly one you'll never forget, so get Bwindi on your bucket list asap.
9. Okavango Delta (Botswana)
#9 Best National Park in Africa
This delta in north-west Botswana is one of the very few major interior delta systems that do not flow into a sea or ocean, with a wetland system that is almost intact. The delta is affected by seasonal flooding with floodwater from Angola reaching the Delta between March and June, peaking in July. This peak coincides with Botswana's dry season resulting in great migrations of the game from the dry hinterland. A UNESCO's World Heritage Site since 2014, the delta is an oasis in an otherwise dry environment the Okavango Delta. Protected by the Moremi Game Reserve on its eastern edge, the delta is known for its superb wildlife sightings and also houses some of Africa's most exclusive lodges.
10. Mahale Mountains National Park (Tanzania)
#10 Best National Park in Africa
Set among the spectacular, forested slopes of the Mahale Mountains, the Mahale Mountains National Park was originally created to protect the thousands of chimpanzees that inhabit the region. It is renowned for its fantastic sunsets over Lake Tanganyika, which makes it an essential stop for keen photographers and safari enthusiasts.
The park's breathtaking array of habitats include rainforest, grasslands, alpine bamboo and woodlands; where some 50 species of animals have been recorded, predominant among these being representatives from various monkey and ape families, and over 90 unique species of fish swim in the clear waters of the lake.
11. Virunga National Park (DR Congo)
#11 Best National Park in Africa
Those looking for enormous biodiversity should head to the first national park in Africa – the Virunga National Park. Visitors will be enthralled to witness rainforests, volcanoes, mountains with glacial peaks, savannas, swamps and more at this most biologically diverse part of the continent. Climb to the top of the Nyiragongo Volcano and you'll be able to see an expansive 360-degree view of the largest volcanic lake in the world.
In fact, Virunga was featured in the 2014 documentary called 'Virunga' that showcased the park's efforts to protect the nearly extinct mountain gorillas who live here. The motion picture also showed how the dedicated group of forest rangers running this first national park in Africa work every day to ward off poachers. The park is also home to chimpanzees and lowland gorillas. The Park is Best Known For Mountain Gorillas, Varying Topography, Volcano.
12. Isalo National Park (Madagascar)
#12 Best National Park in Africa
The Isalo National Park is a natural rock massif giving a reminiscent great America West vibe. Stroll through this Jurassic setting;, alternating between deserted landscapes and verdant canyons.
You will roam in completely arid zones with various colours and shapes. When you enter the forest, it is not unusual for a lemur or a harmless serpent to welcome you.
You can roam on the rocks along the small streams, watch the Nymphs waterfall (which has carved the rock over time), or you can take a dip in the blue pool (a refreshing break during the excursion).
The black pool is also worth a visit, but you are recommended not to bathe in it because the water is frozen.
The Isalo Park is a habitat to endemic apicultural vegetation in its massive ruiniform from the Jurassic era. There are 116 medicinal species, and timber for furniture and handicrafts.
The forest is carpeted by the "Tapia," food of the landibe, a silkworm. You will also find a very specific fauna of the region but also many lemurs.
The park has 77 species of birds, where 70 per cent are endemic – such as the Benson Rockbill, which is only found in Isalo. You will also find many other animals such as rock reptiles, giant eels and crocodiles!
13. Tarangire National Park (Tanzania)
#13 Best National Park in Africa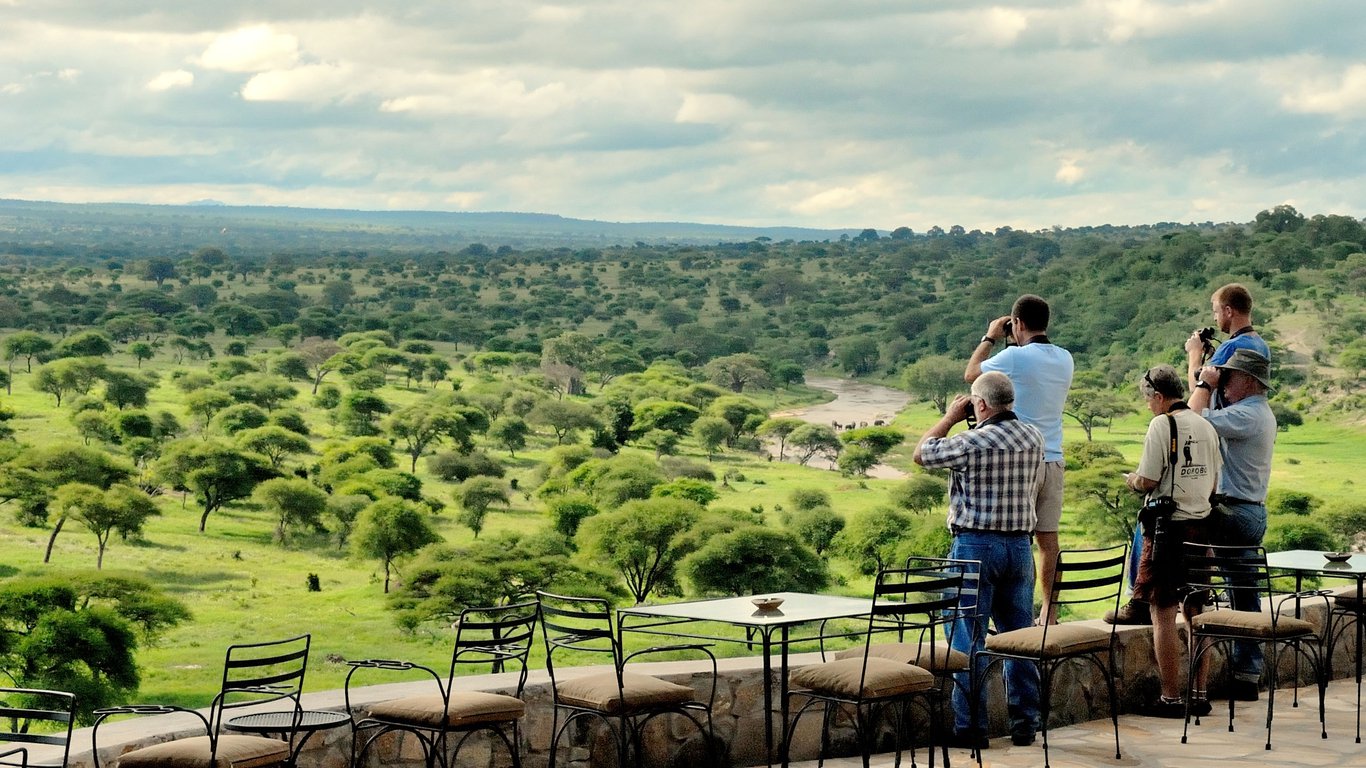 Tarangire is one of the more seasonal parks in northern Tanzania, with a lot of migratory movement within the greater Tarangire ecosystem. In the Dry season, between June and October, large herds of animals are attracted to the Tarangire River. At this time, the elephant numbers are spectacular and the park should be part of any safari in northern Tanzania.
Herds of up to 300 elephants can be found, looking for underground streams in the dry riverbeds, while migratory wildebeest, zebra, buffalo, impala, gazelle, hartebeest and eland crowd the shrinking lagoons. Abandoned termite mounds often house mongoose colonies. All the main predators are present, but because of thick vegetation, not spotted as often as in some of the other parks in northern Tanzania.
14. Ngorongoro National Park, Tanzania
#14 Best National Park in Africa
Part of the Serengeti, Ngorongoro National Park is located in Tanzania. It is largely populated by native Maasai pastoralists. Ngorongoro means 'gift of life' in Maasai. The park is also the site of the Ngorongoro Crater, which was created after a large volcanic explosion. Today, none of the head administrators for the park are actually Maasai. In fact, those in charge intend to eradicate 40,000 of the 65,000 Maasai people living on this land to make it more suitable for luxury hotels that cater predominantly to foreign tourists. The park, though extremely beautiful in its own right, raises questions about the ethical side of park governance with regard to the locals.