Tanzania has dedicated more than 42,000 square kilometers more than one-third of its territory- a uniquely high proportion of land to the formal protection of its wildlife as National Parks and Game Reserves despite its growing population pressures.
The existing park system protects a number of internationally recognized bastions of biodiversity and world heritage sites thereby redressing the balance of deforestation, agriculture, and urbanization that is threatening Tanzania's remaining wilderness. In this, Tanzania has successfully resisted the temptation to cash in on the short term gains of mass tourism. Here are the Best National Parks In Tanzania in 2020
1. Serengeti national park
The Serengeti is one of the world's most evocative names. Calling to mind sweeping savannah vistas, silhouetted acacia and shimmering red sunsets, the Serengeti deserves its place at the top of the safari circuit. It is Tanzania's most popular and most extensive national Park (14,763 square kilometres, or 5,700 square miles), bordering Kenya in the north, Ngorongoro Crater in the east and stopping just shy of Lake Victoria in the west. It was recently declared to be a wonder of the natural world and is a UNESCO World Heritage Site.
The most famous event in the Serengeti is its annual migration, where hundreds of thousands of zebra and Thomson's gazelle and millions of wildebeest move across the plains to greener pastures. The rest of the year, herds of buffalo, elephant, giraffes, eland, topi, kongoni, impala and Grant's gazelle can be spotted in the thousands, followed by the pride of lions and solitary leopards, cheetahs and jackals, as well as a range of smaller predators.
The Serengeti is famous for offering encounters between predators and prey, and its flat plains provide a perfect stage to watch animals interact with each other. For birders, the Serengeti does not disappoint – over 500 bird species have been recorded, from black eagles to ostrich, to the extremely rare Beasley's Lark.
How To Get To Serengeti National Park
Arusha is the gateway to the Serengeti, Ngorongoro Crater, Tarangire and Lake Manyara, and most safaris in the Serengeti will begin and end there. The town can be reached easily by scheduled or charter flights directly to Arusha or connecting through Dar es Salaam. It is also accessible by road.
Where To Stay At Serengeti National Park
Serengeti National Park has a wide variety of accommodation for any budget.
Best Time To Visit Serengeti National Park
The annual migration can be unpredictable, so if your heart is set on seeing it make sure to allow yourself a few days of buffer room. Depending on rainfall, the wildebeest spend the wet season in the south-east and the dry season in the north-west, migrating between December and July. Contact your safari company for more information about migration times each year. To see predators, the best times are between June and October.
What To Do At Serengeti National Park
Apart from the obligatory safari game drives, walking and cycling safaris can also be arranged. Hot air balloon safaris are hugely popular and offer a different perspective on the part. Cultural trips to local villages and important cultural sites with traditional rock paintings are also a highlight of the region. Neighbouring locations include Ngorongoro Crater, Olduvai Gorge, and Lake Natron.
2. Ngorongoro crater conservation area
The Ngorongoro Conservation Area is quickly becoming as famous as the neighbouring Serengeti Plains for its varied habitats, famous crater and affluent wildlife populations. Located between the Great Rift Valley and the Serengeti, the Conservation Area is known for almost guaranteed sightings of the Big Five (elephant, buffalo, lion, rhino and leopard).
The varied environments of the Conservation Area include plains, bush, forests, and rolling volcanic peaks and turrets. Its saline lakes are home to large flamingo populations, as well as migrant populations of birds such as cranes, storks and wagtails.
Within the Conservation Area lies the Ngorongoro Crater, known as the eighth natural wonder of the world. Virtually all the Big Five live or travel within the crater rim, while along its edge, Maasai tribesmen graze goats and cattle on the highland plateaus. As a protected area, only Maasai (approximately 42,200) are allowed to live within the Conservation Area and graze their animals around and within the crater. The crater provides a safe environment for the highly endangered black rhino, which number approximately 24 within the crater.
Olduvai Gorge is another main attraction of the Conservation Area. The steep ravine is the location where, in 1959, anthropologists Louis and Mary Leakey discovered a 1.8 million-year-old hominid skeleton. That and many other significant early human fossils found in the gorge make Olduvai one of the world's most important anthropological sites.
How To Get To Ngorongoro Conservation Area
Arusha is the gateway to the Ngorongoro Conservation Area, and most safaris from Arusha will include both the Serengeti and the NCA. The town can be reached easily by scheduled or charter flights directly to Arusha or connecting through Dar es Salaam. It is also accessible by road.
Where To Stay At Ngorongoro Conservation Area
Arusha has a wide variety of accommodation for any budget. Within the Conservation Area, there are lodges of all types and comfort levels. Check out our accommodation section for listings and details
Best Time To Visit Ngorongoro Conservation Area
The population of the crater remains relatively stable year-round, making Ngorongoro the right choice for a safari at any time of year. However, the rainy season (April and May) may mean fewer people and more slippery roads.
What To Do At Ngorongoro Conservation Area
As Ngorongoro is included in many Serengeti and area safaris, many of the same day trips apply – hot air ballooning, cultural trips and visits to other parks. The best thing one can do in the Ngorongoro Conservation Area is to sit back and relax on a game drive while taking in the Big Five and one of the unique environments in the world.
3. Mount Kilimanjaro national park
East Africa's most visually arresting landmark and the tallest free-standing mountain on this earth is the crowning glory of Kilimanjaro National Park. The Park encompasses its entire eponymous mountain above the natural tree line (approximately 2,700 meters) as well as six trailing sections of forest.
Kilimanjaro, at 19,336 feet (5,895 metres), is a breathtaking and evocative massif and is the highest peak in Africa. It is also one of the world's only summits of similar height that can be accessed by a wide range of hikers of different fitness levels and preparedness. It is one of the world's great adventures and a draw for mountaineers and thrill-seekers the world over.
The Park itself displays an astounding variety of environments. At lower altitudes, mountain forest rings the snow-covered peak, providing a home for elephants, buffalo, primates, and even leopards. Climb higher, and the forest is overtaken by moorland topography, with giant bluish-purple lobelias in riotous bunches. Higher still and life starts to become visible only in hardy moss and lichen in an alpine desert environment. And then, the ascent takes you to a glacier of snow and ice. There you stand, on the roof of Africa.
How To Get To Mount Kilimanjaro
Moshi is the jump-off point for Kilimanjaro, but it can be easily accessed within a day from Arusha (approximately 80 miles/128 km away). It is about a one-hour drive from Kilimanjaro International Airport.
Where To Stay At Mount Kilimanjaro
There is a variety of accommodation in Moshi that will meet most budgets. Camps and huts are spaced throughout the Park.
What To Do At Mount Kilimanjaro
Climbing the famous Mount Kilimanjaro is what brings most travellers to this Park. The hike takes at least five nights of acclimatization to avoid altitude sickness. Other hiking trails are available, with varying levels of difficulty from nature trails to mountaineering. A crater lake on the south-eastern side of the mountain is a beautiful hike.
Best Time To Visit Mount Kilimanjaro
Avoid the rainy season between late February and June. The best season for visibility and temperature is between December and February.
4. Tarangire National Park
Tarangire National Park is quickly making a name for itself as a can't-miss destination on the northern safari circuit. Just south-east of Lake Manyara, Tarangire has the most wildlife concentration outside the Serengeti. Dry river beds, Rift Valley wild bushland, lagoons and swamps and savannah are all on display here, home to countless animals.
The confluence of several topographies in a relatively small space leads to an impressive amount of biodiversity, with animals typically dwelling in dry bushland rubbing shoulders with typical wetland species.
Wildebeest, zebra, buffalo, impala, gazelle and other antelope species gather in astonishing numbers. Elephants have been spotted in Tarangire in herds of up to 300. Tarangire is known as one of the few parks where lions have been spotted climbing trees, along with leopards and large, prehistoric-looking pythons.
Bird lovers will be at home in Tarangire, with over 550 bird species filling it with song. The Kori bustard (the world's most massive flying bird) and ostrich lumber impressively throughout the Park, while above them countless lovebirds, starlings and migratory birds will keep birders very busy.
How To Get To Tarangire National Park
Tarangire is an easy drive southwest of Arusha. It's an excellent addition to a Serengeti and Ngorongoro Crater safari. Charter flights direct to the Park are available from Arusha and the Serengeti.
Where To Stay At Tarangire National Park
There are several options within Tarangire itself, including lodges, one tented lodge, two luxury camps and several basic campsites. Outside Tarangire, there are several lodge and camp options.
What To Do At Tarangire National Park
When visiting Tarangire, take advantage of its location to visit traditional Maasai and Barabaig villages and learn a little about the culture and traditional handicrafts of the region. Ancient rock paintings are visible throughout the area and provide a fascinating day trip.
Best Time To Visit Tarangire National Park
Like the Serengeti, Tarangire is a great destination year-round, but the best times to visit when the animals are overwhelmingly present is between June and September (dry season).
5. Mikumi national park
Mikumi National Park is the fourth largest in Tanzania and adjacent to the Selous Game Reserve, Africa's largest reserve. The Park is southwest of Morogoro and ringed by the Uluguru, Rubeho and Udzungwa Mountains. The topography of the Park includes thick woodland, grass plains and mountainous foothills.
Colourful birds (over 400 species) flit about the Park throughout the year, joined seasonally by migratory birds from Europe. The Park is host to a unique elephant population, along with easily spotted zebra, giraffe, wildebeest, impala and buffalo. The Park's Mkata River provides shade and grazing for the Park's herbivore population, and the Mkata floodplain virtually guarantees a spotting of the largest antelope in the world, the eland. Lions can be found as well for the lucky and dedicated viewer.
Along with Lake Manyara, Mikumi is one of the few places in Tanzania where lions have been found climbing trees to escape wet earth during the rainy season.
How To Get To Mikumi National Park
Mikumi is one of the most easily accessed parks from Dar es Salaam. Just a short distance from Morogoro on a dirt road, it is about a four hour from Dar es Salaam. Dar es Salaam can be reached by a wide variety of international scheduled flights. Local buses can be taken from Dar es Salaam to the park headquarters, where game drives can be arranged.
What To Do At Mikumi National Park
Mikumi is best on private game drives or guided walks. Nearby parks to include in a journey include Udzungwa or the famous Selous.
Best Time To Visit Mikumi National Park
Mikumi is an excellent year-round destination, with good wildlife viewing in both the wet and dry seasons.
6. Arusha national park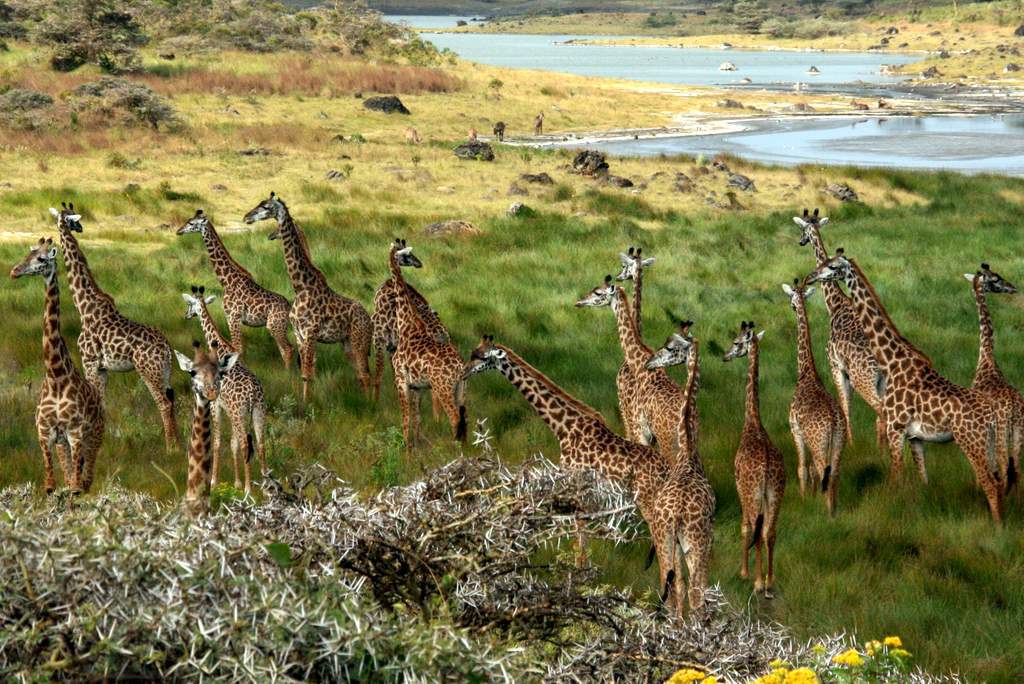 Arusha National Park is often overlooked by tourists heading to the more famous Serengeti or Lake Manyara. Those who find the times to visit, however, are rarely disappointed by the diverse population of wildlife just a virtual stone's throw away from Arusha. The Park is the perfect location for a half-day trip for those who are time-pressed or just dying for a little more after a northern circuit safari.
The National Park is home to a large portion of Mount Meru, the second-highest mountain in Tanzania. The striking monolith towers high above the national Park. Their 212 square miles encompass much of the eastern side of the mountain including the summit's 3.5 km-wide Meru Crater and the slightly smaller Ngurdoto Crater. The Park also contains the shallow Momela lakes, which attract a variety of wildlife to their alkaline waters.
The National Park's wildlife includes elephants, giraffes, zebras, hippos, buffaloes, warthogs, antelopes, and primates such as playful colobus and blue monkeys. If you're fortunate, you may even spot a leopard or hyena! Arusha National Park is also a haven for birders, with almost 600 different species and a variety of plentiful butterflies.
How To Get To Arusha National Park
The Arusha National Park is a 40-minute drive northeast of Arusha. Flights into either the Arusha town airport (ARK) or Kilimanjaro International Airport (JRO) are frequent and served by several airlines. The town can also be reached by road (private transportation or bus) from Nairobi or Dar es Salaam.
Where To Stay At Arusha National Park
Arusha has a wide variety of accommodation for any budget. Within the National Park itself, there are two lodges, two mountain huts, two rest houses and camping facilities.
Best Time To Visit Arusha National Park
The best time to visit Arusha National Park is between June and February to avoid the heavier rainy season. Short rains occur in November. The best views of Kilimanjaro from the Park can be found between December and February. For wildlife viewing, the Park is great at any time of year.
What To Do At Arusha National Park
The Arusha National Park is a perfect half-day wildlife or birding safari from Arusha town. Forest walks are well marked, and there are many picnic sites within the Park. Many people use the three or four day Mount Meru climb as acclimatization for Kilimanjaro, but it is a beautiful and excellent hike in its own right. Permits to climb the mountain last 12 hours and can be arranged through any Arusha tour operator.
7. Gombe stream national park
Gombe stream national park is a tiny park with a vast and vital place in Tanzania's history. In 1960, its population of chimpanzees was the subject of jane Goodall's pioneering behavioural research program. Now a world-famous example of animal research, the study continues on the site today. At only 52 square kilometres, Tanzania's smallest Park contains the perfect conditions for the fragile chimpanzee's habitat.
Just north of Kigoma, the Park covers the slopes and valleys that line the northern shore of Lake Tanganyika. It is one of the best places to view primates in Tanzania. It is home to beachcomber olive baboons (also subjects of behavioural research) and two different types of colobus monkeys. The baboons are friendly and habituated to humans, while the monkeys tend to be more elusive. For birders, over 200 species abound in the Park.
The Park is also worth visiting for local culture. Lake Tanganyika is a working lake with a basin population of about 10 million people. The fishing villages in the region are friendly and exciting, where you can watch hundreds of small, traditionally built wooden boats bring in the day's catch.
How To Get To Gombe Stream National Park
Kigoma is the base for visiting Gombe stream national park and can be reached through scheduled flights from dar es salaam and Arusha. It can also be reached by rail (not for the faint of heart) from dar es salaam and Mwanza and by rough road from dar es salaam and Mbeya. From Zambia, Kigoma can be reached by ferry from mpulungu. To get to Gombe stream national park from Kigoma, take a local lake taxi (approximately three hours) or for a quicker trip, hire a motorboat (less than one hour).
Where To Stay At Gombe Stream National Park
There is a selection of guesthouses and lodges in Kigoma and around Lake Tanganyika. Within the Park itself, there is one lodge, a hostel and a guesthouse as well as camping facilities.
Best Time To Visit Gombe Stream National Park
The best time for chimpanzee viewing is the dry season, from July to October and then in December, but they can be seen throughout the year.
What to do at Gombe National Park
Most people visit Gombe primarily to see Goodall's famous chimpanzees. To make sure you see the chimpanzees allow at least two days – the chimpanzees roam freely throughout the Park so you can't always predict where they will be. Hiking, swimming and snorkelling in Lake Tanganyika can also be arranged. Village visits are recommended.
8. Ruaha National Park
Some safari goers want nothing but vast plains, miles of bush and a plethora of animals. For those travellers, the wide vistas, impressive game viewing, and sparse visitors of Ruaha national park are a dream.
At over 10,000 square kilometres, Ruaha is the largest National Park in the country, located west of Iringa in the eastern rift valley. The great Ruaha river borders the Park to the east, fertilizing the semi-arid topography during the torrential rainy season.
During the dry season, the waters of the Park recede, leaving only precious pools to satisfy both predators and prey. During the dry season, the Park can look like a lifeless mass of dirt and rock, but look closer – an impressive variety of game animals make their home in the Park.
Ruaha has one of the highest diversities of antelope in Tanzania, including one of the country's largest populations of the magnificent greater kudu. The greater kudu is one of the largest antelope species and is known for its impressive twisting horns.
Along with many other antelope species, the greater kudu is hunted in Ruaha by large pride of lion and solitary cheetahs and leopards. One of Ruaha's crowning glories is the large packs of African wild dogs, one of the most endangered animals in the region. Hyenas are also spotted in the Park.
As with most Tanzanian parks, a remarkable number of bird species are found in the Park – some 450. The convergence of acacia grassland and semi-arid bushland make Ruaha a meeting place for birds from a variety of habitats.
How to Get to Ruaha National Park
Ruaha is 128 kilometres (80 miles) west of Iringa. Scheduled and charter flights to the Park itself are available from Iringa, dar es salaam, Selous, Arusha and Mbeya. The Park can be reached by road from Iringa, and Iringa is accessible year-round by road from dar es salaam (10 hours) and Dodoma.
Where to Stay at Ruaha National Park
camping (budget and luxury) facilities are available, as well as park-owned rest houses, school hostels, cottages and single rooms. Private facilities of all types are available. Outside the Park, there are also various lodges.
What To Do At Ruaha National Park
Ruaha is particularly well suited to day walks and hiking safaris. Near Iringa lies isimila, one of the essential stone age historical sites in Africa. Found in the 1950s, the tools found at the site could be up to 100,000 years old.
Best Time To Visit Ruaha National Park
For game-viewing, the best time to go is the dry season (mid-may – December), when receding water draws animals together. Wet season (January – April) is excellent for birdwatching and wildflowers.
9. Katavi National Park
If you're feeling tired of the tourist scene in the safari circuit, Katavi national park will without a doubt cure what ails you. The Park is isolated and difficult to get to but rewards the dedicated visitor with almost unparalleled wildlife viewing during the dry season.
The Park is Tanzania's fourth-largest at 2795 square miles (4471 square km). While no scenery in Africa is boring, it is less spectacular than the Serengeti, until you get a glimpse of the Park's residents. Abundant throughout the year, the Park's wealthy wildlife population concentrates an astonishing number and variety when water sources recede during the dry season. Elephant, giraffe, zebra, lion, eland, gazelle, and many more can be seen, as well as over 400 bird species.
The feather in Katavi's wildlife-viewing cap, though, is undoubtedly the hippo pools. As the dry season goes on, water recedes further and further, forcing hippos to gather in ever-tighter spaces. The famously aggressive animals can only take so much close contact, and fights and rivalries between male hippos are frequent and bloody. This rare (in other parks) scene is a unique opportunity to view the raw power of some of Tanzania's most notorious animals.
How To Get To Katavi National Park
The park headquarters are near the town of Mpanda. You can take the stunning daylong drive from Mbeya (340 miles/ 540 km) or Kigoma (dry season only, 240 miles/385 km). Mpanda can also be reached by public transportation from dar es salaam, or charter flights from Arusha or dar es salaam.
Where To Stay At Katavi National Park
Basic, decent hotels are available at Mpanda. Basic and luxury tented camping facilities and a rest house are available inside the Park itself.
What To Do At Katavi National Park
Its isolation means services and activities are somewhat limited in Katavi and mainly limited to camping safaris, walks and game drives.
Best Time To Visit Katavi National Park
Katavi's game viewing is spectacular throughout the dry season from May to October.
10. Rubondo island national park – Tanzania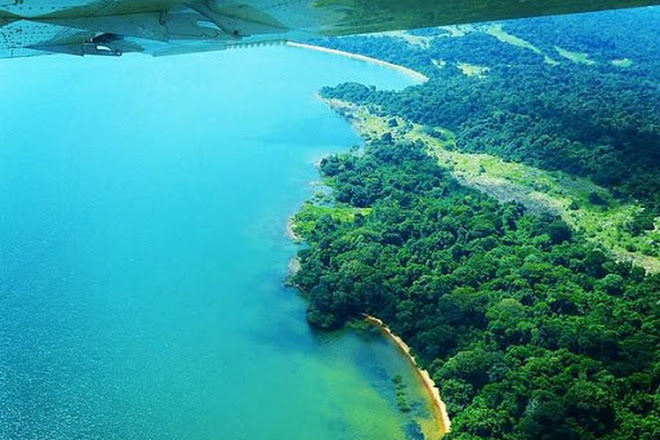 Rubondo island national Park rises out of the southwestern waters of Lake Victoria, surrounded by tiny islands. These sentinels welcome you to one of Tanzania's most well-preserved wildlife sanctuaries.
Being an island, rubondo's waters teem with freshwater fish. Recreational game fishers have caught Nile perch of over100kg. Tilapia are abundant and form the main diet of the island's resident otter population. Onshore, sandy beaches disappear into a wall of untouched forest, a lush, mysterious wood of sycamore figs, palms and tamarinds scented by wild jasmine and containing over 40 different types of orchid.
This oasis attracts a remarkable bird population, both resident and migrant. Papyrus swamps provide an excellent environment for the sitatunga, the shyest antelope species, as well as hippos and a variety of waterbird species. Mongoose, hippos and several types of monkeys are indigenous to the island, while other species such as chimpanzee, elephant and giraffe have been introduced to the isolated island.
How To Get To Rubondo Island National Park
During high season, scheduled and charter flights are available from Mwanza, Arusha, Lake Manyara, Serengeti and dar es salaam. Charter flights only are available during the low season. The Park can be reached by road from Mwanza (includes a boat transfer to the island). The best idea is to contact park staff before planning a trip to Rubondo for transportation details.
Where To Stay At Rubondo Island National Park
Park facilities for accommodation include a hostel, a campsite and self-catering bandas for visitors. One private luxury camp is operating on the island.
What to do at Rubondo island national park
The best activity on Rubondo island is merely enjoying the pristine, untouched environment. Boating and sport fishing are popular activities making the most of the Park's unique environment.
Best Time To Visit Rubondo Island National Park
For birders, the best time to go is between December and February, when hordes of migratory birds descend upon the island. During the dry season (June to August), blooming wildflowers attract thousands of butterflies.
11. Kitulo national park – Tanzania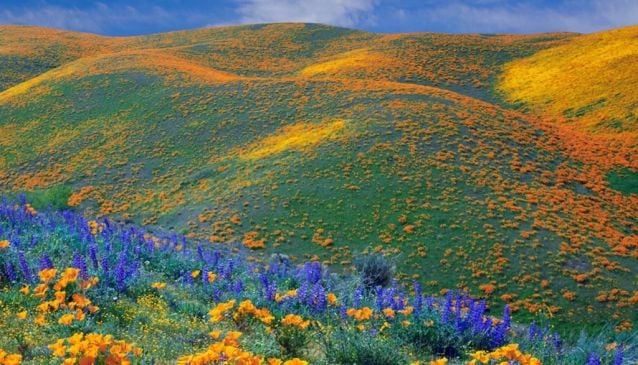 Kitulo national park is a botanist's dream. The Park encompasses some of the more important flora species in Tanzania, on display in diversity and vitality like few other places in the world. Three hundred fifty vascular plant species, including no less than 45 terrestrial orchid varieties, are found in the remote grassland plateaus that comprise the Park. Kitulo is located within the kipengere mountain range between Mbeya and njombe.
While the Park will certainly delight flower enthusiasts and hikers in search of a glorious view – especially during blooming season – it's also a haven for birders. Kitulo is the only place in Tanzania to spot the rare Denham's bustard. Endangered blue swallows, kipengere, mountain marsh widow, and other mountainous bird species can be viewed in abundance.
While the big game is hard to find – apart from a few mountainous ungulates – chameleons, lizards and butterflies also abound. With those views, you won't even miss the big five.
How To Get To Kitulo National Park
The Park can be accessed by 4×4 only, so make sure your safari is fully arranged before you go. Headquarters are about 60 miles south-east from Mbeya. The road is rough but packs your camera – spectacular views begin before you reach the Park.
Where To Stay At Kitulo National Park
Mbeya is the most popular jump-off point for Kitulo and offers accommodations from budget to luxury. Simple accommodations can also be found in matamba and matema beach.
What To Do At Kitulo National Park
Apart from gawking at the orchids, Kitulo offers some of the best hiking in southern Tanzania. Good trails ranging from less than an hour to a half-day are easy to find, or just wander across the wide grassland plains. Lake nyasa's matema beach is well worth the half-day hike across Livingstone mountains.
Best Time To Visit Kitulo National Park
Wildflowers erupt at their most abundant between December and April. September and November are prime for hiking, but good hiking can be found throughout the year. Between June and august, visibility suffers.
12. Singita grumeti reserves – Tanzania
Just west of the Serengeti lies a vast private reserve with stunning views, luxury accommodations and a front-row seat to one of the greatest natural shows on earth. Singita grumeti reserves is a private enterprise, leased by Paul Tudor jones as a conservation project and eco-safari. The name of the game here is eco-luxe, with two opulent lodges and a lavish tented camp available to rest a weary head after a long day of game drives.
The reserves are located in a prime location to view the magnificent great migration of over a million wildebeest (accompanied by hundreds of thousands of zebras). Off-season, wildlife viewing is still excellent and large predators like lions, cheetahs and leopards can be seen. The reserves offer everything a Serengeti safari can offer with the additional bonus of being one of a maximum of 54 guests in the 340,000-acre space.
How to Get Singita grumeti reserves
Flights from Kilimanjaro airport (just outside Arusha) visit the lodges regularly.
Where To Stay At Singita Grumeti Reserves
only 54 guests can be accommodated at one time in the Singita grumeti reserves. Two beautiful lodges and one luxury tented camp are available to choose from.
What To Do Singita Grumeti Reserves
safaris in Singita grumeti reserves are offered exclusively by Singita tours. Game drives, walks, and other options are available through the company.
Best Time To Visit Singita Grumeti Reserves
The reserve is closed during April and may. The best time to see animals is July to October.
13. Mkomazi national park – Tanzania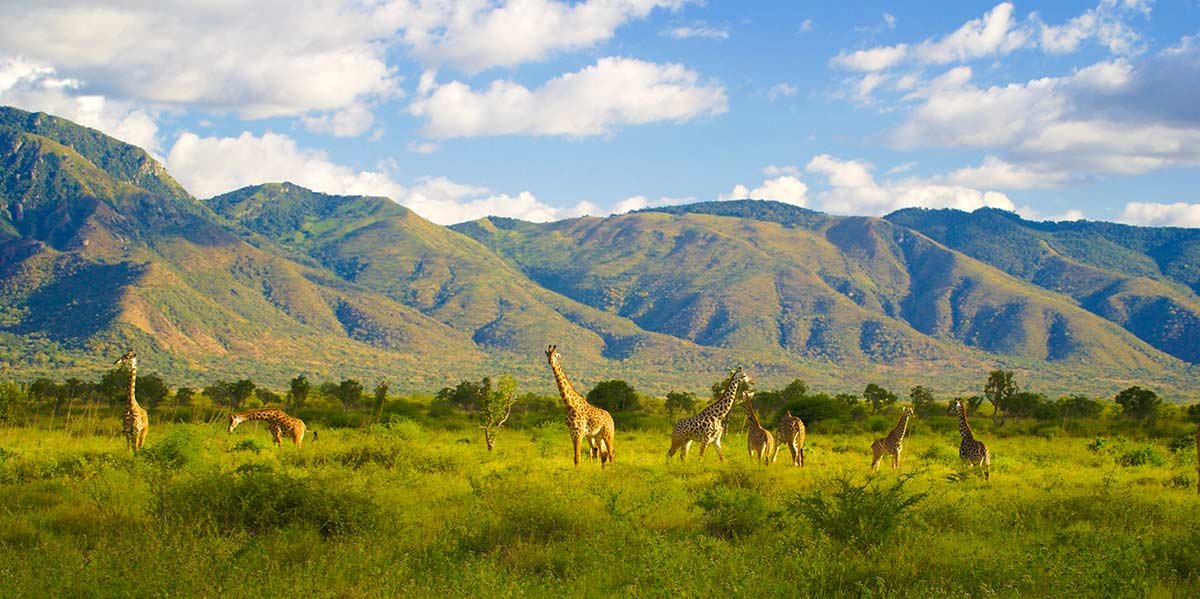 Mkomazi national park is Tanzania's newest Park and bridges the well-travelled northern circuit and coastal regions. Bordering Kenya's tsavo national Park to the north and encompasses the fantastic usambara and eastern arc mountains.
While still in its early stages and lesser known in the region, the Park has an important population of black rhino. The dangerously endangered species was reintroduced to the area in the 1990s and now live in a fenced sanctuary while the population is still in this fragile state. The equally endangered African wild dog was also introduced into the refuge of the Park in the 1990s and can be seen throughout the Park.
Other wildlife includes elephant, giraffe, eland, zebra and buffalo. Interesting ungulates to be found include the spiral-horned lesser kudu and the gerenuk, a species of gazelle known to stand on its hind legs and stretch its long neck to eat the upper levels of grazing foliage. There are also over 450 bird species to be found, from dry savannah species to soaring mountain birds.
The Park boasts a scenic vista of savannah populated by large baobabs, undulating hills, and the two important mountain chains.
How To Get To Mkomazi National Park
The Park is easily reached from Moshi by 69 road miles. It can also be reached from Arusha and dar es salaam by road (private vehicle, luxury bus or local buses are all available). The jump-off point for the Park is the town of same (accessible from the highway running between Arusha and dar es salaam). Charter flights can also be arranged. Visitors to the usambara and eastern arc mountains will find this a convenient way to incorporate a safari into a coastal mountain trip.
Where To Stay At Mkomazi National Park
Basic campsites with minimal facilities are available in the Park. For luxury-tented accommodation in the Park, babu's camp is approximately 2 hours from Arusha.
What To Do At Mkomazi National Park
The black rhino sanctuary is a highlight and an excellent place to learn about conservation activities in Tanzania. Game drives, walking safaris; mountain/hill hiking and bird watching are all available in the Park.
The Best Time To Visit Mkomazi National Park
The Park is at its most beautiful between march and June, when the flowers are blooming and the land is lush and green after the rains. Game viewing is best from late June to early September.
14. Saadani national Park – Tanzania
Saadani national park offers visitors the unique chance to combine a Tanzania game safari with the pristine white sand beaches of the Swahili coast. Saadani encompasses 1,100 square kilometres (430 square miles) of land just north of bagamoya. Typical east African bushland, sliced by the swami river, meet the turquoise waters of the Indian ocean all within the Park.
Grazers such as buffalo, warthog, a variety of antelope, hartebeest, eland and greater kudu can be spotted in the Park. Herds of up to 30 elephants wander with them, occasionally venturing onto the beach for stroll. Primates are abundant, particularly vervet monkeys and yellow baboons. Spotted hyena, jackal, leopard, and several lion prides make the Park their home.
The swami river is lined with mangroves, making a boat trip down it both surreally beautiful and a great chance to spot hippos, crocodiles, flamingos and an array of other sea and freshwater birds.
Another special feature of Saadani lies under the white sand of its beaches – seasonally, thousands of tiny turtle eggs. In part due to its status as a national park, Saadani forms one of the last significant green turtle breeding sites in Tanzania.
How To Get To Saadani National Park
charter flights to bagamoya are available from Zanzibar and dar es salaam. A public shuttle from dar es salaam goes three times per week (four each way), but road access can be shaky. The Park can be reached by road from dar es salaam, tanga and pangani, but during heavy rains the roads may be washed out.
Where To Stay At Saadani National Park
in the Park, several camping sites are available in bush, beach or riverside locations. Safari lodges, rest houses, bandas and tented camps are also available in and around the Park.
What To Do At Saadani National Park
Saadani's combination of bush and beach makes it an activity-filled destination. Take game drives and guided walks on land, and the next day take to the water with boat trips and swimming. Nearby Saadani fishing village is worth a visit.
Best Time To Visit Saadani National Park
Saadani is accessible by road throughout the year. The best time to go is June to February, but during the heavy rains (April-may) the roads may be impassable.
15. Udzungwa mountains national Park
Udzungwa mountains national Park is proof that Tanzanian tourism offers more than stellar wildlife viewing and beach destinations. The mountain chain, rising dramatically out of typical east African scrubland, is part of a series known as the eastern arc mountains, known colloquially as the African Galapagos for being one of the most biodiverse places on earth. The national Park encompasses udzungwa, the largest of the mountain chains and full of a wide range of endemic plant and animal species.
The mountains are covered in a thick blanket of forest, unique in Tanzania. It's canopy forest (forest with a full top layer of cover) begins at 250 metres (820 feet) above sea level and soars straight to over 2,000 metres (6,560 feet). Udzungwa primarily attracts hikers to the region. Several trails, ranging from a few hours stroll to several night treks, slice through the forest. The most popular trek is a half-day hike to sanje waterfall, where waters plummet 550 feet into a thickly forested valley.
Birders will find a feather for their cap with over 400 species of birds found in udzungwa, including four bird species found only in the Park. One such species is a forest partridge, discovered only in 1991, which proved to be more closely related to its Asian counterparts than any African bird.
Other species unique to udzungwa include two primates – the Iringa red colobus and the sanje crested mangabey. The mangabey was only discovered in 1979. Scientific exploration is ongoing in the Park, with the scientific community only just beginning to reveal and understand the treasure-trove of natural wonders udzungwa has to offer.
How To Get To Udzungwa Mountains National Park
Udzungwa is reachable by vehicle from dar es salaam or Mikumi national park.
Where To Stay At Udzungwa Mountains National Park
Self-catered camping is the only in-park accommodation option. Two basic lodges are situated just outside the park entrance.
What To Do Udzungwa Mountains National Park
Try the half day sanje hike (mentioned above), or for something more challenging, the two-night mwanihana trail ascends to the second highest peak in the mountain chain. Camping safaris are also available, though you'll find more traditional game viewing in nearby Mikumi national park.
Best Time To Visit Udzungwa Mountains National Park
The Park is accessible year-round, but the best time is during the dry season (June October), as it will offer the best hiking opportunities.
16. Mahale mountains national Park – Tanzania
On the borders of Lake Tanganyika lies a large park dominated by the mahale mountain chain and one of Tanzania's most impressive chimpanzee populations. The Park is located on a jutting peninsula of Lake Tanganyika, offering stunning views of the mountains just being the sandy beaches of the country's most beautiful lake. The mahale mountains are a photographer's dream, with six prominent peaks forming the skyline. The largest at 8,069 feet is nkungwe.
The Park's main attraction is its population of about 800 of the region's last wild chimpanzees. A small group of them (approximately 60) have been habituated to humans since the 1960s. Specific rules for interacting with the chimpanzees are enforced in the Park. Other wildlife to be seen includes red colobus and blue monkeys and an excellent variety of bird life.
The local people inhabiting the region, the tongwe people, have a fascinating historical relationship with the park region. Cultural tours and hearing the stories of the group is a fascinating way to explore the region.
How To Get To Mahale Mountains National Park
Mahale mountains national Park can be reached from Kigoma by chartered private or national park motorboat. The ride takes three to four hours depending on weather. Charter flights from dar es salaam, Arusha and Kigoma are also available. A slightly-off-the-beaten track option is to take the once-a-week steamboat from Kigoma, which takes seven hours.
Where To Stay At Mahale Mountains National Park
Two small rest houses, luxury tented camps and basic camping facilities are available within the Park. Kigoma offers a variety of accommodation from budget to luxury.
What To Do Mahale Mountains National Park
Chimp tracking is the Park's most popular activity. Allow at least two days as the chimps are unpredictable and move around often. Hiking and camping safaris are also available. Swimming, snorkelling, and fishing in Lake Tanganyika are a nice way to enjoy the privacy of one of Tanzania's least visited parks.
Best Time To Visit Mahale Mountains National Park
Dry season and the beginning of the wet season (May – November, with light rains beginning in October) are the best time for mountain hiking and forest walks.
17. Lake Manyara National Park – Tanzania
Lake Manyara National Park is one of the safari circuit's main attractions and is typically packaged with the Serengeti and Ngorongoro Crater. The lake's watershed creates a rich, green environment on a stage set by amazing views of the Great Rift Valley's western escarpment. Though the park is small (127 square miles (200 square kms), over half of which is covered by the lake during the wet season), it offers an excellent opportunity to view wildlife in lake and forest habitats.
The majority of the park's topography is forest or heavy vegetation, allowing animals to roam more privately and making viewing more intimate. Other habitats include swamp, acacia, plains and the lakeshore.
In these varied environments, elephant, buffalo, zebra, giraffe, warthog and a variety of ungulate species can be found. The park's hippo population is impressive. Predators include leopards and the park's famous tree-climbing lions.
For birders, more than 400 species can be found in astonishing volume and variety. Lake Manyara is home to thousands of pink flamingos. Hot springs are also found in the southern section of the park.
Getting There
Lake Manyara is approximately 80 miles (128 kms) west of Arusha on a nice road. It is typically visited en route to the Serengeti and Ngorongoro Crater, but day trips can be arranged from Arusha. Arusha can be reached by scheduled or chartered flights, and by road from Dar es Salaam and Nairobi.
Where t stay at lake manyara NP
Accommodations in nearby Karatu are plentiful and range from budget to luxury. Camping facilities and lodges are available within the park.
Lake Manyara National Park Special Campsites
Bagayo A Special Campsite
Bagayo B Special Campsite
Endabashi Riverside Special Campsite
Endabashi Lake Shore Special Campsite
Capacity of each camp / Beds: 20
What To Do
In addition to day wildlife viewing, nighttime drives can also be arranged to see the active nocturnal life of some creatures. Lake Manyara can also be canoed when water levels allow. Mountain biking is also a favourite activity in the park. Visits to Mto wa Mbu, a traditional market village, are recommended. Day safaris from Arusha can also be arranged.
When To Go
Between July and October is best for game viewing, and the wet season (from November to June) is excellent for lake activities and bird watching, making Lake Manyara a fantastic year-round destination.
18. Selous Game Reserve – Tanzania
The Selous Game Reserve is quickly becoming a wildlife-viewing gem in a country full of legendary game reserves. Tucked away into a less populous and less popular Tanzanian southeast, the reserve takes up over 5% of the country's total area and is the largest wildlife reserve in Africa. It's also an easy charter flight from Dar es Salaam, making it a popular destination for weekend safaris from the big city.
The Selous Game Reserve offers up close and personal wildlife encounters in a less busy environment than the Serengeti. It's home to some of the world's last wild black rhinos and the highly endangered African wild dog, along with elephants, antelopes, giraffes, lions, and a number of marine or river dwelling animals.
The Rufiji River Delta meanders through the Reserve before emptying out into the Indian Ocean just outside park boundaries. The Delta provides a habitat and excellent viewing point for hundreds of hippos, crocodiles, and birdlife. Follow the Rufiji to where it meets the Great Ruaha River and treat yourself to the unsurpassable views of Stiegler's Gorge.
Getting There
Charter flights are available from Dar es Salaam. The Selous is approximately 250km away from Dar es Salaam and is a full day's drive. The roads are rough, so a 4×4 is required.
Staying There
Camps, lodges and luxury resorts are all options for accommodation within the Reserve.
What To Do
Because the Selous is a game reserve, as opposed to a national park (like most other Tanzanian destinations), more activities are available. Along with game drivers, walking and hiking safaris, try fly camping or a boating safari to see the wildlife of the Rufiji River Delta.
When To Go
Dry season (mid-May to December) is the best time to see mammal life and action on the Delta. During the wet season (January-April), wildflowers bloom and attract countless birds to the lush green forest.