Are you seeking for the cheapest bank account in South Africa for your small business? If you answered yes, then this post is for you.
You will be provided with comprehensive information about the Best Banks Accounts For Small Businesses In South Africa 2021.
A decent business account for a small business owner should also allow him to make these disbursements without paying too many costs: yes, withdrawals should be extremely inexpensive.
You may spend money as much as you want, but if you don't do it properly, you'll wind yourself in financial trouble. As a result, a good small business account must consistently offer your account balance and history in a timely way.
This will also assist you in auditing your accounts and preventing illegal withdrawals.
A small business owner's mind is preoccupied with the survival of his business. That means he must continuously look for methods to improve his business's profitability and efficiency, as well as minimize waste.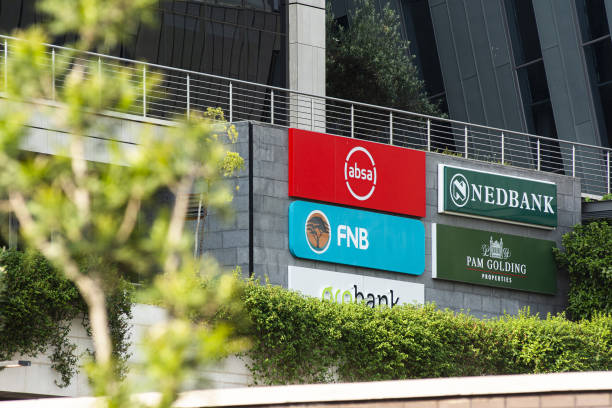 A decent small business and cheapest business account in South Africa should allow the businessman to retain significant quantities of money and discharge it in a timely and accountable manner: checks, internet transfers, ATMs, and so on.
Discover 10 Best Cheque Accounts In South Africa
16 Best Business Bank Account in South Africa 2021
1. Nedbank – Small Business Services
The Nedbank-Ecobank Alliance is South Africa's and Africa's biggest banking network. There are almost 2,000 branches in 39 countries that provide assistance to both large and small companies.
Their commitment to helping small business growth was demonstrated by the establishment of SimplyBiz, a network of like-minded entrepreneurs.
It offers valuable materials on a wide range of business solutions.
You have the choice of joining up for a pay-as-you-go or a fixed monthly cost account with them.
The former comes with an R60 administration charge. For medium and high frequency consumers, the Business Bundle 35 and 60 choices cost R259 and R420, respectively.
They also provide solutions for daily transactions, lending, and investment, as well as specialist solutions for industries such as agriculture and franchising (three cheers if one of these is also the focus of your business).
2. FNB Easy Account Smart
For small business owners, the FNB Easy Account might be a wonderful alternative. This FNB Account is available in two flavors.
The Easy Smart Option and the Pay-As-You-Use Option. We shall handle them individually because they are distinct in their own right.
The FNB Easy Account Smart is simple to open and comes with a slew of perks. The account only requires a monthly fee of R59 and provides the benefit of writing checks, which may be used to send workers to make purchases or even to pay your personnel.
Furthermore, the FNB simple account smart uses technology to make things more affordable for you.
You receive all payment notifications at no additional cost.
You may withdraw or deposit between R1 and R2 000 per month at any FNB ATM for free.
You can make an infinite number of card swipes at no additional cost.
Communication is essential in business, which is why the bank provides you with 300 MB of internet, 30 voice minutes, and 30 SMSs on your FNB Connect SIM. Interestingly, if you spend R51 or more on your FNB Connect SIM each month, you will receive an additional 300 MB.
You will also receive extra perks such as:
Checkers, Shoprite, Usave, Clicks, and Intercape all provide free R50 in eBucks.
You can choose to pay your monthly account charge using eBucks rather than account deductions.
Here our FNB Black Card Review And All You Need To Know 
3. FNB First Business Account
FNB's First Business Account is regarded as a great place to start for the technologically savvy sole owner with less than R5 million in annual revenue.
The digital option is excellent for people who want to utilize the FNB App, which allows them to bank at any time and from any location.
Other advantages of opening a business account with FNB include:
There are no monthly costs. There are no account fees, and you may swipe your cards as much as you like.
Accept payments quickly using QR Speedpoint®, which is accessible on the FNB App.
Constant connected – FNB offers a Connect SIM, which makes connecting simple, and you may be qualified for a free monthly bundle.
Simple cash flow management – You may quickly move any additional funds into your connected account. Savings Pocket
Business coaching for free – Fundaba on the FNB App provides access to a business coach at any time and from any location.
Learn How To Send, Receive And Reverse FNB EWallet Payments
For more established businesses, Gold, Platinum, and Enterprise Business Accounts are also available. You may use this selection guide, as well as the bank's price information, to determine which choice is the greatest fit for your business's needs.
4. FNB Easy Account PayU
FNB Simple Account PayU is a pay-as-you-use account. That is, if you do not use it, you do not pay. This is a business account that would be appealing to a businessman wanting to save money for future usage.
The only actual payment you make with this account is an R4.95 monthly service charge for account maintenance.
You get limitless card swipes with no additional fees or penalties.
You may use the FNB App to buy airtime and data, as well as conduct online banking activities, at no extra cost.
You will not be charged any additional fees or charges to get alerts.
Use your black Easy debit card to receive cash at Shoprite, Checkers, Pick 'n Pay, Boxer, and certain Spar & Usave stores with no additional fees or charges.
When you shop at Shoprite/Checkers/Usave, you may earn weekly grocery coupons.
Remember that the best thing this account can do for you is save you money. As a result, no wasteful spending.
Doscover the Universal Branch Codes South Africa – FNB, ABSA, Nedbank And Standard Bank
5. Nedbank Pay-As-You-Use-Account
The Nedbank pay as you use account is another excellent choice from Nedbank, geared for clients who prefer to pay for their services immediately rather than having their money taken at the end of the month even if they make no transactions.
This is a cheque account that will appeal to people who have a large number of disbursements to make each month.
This account has a zero-dollar maintenance charge.
You get limitless card swipes, debit and stop orders, and there are no yearly fees.
Bbalance inquiries via self-service channels are free of charge.
6. Capitec Global One Account
Capitec's Global One account aims to "help you bank better so you can live better."
Once you have a Global One debit or credit card, you will have several options for accessing funds and transacting globally.
This is accomplished through 29,000+ Capitec ATMs, 800 locations, a specialized banking app, and 24-hour Internet banking. Notably, there are no purchase fees everywhere in the globe when using your card to pay for petrol, shopping, phone orders, and so on.
Their minimum account balance is a very modest R25, and their monthly subscription cost is only R5—recognizing and promoting the reality that big businesses begin with little steps.
Check out their fees leaflet for more information on expenses related with transfers, withdrawals, and so on.
Find Out Capitec Bank Branch Code, Capitec Bank Universal Code And Swift Code
7. Discovery Bank Transaction Account
Many small business owners will undoubtedly find the Discovery Gold account appealing because it is one of the South African check accounts with cheap fees and extended advantages.
Many readers may find this incredible, especially given Discovery's extensive line of high-end items aimed to those with a lot of money to spend.
You may, however, find it intriguing that the bank offers this choice with some of its costs being fairly cheap. Please find them listed below.
You pay a monthly account fee of R5 with this account.
You are automatically enrolled in Vitality and pay a monthly premium of R5.
You only pay R4.50 + 1.5 percent of the withdrawal amount for cash withdrawals at local ATMs.
You pay R2 for each cash withdrawal at the local point of sale.
You pay R65 for each cash withdrawal from an overseas ATM.
Local and international point-of-sale swipes are free.
ATM balance inquiries are free without charge.
Payment alerts are provided at no cost.
Learn 15 Ways On How To Make R1000 Per Day In South Africa
8. Bidvest Bank – Business Bank Account
Bidvest's Business Bank Account gives you quick and easy access to an online banking system that allows you to conduct both domestic and international transactions on a single platform.
The account is free to start, has a semi-competitive interest rate on balances of R50,001 or more, and there is no monthly administration cost.
The Business Bank Account Debit Card may be used to make transactions everywhere Visa debit cards are accepted.
Some participating businesses, such as Pick n Pay in South Africa, provide cash-back with purchase.
Here are Top 17 Best Savings Account In South Africa
9. Access Account from Standard Bank
The Standard Bank Access account is next on our list. This is another type of check account that may be tailored to the demands of a small business owner who wants to distribute money efficiently in order to manage a firm without incurring excessive fees. This bank account is appealing due to its minimal fees and simplicity of usage.
In reality, you are not required to make regular contributions into the account. The monthly cost for the account is R5.80.
You also receive free access to quick money and prepaid top-up with this account. This account also qualifies you to UCount awards and R25 airtime or 250MB data from Standard Bank Mobile per month.
This bank account type, however, does not provide overdraft protection.
10. Absa – Classic Business Account
Absa Group Limited, which is listed on the JSE, is one of Africa's largest and most diverse financial services organizations.
It has a major presence in 12 countries throughout the continent and employs around 42,000 people.
Absa provides accounts for small companies and startups in South Africa, and their popular basic choice is ideal if your business is a start-up with an annual revenue of less than R10 million.
It adheres to the pay-as-you-transact pricing model and provides free inter-account transfers and internal debit orders. Other advantages include:
Capability to create a credit history — You may start establishing your credit history by adding a business overdraft facility and taking advantage of the interest rate that is tailored to your business's risk profile.
Access to Business Development Centers – The goal of this program is to help developing SMEs expand and flourish by providing access to development funding as well as non-financial training and mentoring.
Simple electronic banking access – Absa Online and the absence of a monthly charge App banking is available 24 hours a day, seven days a week.
The Classic Account option has a monthly charge of R80, however there are many additional accounts available, including Shari'ah-compliant Islamic Business Accounts, Attorney Trust Accounts, and more comprehensive Essentials Packages.
Investigate and compare prices and fees, and don't forget to look at additional advantages such as these Travel Benefits!
11. TymeBank Everyday Account
Tymebank daily account, also known as the Tymebank savings account, may be a fantastic small business account since it allows you to store money or discharge it through checks for the efficient operation of your firm.
Despite the fact that it is a check account, this account costs R0.00 in monthly maintenance fees.
SMS alerts are completely free.
Cash deposits of up to R5000.00 per month are not charged.
You can do all of your internet shopping for free.
You may use your TymeBank card to make purchases at any retailer online.
When you pay or scan at Pick 'n Pay, you receive perks such as smart shopper points.
Pick'n Pay and Boxer both provide free cash withdrawals.
12. Old Mutual Money Account
The Old Mutual Money Account is a cheque account that is ideal for a small business owner. This account, on the other hand, is fairly unique in that it combines the features of a check book and a savings account. You pay a monthly administration charge of R4.95 with this account.
Money account charges R40.40 every 12 outbound transactions, so depending on how much you withdraw, you may possibly save a lot of money with this account.
This might be one of the best options for individuals looking to be more cautious with their investments.
The Old Mutual Money Account comes with a card and free card swipes.
You get unlimited access to online and mobile banking.
You can withdraw your funds at any moment.
You are entitled to free alerts.
13. Sasfin Bank Ltd. – Business Pay As You Use Account
Sasfin is an independent banking and financial services business with offices in South Africa's major cities.
Its motto is "beyond a bank," and its business accounts attempt to personify this concept by providing simple cash management for entrepreneurs with an interest in and access to a variety of services.
You may earn up to 2% interest on your transactional account balances, and the bank's digital platform, BYOND, is a popular choice among many business owners.
It allows you to handle payroll, issue customised estimates and invoices, create categories and transaction tags for monitoring, and much more.
In terms of ease, you may apply for your account online, set up numerous users based on their function in your firm, and link several Visa business debit cards for free.
For the Pay as You Go option, their monthly administrative charge is R100. Check through their brochure to see if this is a good fit for your business's needs.
14. ABSA Transact Debit
People who are just starting out in life and business may find the ABSA Transact account useful because it does not charge high fees and does not demand a large amount of money.
In reality, this account was intended for young individuals just starting out: those who make less than R3000 per month and may not generate any money at all in certain months.
To keep the account operational, a minimum balance of R20.00 must be maintained.
The monthly price for the account is only R4.90.
You can borrow money from this account using the overdraft function.
You may utilize the banking app on your mobile device.
You are given free card swipes.
You may check your balance for free and receive SMS or email notifications.
15. Standard Bank – BizLaunch Account
The BizLaunch Account from Regular Bank provides users with the capability of a standard current account as well as the extra benefit of bundled pricing at a lower monthly charge for the first 12 months.
The reduced costs can make all the difference, and knowing you'll pay a predetermined amount for bank charges every month gives many people who want consistency more piece of mind.
Another significant plus is that you may have several banks and credit cards issued for you and your employees, each with a secure chip and free lost card protection.
Anytime business banking, whether online or in person, combined with UCount incentives and personal assistance from the BizDirect team, makes for a joyful banking relationship. Check out their price guide to determine whether this bundle option is a good fit for you!
Discover Top 20 Investment Companies In South Africa
16. Nedbank Ke Yona Bundle Account
The Nedbank Ke Yona Bundle Account is perfect for small business owners who wish to be able to issue checks while also being able to limit their banking expenditures by knowing precisely how much the bank will charge them each month.
The account allows for limitless transactions, so you may keep paying and spending without worrying about incurring additional bank fees.
The account's monthly charge is R49.00, which is a maintenance fee.
You may use the smartphone app, as well as mobile and online banking, for free.
You are entitled to an infinite number of card swipes.
ATMs provide free account balance checks.
You are entitled to free alerts.
Find All Nedbank Branch Code: Universal Branch Code For Nedbank