Looking for a construction business idea? When it comes to starting a business, there are many options to consider. One of the most popular is starting a business in the construction industry.
Construction is one of the most lucrative industries today and there is plenty of room for growth in this sector. Construction business ideas have plenty of potential and you can work on your terms, anywhere in the world.
It is easy to start a construction business with low costs and low risk, but you need to do your homework before jumping into this endeavor.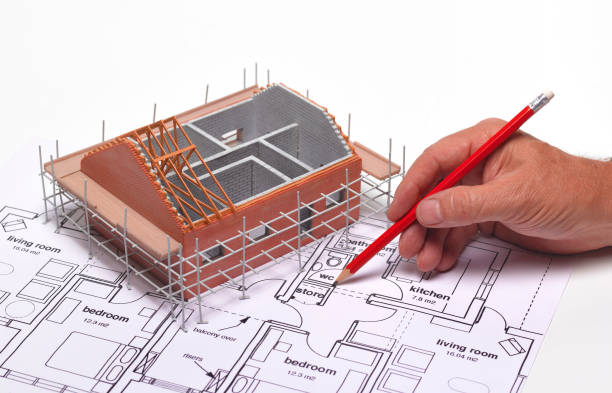 The great thing about the construction business is that there are many different aspects of it that you can dive into. Whether you want to become a general contractor, a subcontractor, or even a consultant, there are so many options out there for you to explore.
A construction business can be started either by a single person or a large corporation. Your choice of the industry will determine the type of business to start and how you should run it. This article will give you some ideas about what kinds of businesses to start and how to go about it.
This means that you could have a lot of success if you start your own construction business. There are numerous ways to go about starting your own construction business, so let's take a look at some of the most popular construction business ideas out there.
---
Related: Best Small Business Ideas You Can Start At Home
---
1. Cement Manufacturing Plant
If you are looking for a lucrative venture, then start a cement manufacturing business. This is one of the most profitable businesses that is being done today. A cement manufacturing business plan will help you to establish your venture in this field.
If you have enough capital, then you can start this business as a small-scale venture or large-scale venture depending upon your needs. But if your financial condition does not allow you to set up a big factory then go for a small-scale factory so that you can fulfill your dreams of earning profits from it.
The cement manufacturing plant requires few employees for its smooth working and produces many products and materials such as fly ash, clinker, and cement which have different uses according to their types.
The raw materials required to produce these products are limestone and clay which are found abundantly in most parts.
---
Related: 20 Most Lucrative Non-Profit Business Ideas
---
2. Cement Retailing Business
Cement is one of the most important and major components of any construction job. We use them to build houses, roads, bridges, and many other structures we need in our daily lives. We cannot do without it.
You have the opportunity to do well in the cement retailing business if you choose the right location, have the right products and services to offer your clients and have a competitive pricing policy.
Identify a place that can be used as a store or outlet where you will sell your cement bags. It should be accessible and easily identifiable so that customers will buy your product with ease.
It should also have adequate parking space to accommodate your customers' vehicles and customers who come with trucks to pick up their order should not face any problem with that as well.
So if you want to open a cement bag selling business, choose a location that meets all these criteria.
Get all the necessary equipment the business requires like a weighing scale, measuring rod, and other materials to make your job easier. You can even get some employees who will help you run this business smoothly if this plan becomes successful and profitable for you.
---
Related: 15 Most Profitable Automotive Business Ideas to Start
---
3. Ceramic Tiles Installation
Ceramic tile is one of the most popular choices of flooring materials to date. It is also known for its durability, making it an ideal choice for kitchens and bathrooms.
A lot of people are looking for cost-effective ways to add ceramic tiles to their homes. An alternative that they can consider is to go DIY (do it yourself) and install the ceramic tiles themselves.
But because this involves a lot of work, many people are getting contractors to do the job for them. If you have the right skills and equipment for the job, you can take on this project by yourself.
The first step in setting up an installation business is deciding where to focus your efforts. The location of your office will impact what services you offer because it determines how quickly you can respond to customer needs.
You need to be able to arrange your schedule around your clients' needs, so if most of them are in one part of town, that should be the location of your office. If they're spread out more evenly throughout the community, then it doesn't matter as much which neighborhood you're in.
You might also want to consider where you live so that you can easily get to the office each day.
4. Architectural Services
Do you have a knack for designing and building? If yes, then you can start your own architectural services business. Architectural Services is a business that offers services like architecture, interior design, landscape architecture, construction project management, and structural engineering.
If you're looking for an architectural services business idea, there are a lot of different ways to go about it. Most people start in some kind of related field and expand from there. Building and construction is big business, so there's no shortage of opportunities for architects.
You don't need to be a licensed architect to get started in the architectural services industry. There are many ways to get into the business with very little overhead. You can begin by offering your services as a general contractor or simply offer home design consultations.
---
Related: 20 Best Sports Business Ideas And Opportunities To Start
---
5. Manufacturing of Blocks and Bricks
The blocks and bricks manufacturing business idea is an excellent one for people who are looking to start a business in the construction industry. To start this business idea, you only need a little capital for the equipment that will be used in the business.
Tiles and blocks are used in many buildings across the world, and since a lot of people are currently constructing new buildings, it is an excellent time to venture into this line of business.
The materials that are needed to manufacture this product include clay, sand, cement, coal, and water. You will also need a machine to cut the blocks and bricks into different sizes.
Once your raw materials are ready, you can use them to make the desired product depending on your market demand. This is an excellent money-making opportunity and with good marketing skills, it can become a profitable venture.
6. Wallpaper Retailing & Installation
The wallpaper retailing and installation business is a good business opportunity for a person who likes to work with his or her hands. You don't need a lot of capital to start this business, and it won't take much time to develop a steady flow of customers.
The secret to success in this type of business is to pick the right location, and you should choose one that has plenty of potential customers. You should also have easy access to wallpaper samples and design books, as well as wallpaper cleaning supplies.
Although many people like the look of wallpaper, they simply don't have the time or patience to install it themselves. This means that there is an endless supply of customers for you if you are willing to tackle this business idea.
To be successful in this venture, however, you must approach it with the right mindset. You will be working with your hands, which means that you will have to be prepared for some hard work on your part.
Also keep in mind that you will need some basic tools such as seam rippers, tack guns, and wall paint brushes to complete jobs successfully. It may also be helpful for you to invest in wallpaper-specific tools such as measuring tapes and paper cutters.
---
Related: 7 Most Profitable Wallpaper Business Ideas to Start
---
7. Real Estate Broker
A real estate broker is a third party that facilitates the buying and selling of real estate. The broker can be an agent, a broker, or both. A real estate agent works for a broker and may work out of the office, while a broker owns his or her own business.
Trying to make money in the construction business takes a lot of time, as well as expertise in construction. It can also be dangerous since you're often working with heavy equipment and building materials.
A real estate broker business offers some advantages if you're not interested in dealing with these issues.
If you already have experience in real estate, or if you are well-versed in the local area's housing market, you may be able to make more money in this type of business. Real estate broker businesses work well because they require very little overhead and are easy to set up.
8. Construction Consulting Business
Have you ever run a construction project? The process typically involves numerous moving pieces, so even small mistakes can cause big problems. That's why hiring a construction consultant is often a great idea for building contractors. These professionals can help improve efficiency and reduce costs on a project.
When you start a consulting business, you're creating more opportunities for yourself. You can work when and where you want, and the nature of the job allows you to be very flexible about your schedule.
This means that maybe you can take care of your kids before school, then work at night once they're in bed. Or maybe you'll spend your weekends working from home and doing office hours during the week.
It's totally up to you when and where you decide to get things done, but as long as you're getting your work done effectively (and making money), that's all that matters!
---
Related: 25 Profitable Small Business Ideas Under $1,000 You Can Start
---
9. Start Electrical Wiring Business
One of the best construction business ideas for anyone who is looking to start a new home or commercial project and also make a significant amount of money from it, is to consider starting an electrical wiring business.
It has great potential because there are so many home and commercial projects that require services and help with electrical wiring.
To start your own electrical wiring business all you need is some basic knowledge about electrical wiring and the type of tools that you need to have.
There are a lot of individuals who are looking for expert help from experienced electricians when it comes to electrical wiring so if you can offer the same, you will find many customers.
An electrical wiring business involves a lot of work. You will be required to assist the contractors, electricians, and even the homeowners by helping them install various electrical wires inside their homes and offices.
This includes installing different types of lights—from ceiling lights down to plug-ins, installing various outlets that are commonly used for appliances, and more electrical wiring tasks.
10. Security Systems Supply and Installation
One of the most popular construction business ideas is to start with is security systems supply and installation. This type of business will allow you to work with a lot of different products that are needed for security systems, such as wiring and cameras.
What this means is that when people are trying to get their home or commercial property secured, they will be able to go through the company and get a security system installed. This can be very beneficial for both parties because of the job stability it can offer.
The best part about this type of company is that it usually has a lot of repeat customers because there are always new homes being built, as well as old ones requiring additional security. It doesn't hurt that this is also a very competitive market because there are a lot of companies offering these services.
---
Related: 15 Profitable Drone Business Ideas You Can Start
---
11. Landscaping Services
If you've always thought of yourself as someone who loves the outdoors and nature, a landscaping service might be just what you're looking for. A landscaping service takes care of all the outside work when it comes to keeping a home looking beautiful and well maintained.
Starting, do small projects for friends and family, like mowing their lawns or helping them plant a garden. Then add new customers through your existing clientele. Networking is an excellent way to find new clients, and it's free!
The cost of starting a landscaping business depends on the type of equipment you will need and how much it will cost you to buy. You can also do it without any equipment at all and only charge people by the hour.
However, you might have to put in more time than someone who is using a lawnmower, blower, and other equipment. The hourly rate for landscaping services varies from state to state, but industry estimates are that the average hourly rate is between $30 and $40 per hour.
This doesn't include taxes on the income you make.
The best way to start a business like this is to get your hands dirty working for other people who own their businesses. When they finish a job, offer your services at a discount as long as they'll let you work on your portfolio while they keep paying you.
This way, you'll be able to build up your resume and clientele while collecting real-life experience in the field.
12. Home Painting Business
Have you ever thought of starting your own business? What about the home painting business? It is one of the easiest ways to start a business. The equipment and materials involved are relatively inexpensive. You can start with only one painting job at first to see if people like your work.
The tasks involved are not complicated, so you do not need a large amount of training. You will have to put in some time and effort to get it off the ground, but it is worth it. You will find this business very rewarding and will be able to work from home as well.
People are constantly moving, so there is a constant demand for painting services. This means your business will grow easily with little extra effort on your part, especially if you advertise properly.
There are many ways you can go about advertising your services. One way is through word of mouth and flyers that you hang up in local establishments such as coffee shops and grocery stores.
You can also post your services online and wait for calls as they come in. If you want more customers quickly, you can take out an ad in the newspaper or other local publications.
13. House Repair Services
If you have skills and expertise in the field of residential construction, then this business idea can be a good choice for you. House repair services are an evergreen business idea because there will always be requirements for home repairs, irrespective of the economic conditions.
It is advisable to specialize in a certain area of house repairing so that you can easily market yourself. For example, if you are an expert in roofing repair and ventilation system installation, then you should target people who need these services.
If you decide to broaden your scope and offer multiple services, then it will become difficult for you to focus on any single area and hence your business might not grow as quickly as you would like it to.
You can start your business with just a few tools, such as hammers and screwdrivers. Depending on your skillset, you may need additional power tools for projects that require them. Start by offering your services to friends and family members just to get some experience before going public with your business.
One of the main benefits of this type of business is you don't have to invest in inventory or products. Just like any other service-based business, this is all about building relationships with clients who trust that your work will meet their needs.
14. Supply of Gravels and Sands
Gravels and sands are the raw materials used for building roads and buildings. If you have a good gravel mine or a quarry from where you can extract sand, you can start a gravels and sands business.
You need to get the necessary permissions from the government so that your business does not cause any environmental damage.
Before this, you must know what kind of equipment would be needed to extract gravels and sands from your mines, how much machines would cost, how much money it would take to set up the company, how many workers you need to hire, how much money the company will make in three months, etc.
Trucking is the best way to transport gravels and sands from mines to construction sites. This is where you will require very expensive trucks.
You should lease trucks rather than buy them as they become obsolete within a year. So once they get out of date, sell them off and buy new ones.
---
Related: 7 Most Profitable Wallpaper Business Ideas To Start
---
15. Construction Site Cleaning Business
A construction site cleaning business consists of removing debris from a construction site after work hours. The debris and trash leftover from construction projects can be a big problem for contractors, who have very little time to clean up after hours. A construction site clean-up company provides this service.
The best way to start a construction site cleaning business is to partner with a local contractor or property management company. This will allow you to establish your name with them, enabling you to expand your business by adding more customers and hiring additional staff as needed.
If you do not have any contacts in the industry, then you can advertise on job boards and online classifieds for jobs related to construction or property management such as apartment complexes. You can also offer your services to real estate agents for properties that are being sold or houses that are going into foreclosure.
16. Roof Maintenance and Restoration Business
Roof maintenance is an area where you can build a successful business with little overhead, providing valuable services to property owners, real estate professionals, and home inspectors.
The roof restoration industry is growing steadily as homeowners realize the need for regular maintenance and inspection of their roofs. As specialization increases in this area, there will be an increase in demand for roof maintenance professionals.
If you're considering starting a business in construction or related fields, this is an exciting opportunity to consider. Here are some reasons why:
High demand and low supply – Every year thousands of commercial properties require roof maintenance and repair services. This is due to the nature of their location, age, and weather conditions such as hurricanes.
Suppliers are not able to meet the demands since there aren't enough professionals in this field. You can ride this wave by starting your roof maintenance and restoration service business.
Low startup costs – Unlike other businesses such as restaurants or retail stores where you have to shell out thousands of dollars for startup capital.
17. Production of Doors and Gates
It's a fact that almost every commercial and residential establishment needs the services of the manufacturer, supplier, and installer of doors and gates.
This is a lucrative business venture due to the increasing demand for manufacturing, supplying, and installing doors, gates, and other hardware fittings. There are immense opportunities in this industry due to the ever-increasing need for the security of homes, businesses, and public places.
If you are searching for a business idea, then here is one that you might have never thought about. The construction industry is worth billions of dollars and it's expected to grow in the coming years.
A door and gate manufacturing company can be started on a shoestring budget. You don't need to have specialized equipment or tools to make doors or gates. You just need to know how to use the tools that you already own.
You can make wood, glass, and metal doors and gates as long as you have the right measurements. If you want to start your construction business ideas, then this is a good option. A door and gate manufacturing company can help you make money while working at home.
18. Start an Interior Decoration Business
The interior design business is a booming industry, one that's growing at a faster rate than the national average. The demand for skilled designers is high, but finding the right designer can be difficult.
If you are someone who loves the idea of owning and operating your own business and you have the skills and spirit to make it happen, then you might want to consider starting your very own interior design business.
It is one of the most lucrative home-based business ideas that you can start. The only thing holding you back from filling your bank account with money is knowing where to start.
Businesses of all kinds are looking for designers to redo their offices or help them pick out new furniture and decor. Even homeowners who can afford to hire a designer for their own home choose to hire an interior designer for their businesses instead because they know that someone who knows what looks good and what doesn't can make a big difference in business profits.
---
Related: 17 Best Business Ideas For Video Gamers
---
19. Start a Plumbing Business
The construction industry is booming, which means there are many opportunities for entrepreneurs to get in on the action. If you're considering a career in construction, but aren't sure where to start, consider plumbing.
Plumbers are in high demand right now, and the opportunities will only continue to grow as the construction industry continues to expand.
Taps, pipes, toilets, and other plumbing fixtures are found in every home and business. If you have a knack for this kind of work, you could start your own plumbing business to help people repair or upgrade their facilities.
You will only require a few tools and materials to get started. However, if you want your business to grow into a reputable and profitable one, you should also invest in some high-quality tools and parts. You can find these from reliable suppliers or manufacturers.
The plumbing industry is always looking for qualified technicians who can get the job done professionally. If you don't have any experience with this field, you can take some classes at your local community college or vocational school. You can also take some night classes or online courses if you are unable to find classes in your area.
Another way to learn more about this industry is by reading books and magazines that offer valuable insight into starting up a plumbing business.
You will learn about all the different types of equipment and supplies that are available on the market today as well as all the latest techniques used by professional plumbers.
20. Property Development Company
If you have a passion for building things and a good head for business, starting your own construction company might just be the right move.
With varied business opportunities available in the industry, you could start with property development and go on to create new homes, offices, or even shopping malls.
If you're looking to set up an established firm, you must know what to do and what to avoid to keep your company afloat.
There are various steps involved in starting a construction company and it's important to be aware of these before you begin. For example, you'll need to decide how big you want your firm to be and whether you plan to run the firm solo or hire a team of skilled employees.
You should also consider whether you want a small local company or something bigger that can work across the country or even further afield. This will all help to determine the type of equipment and facilities you will need for your business.