The FNB eWallet is the most easiest method to transfer money to friends and family. Money transfers are possible both inside and outside of South Africa with FNB eWallet.
You can send money to anybody in South Africa if you have a valid mobile number.
It enables FNB account users to transfer funds from their bank accounts to any registered functioning mobile number in South Africa.
The FNB eWallet USSD code does not need internet connection to transfer money to other members of your family and friends.
You may also use the FNB eWallet service to withdraw money from a First National Bank ATM, purchase electricity units, and top up prepaid airtime.
To navigate to any part of the tutorial, use the Table of Contents below:
The FNB eWallet USSD codes for sending and withdrawing money are *120*277# and *130*277#.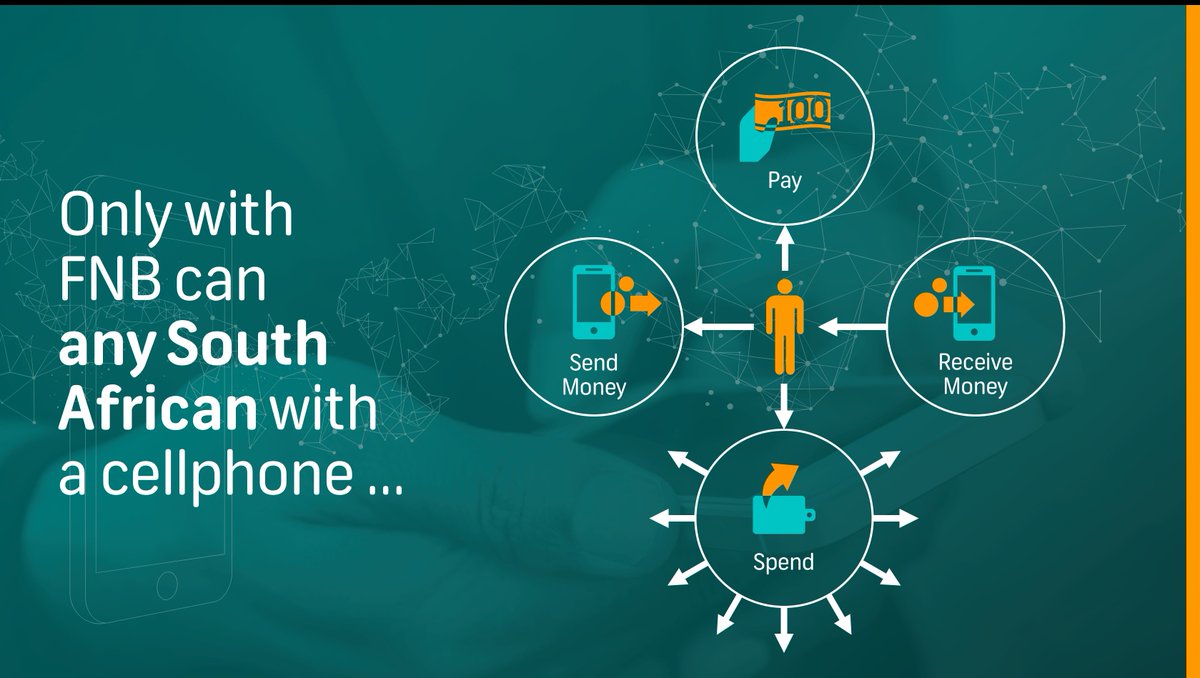 What's the greatest part?
If you transfer money to the incorrect number, you may reverse ewallet payments.
FNB eWallet USSD Access code
FNB eWallet is accessed by dialing *120*277# if you do not have airtime/credit on your smartphone.
You will be able to purchase airtime after dialing that code. You may then proceed with the eWallet transaction.
How to Get Your FNB eWallet Pin
Finding your First National Bank Personal Identification Number (FNB PIN) is simple.
Follow the instructions below to get your FNB eWallet PIN:
Dial *120*277*1# on your smartphone.
To get your eWallet PIN, press 1.
FNB will send you an SMS with your 4-digit eWallet PIN.
To withdraw money, go to the closest ATM and enter your PIN.
Please keep in mind that the PIN will expire in sixteen (16) hours.
For retail establishments, call *120*277*4*1# and then press 1 to get your FNB eWallet PIN.
That is all you need to know about the FNB Bank South Africa eWallet code (number) for transactions.
How FNB eWallet Works
When it comes to transferring money through mobile banking, FNB eWallet is the best option.
Clients may use the FNB eWallet to transfer money to a cellphone number (your wallet), and the money can be retrieved immediately at any FNB ATM.
When using the mobile app or internet banking, you may transfer an e-wallet of up to R3,000.00 each day. In addition, you may withdraw up to R1,500.00 via Cellphone Banking or FNB ATMs.
For transactions of less than R1,000.00, the fee is just R10.95. And R13.95 for every sum between R1,000.00 and R3,000.00.
That is the most cost-effective method of transferring money to family members.
It just gets better from here.
The individual to whom you are transferring money does not need to have a FNB account in order to receive it. To withdraw cash, they just need a functioning telephone number and the pin.
Sending Money with FNB eWallet
Sending money using an eWallet is a straightforward process. Follow these steps as an account holder to send FNB eWallet:
Access online banking, mobile app, atm, or cellphone banking
Choose to send money
Then select ewallet
Enter the cellphone number you want to send the money to
Choose whether the app should provide the recipient with the pin or not
Enter the amount you'd like to send
Confirm and complete the transaction
Withdraw from FNB eWallet
To withdraw funds, the recipient must go to the closest FNB ATM.
On the screen, customers must choose cardless services.
Select 'eWallet Services'
Enter your cellphone number and press 'Proceed'
Enter the ATM PIN you got through SMS
Enter the amount you want to withdraw
Take your cash
Make sure your transaction is complete or press 'Cancel.' Before leaving the ATM
Perhaps you're wondering……
How to Check FNB eWallet Balance
To check your eWallet balance, use the same USSD code *120*277#.
Choose the option to check your balance.
However, depending on the services you use, the process for checking your eWallet balance may vary somewhat. You will, however, continue to utilize the same mobile banking code.
How Can You Reverse an eWallet Payment?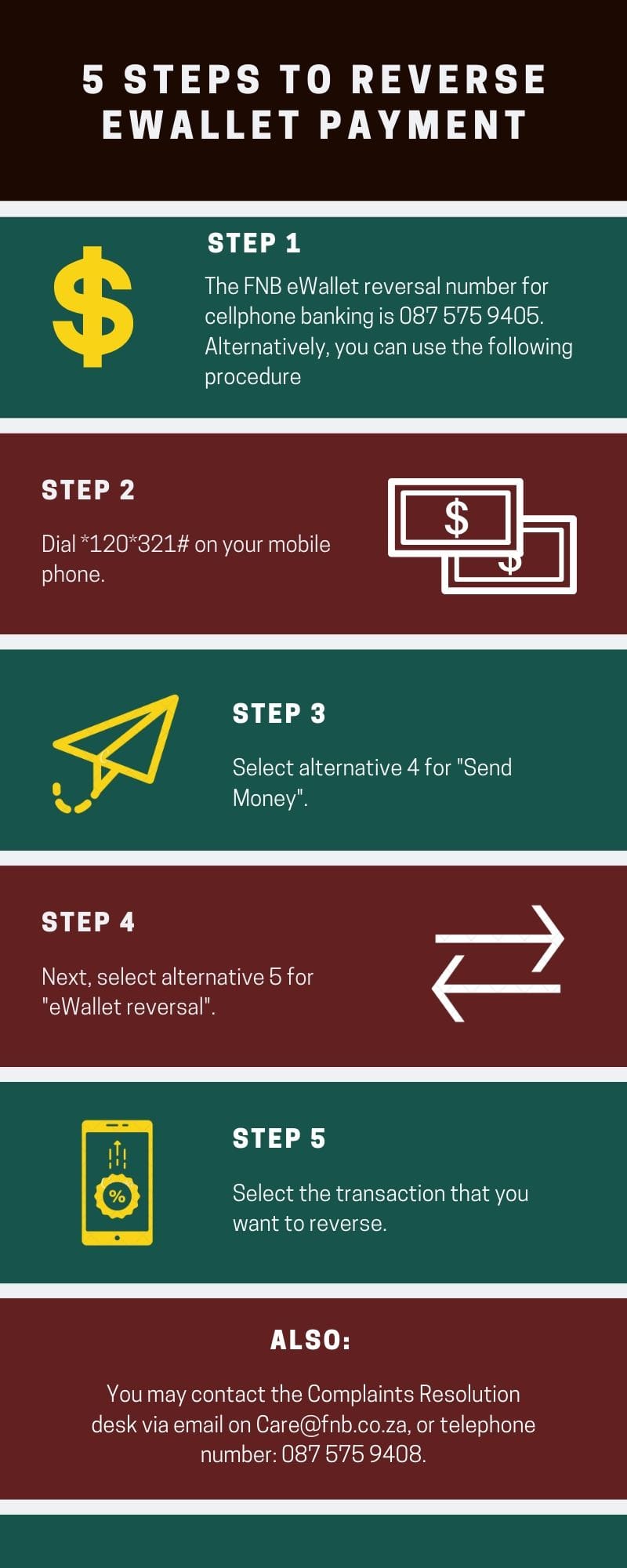 Do you want to know how to reverse a ewallet that was issued to the incorrect phone number?
Here's an example of someone who was very upset since they couldn't reverse the eWallet payment. The individual transferred a large sum of money to the incorrect phone number, and it is almost difficult to reverse the transaction over the phone.
However, with mobile banking, the FNB eWallet reversal is extremely easy today.
Here's how to Reverse an eWallet Payment:
Dial *120*321# on your cell phone [USSD]
Select option 4 for "Send Money" Next,
select option 5 for "eWallet reversal"
Select the transaction that you wish to reverse.
So far, this is the only fast method to reverse the eWallet transaction.
Unfortunately, there are no ways to reverse eWallet in the app or online.
You must contact the eWallet call center at 087 575 9405 for additional help in order to reverse the money.
How long does it take to reverse an eWallet?
Unfortunately, your eWallet transaction will not be reversed immediately.
According to previous clients, it takes FNB four working days to complete the eWallet reversal procedure and return the money to the sender.
That is, provided the recipient's phone number is operational; imagine if you transferred money to a non-operational mobile number.
They will still assist you, but the eWallet reversal will take about 15 working days to complete.
So, before you hit the send button, double-check that the cellphone is accurate to prevent fines.
The Costs of Reversing an eWallet Transaction
Now that you've successfully reversed an eWallet payment, how much will the bank charge you for the error?
The amount you'll be charged varies based on how much you've sent, but it's the same as when you were sending. One customer alleged that he was charged R50.00 to reverse an eWallet transaction.
To prevent these difficulties, always double-check and cross-check the recipient's telephone number.
Because it has access to your mobile contact list, sending eWallet through the app is very simple.
Please keep in mind that there may be a fee if you seek a reversal. If that (wrong-) individual has already received the money, FNB will not be held liable and cannot promise that you will get your money back.
How to Solve USSD Not Working
If you have called the FNB mobile banking code on your phone but it is not working, contact the customer service unit for help.
But first, check to see whether the network is active on your phone.
Alternatively, you may learn more about FNB's eWallet on their website at www.fnb.co.za.