Owning a gym can be an immensely rewarding experience. You get to help people improve their lives and reach their fitness goals.
As the gym owner, you get to set the tone for the entire culture of your business.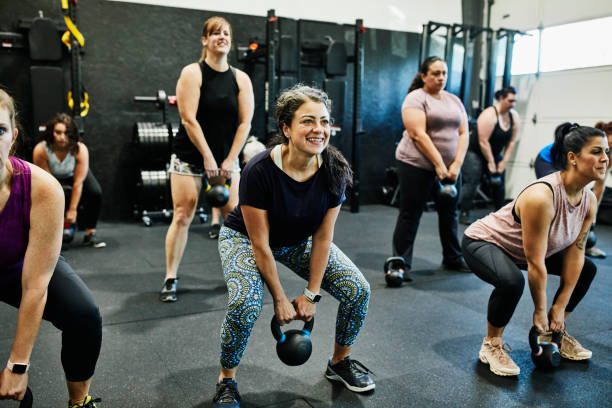 But, as with many entrepreneurial endeavors, starting a gym business is not cheap.
The challenges of getting your fitness center off the ground are numerous, and they don't come cheap.
To help you figure out how much it will cost to start a gym business, we've put together a detailed breakdown of all the things that go into opening a fitness center.
---
Related: How Much Does it Cost to Open a Restaurant
---
How Much Does it Cost to Start a Gym Business?
When people think of starting a fitness center or gym, they focus on the exercise equipment.
But to be profitable in the fitness business, you need to flesh out your plan with plenty of financial details.
You can't just buy a bunch of dumbbells and open your doors.
The most important thing is to calculate how much money you'll need to invest in your gym startup.
The cost will vary greatly depending on what type of facility you're opening and where it's located.
With some careful planning and research, it is possible to start a gym for under $50,000.
For example, if you open a small studio in a rural area, it could cost as little as $30,000 for everything.
A larger complex with pools and courts could run upwards of $1.5 million.
Here is a gym startup cost breakdown
One-time Gym Startup Costs
Physical location – from $400,000 to $800,000
Gym equipment – from $10,000 to $50,000
Certifications – from $500 to $800
Licenses and permits – individual localities define the standards for which licenses and permits you'll need.
Legal and processing fees – from $200 to $9,000
Insurance – $12,000, depending on an insurance company
Building improvements and remodeling – depends
Computer network and POS system – $550 to $2,300
Signage – $20
Employee uniforms – it is up to you
Miscellaneous gym supplies – $500
Merchandise – it is up to you
Advertising – $5,000
Responsive website – $300 to $1,000
Recurring and ongoing Gym Costs
Utilities – $60,000 to $70,000 a year.
Equipment repairs and maintenance – $25,040 annually.
Cleaning supplies – $12,609 to $29,980 annually.
HVAC maintenance – $500
Phone and Internet service – $900
Employee wages – depend on your state salary policy
Payroll taxes or self-employment taxes – 7.6%
Credit card processing fees – 3.25%
Marketing – it is up to you
Legal and professional fees – from $200 per hour (when you need legal assistance)
Miscellaneous expenses – $1,000 per month.
Things to Consider When Opening a Gym
Market analysis
The market analysis for a gym business would show that there are people who are health conscious and would want to join a gym to stay fit and also those who need to lose weight and also those who need to gain weight.
It also shows that there are people who have health issues such as high blood pressure, diabetes and so on that might require them to exercise regularly to be healthy.
This group of people is what you consider your target market; hence you will position your gym in such a way that it will attract this kind of people.
Get Certified
The first thing you need to do is get certified as a fitness instructor, this certification will give your members the confidence that they are in the right hands.
Once you have completed your certification, you can then add other certifications such as cross-fit or yoga instructor certification.
This will help you to be a more comprehensive gym owner, and it will also help you understand what other people go through when they are getting certified.
This knowledge will help you to understand the process better and how best to train your future employees.
Define your Gym Brand
Another important aspect, you need to define your gym brand. A gym brand is the look and feel of your gym.
It's what people associate with your gym. If I were to say "Nike", what would you think? You'd probably think of sports apparel and shoes.
You might even see a swoosh in your mind. Or if I said "Apple", the words "innovation and design" would probably come to mind.
The problem with most gyms is they don't have a brand at all. They just open up and start running classes.
But once you have a brand that resonates with your audience you can use it to market your business better, charge more for your classes, get more referrals, and get more people through the door.
Your Business Plan
Getting started with your gym business plan is similar to planning any other business.
You'll need a solid business plan, which includes everything from your mission statement, to the projected costs of opening and running the gym, to a marketing plan.
Also, a good way to secure funding for your gym is to start with a gym business plan.
A gym business plan will help you determine how you should spend each dollar of your initial funding, including the costs of leasing or purchasing your first space, purchasing equipment and supplies, advertising and marketing efforts, renovations or remodeling costs, and insurance costs, licensing fees and legal costs.
Writing this plan down will help you focus on what is most important in the beginning stages of opening a gym and help create an outline for where you see your business in the future.
You'll also need a strategy for marketing, attracting, and retaining members, and ensuring that your employees are properly trained and qualified to help people meet their fitness goals.
Find Your Ideal Location
Of course, location is important for any retail business.
A convenient location will lure in more customers and keep them coming long-term.
When selecting a location, consider what part of town your gym will serve.
Will it be a family-friendly place? A high-energy spot with loud music?
A place where people can go to unwind after work? You may want to open several locations around town so you can cater to people in different neighborhoods.
Consider Licensing Requirements
When you start a gym, it's essential to comply with all licensing requirements.
You'll need to apply for a business license or other permits before you open your doors.
A gym usually needs an occupational license to operate in many states.
You'll also need a tax identification number from the Internal Revenue Service (IRS) and possibly a certificate of occupancy from the municipality.
Your state may require additional licenses, so contact the Secretary of State's office to confirm your state's requirements.
Every state has different requirements for businesses that wish to operate as gyms.
For example, some states require fitness centers to have an on-site trainer at all times, while others have no such requirement.
To find out what your state requires, contact your state's licensing board or department of consumer affairs.
They can provide you with information about what kind of license you will need to run your business legally.
In addition to complying with general licensing requirements, you may need some specialized licenses depending on what kinds of services you plan to offer.
For example, if you intend to teach group classes or personal training sessions, you'll likely need to obtain certification from the American Council on Exercise (ACE).
Find Financing
If you don't have the cash you need to start a gym, consider getting a small business loan.
To qualify for a loan, you may need to show that you have solid credit and have experience running or managing a business.
The U.S. Small Business Administration (SBA) offers flexible loans and other resources to help new business owners get started.
In addition to traditional bank loans, alternative lenders provide financing for small businesses through online applications.
These types of loans can be approved within days, with no credit check required, but they generally come with higher interest rates than bank loans.
Determine Your Pricing Strategy
If you're planning on starting a new gym, you'll need to decide how you're going to charge for your services.
There are numerous ways that gyms operate. Some are membership-only facility that offers a large number of classes.
Others offer a wide variety of classes at varying price points.
The pricing model you choose is based largely on what type of clientele you want to attract.
Membership-only gyms tend to be more expensive because they have fewer members, which makes it harder for them to make money on each person taking the class.
A more targeted model will allow you to make more money from each person, which is why memberships tend to be more expensive in these types of gyms.
Invest in the Necessary Equipment
Gym equipment can be expensive, especially if you have a lot of memberships.
The best way to ensure that your equipment lasts is by making sure it's high-quality and well-maintained.
Old or worn-out equipment could make people wary of joining your gym — no one wants to use broken runners on cardio machines or weights that haven't been cleaned in years!
Consider buying used equipment because it's less expensive but still good quality; just make sure you inspect everything before you buy it from the seller.
Understand Your Insurance Needs
Insurance is a must for any business owner.
You'll want to get several types of insurance: general liability, property coverage, equipment coverage, and worker's compensation.
Your local Chamber of Commerce or Small Business Administration office should be able to recommend good sources for your insurance.
Failing to acquire the proper insurance can result in a lawsuit that could bankrupt the business before it even gets started.
Hire the Right Staff for your Gym
One of the keys to a successful gym is hiring the right staff.
The type of employees you will need to hire will depend on what services your gym offers, and what your budget is.
If you have a large space and are offering a lot of classes, it might be worth hiring an employee to be on hand during busy hours.
Otherwise, most gyms hire people on a contract basis, where they are paid for each class that they teach or training session that they provide.
The type of staff you hire will also depend on whether you plan to offer personal training or not.
If you do want to offer this service, then you will need at least one qualified personal trainer.
It's best to have at least one full-time trainer so that they can help with the daily running of the gym and be available whenever clients need them.
Opening Hours
People lead busy lives, with work and family commitments taking up lots of their time.
If your gym has limited opening hours, then this may not be convenient for them and they may decide not to join.
You must plan when you want your gym to open and how long it will stay open each day to attract as many customers as possible.