Car wash services in Tanzania are increasing in demand. Many people are venturing into the car wash business for livelihood. Vehicles have become affordable and many people are buying them. This has created an opportunity for car cleaning businesses.
If you are planning to start a car wash business in Tanzania, this is how to go about it.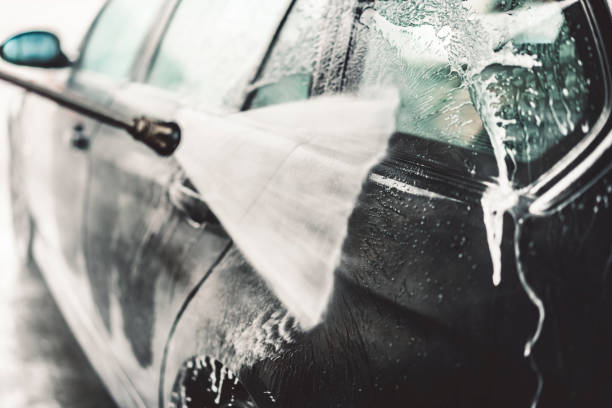 The first thing you need is to write a business plan. A car wash business plan should have a business name, startup costs, cash flow projections, and market research.
Conduct a Market Research
Thoroughly research the market before venturing into a car wash business. First, you need to plan the finances, study your target customers, identify a location, talk to people already in the business and learn from them. The determine how you can attract and keep your customers.
Choose a Business Name for Your Car Wash
Choose a catchy and unique business name for your car wash. It is easy for customers to identify a business by its name. Besides, it is easy for customers to recommend your car wash to their friends by its name. Remember to register your business name with Brela Tanzania
Here is the cost of business name registration in Tanzania
| NO | BRELA FEES DESCRIPTION | FEE AMOUNT |
| --- | --- | --- |
| 1 | Application fee | TSHS 15,000 /= |
| 2 | Maintenance fee (paid annually) | TSHS 5,000 /= |
| 3 | On application to register of Notice of Cessation of Business | TSHS 10,000 /= |
| 4 | On application to register any alteration in particulars registered | TSHS 15,000 /= |
| 5 | For every inspection of the register | TSHS 2,000 /= |
| 6 | For an uncertified copy of an extract on the whole, of any document in the custody of the Registrar, per page or part of a page | TSHS 3,000 /= |
| 7 | For certifying any document or extract of a document | TSHS 4,000 /= |
| 8 | For issue of duplicate certificate of any registration | TSHS 15,000 /= |
| 9 | For making out of time any application which is required to be made within a prescribed period, in addition to any other fee payable, for every month or part of a month in default | TSHS 1,000 /= |
Get the Necessary Licenses and Permits
Business licenses and permits are necessary for running a legal business. Entrepreneurs wishing to start a car wash business in Tanzania will need a single business permit issued by the respective local government authorities.
The costs for business permits vary from one council to council. For example, it is more expensive to obtain a business permit in Dar es Salaam and Mwanza than in smaller towns like Bukoba.
You need a clearance from the National Environment Management Council (NEMC) if you intend to start a big car wash.
---
Related: How To Start a Hair Salon and Spa in Tanzania
---
Find a Strategic Business Location
Any successful business should be easily accessible by its customers. To start a profitable car wash, it is best to set it up in a busy area. You can start it in a shopping center or places with public facilities.
Setting up a car wash near car stops and public places such as eateries and mechanic shops is a great idea.
The location you choose should also have a steady supply of water. After acquiring a good location, make the place comfortable for your customers. This can include fencing and leveling up the area.
Acquire the Necessary Equipment
You also need to acquire the necessary equipment to start working. The equipment to purchase will depend on the services you will offer in your car wash.
The common services provided in a car wash include upholstery, body washing, engine wash, under wash, dusting, carpet cleaning, interior cleaning, buffing, and waxing.
You will need car wash detergents for cleaning. To start a pressure washing business, you need the following items.
1. Car Wash Machine
You can decide to buy a new or second-hand washing machine depending on your budget. It is essential to purchasing a durable machine to prevent losses brought about by frequent repairs due to breakdowns.
Electric pressure washers have a different amount of Pressure per Sound Inch (PSI). You may also need to purchase petrol or diesel-powered pressure washing machines to combat frequent power shortages.
2. Vacuum Cleaners
There is a difference between car wash vacuum cleaners and household vacuum cleaners. Purchase commercial vacuum cleaners from specialized dealers.  Select a durable vacuum cleaner that can serve many customers in a day without breaking down.
3. Water Tank
Water tanks are essential in any car wash business. You can purchase a water tank with a capacity ranging from 1,000 to 10, 000 liters. Ensure that your tanks are filled with water at all times.
4. Car Washing Detergent
There are specialized detergents for washing vehicles. Some are strongly perfumed and others mild. Purchase a variety of these detergents but be sure to ask your customers which ones they prefer for their cars.
5. Brushes, Squeezers, Towels, and Buckets
Brushes, squeezers, towels, and buckets all come in different sizes. You can choose any size and quantity depending on your budget and the number of customers you intend to serve.
---
Related: How To Start Egg Supply Business In Tanzania
---
Market Your Car Wash Business
Having an excellent marketing strategy for your business is one vital step to success. After setting up your business, you don't sit to wait for customers. You can do this by distributing brochures, setting up posters in public places, and even by word of mouth.
Another simple way to get customers is by offering quality services, giving discounts to customers, and offering free services once in a while. This is a sure way to get many customer referrals. Go for what is convenient for you.
Is Pressure Washing a Good Business?
A car wash business is profitable if you have a good business location. The normal price of washing a car is usually Tsh 5,000 and buses and lorries, charges are Tsh 10,000. Therefore, you can make up to Tsh 100,000 in a day from a car wash if you have many customers.
The cost of starting a pressure washing business depends on the size. Starting a medium car wash business can cost you between Tsh 350,000 and Tsh 1,000,000.
---
Related: How To Start Real Estate Business In Tanzania
---
Conclusion
Like any other business, a car wash business needs professionalism and offers customers quality services. Through hard work and persistence, you can grow your car wash business.