Lakes are often a popular vacation destination because of their natural, scenic beauty. But many lakes are man-made, and some have become very popular tourist destinations.
North America is home to some of the largest man-made reservoirs in the world. You may not have heard of most of them, but they are truly impressive feats of engineering.
Put on your explorer hat, and let's take a look at the 10 of the biggest man-made lakes in the United States by surface area.
Keep reading to find out more about each lake, including its history and best recreational activities.
1. Lake Mead, Arizona-Nevada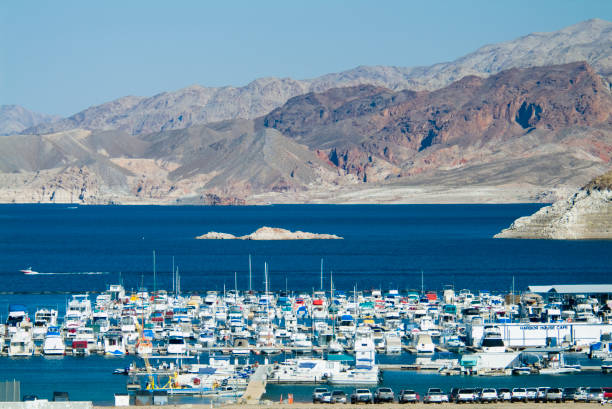 Lake Mead is the largest man-made lake in the United States, located on the Colorado River just east of Las Vegas, Nevada.
It covers about 247 square miles of water and approximately 1,532 square miles of land.
Lake Mead was created when the Hoover Dam was built from 1931 to 1935.
The dam was designed to provide water storage for the arid southwestern U.S., as well as flood control and power generation.
It also helps regulate river flows for downstream users.
By 1936, Lake Mead had filled with water behind the dam, which permanently altered both the landscape and life in the area.
Today it continues to serve its original purposes, but also attracts millions of visitors a year who come to enjoy its recreational opportunities such as boating, fishing, and hiking.
2. Lake Powell, Arizona-Utah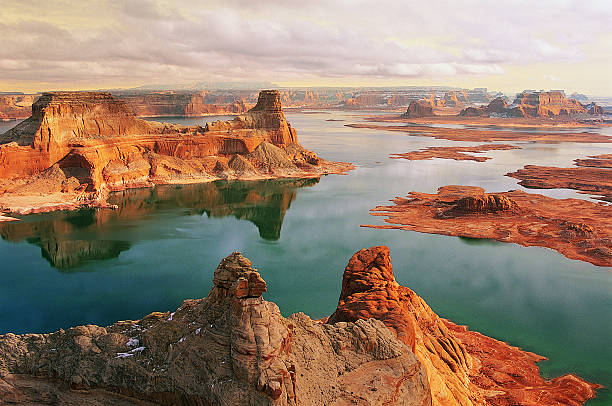 Lake Powell is a reservoir on the Colorado River, straddling the border between Utah and Arizona. It is a major vacation spot that around 2 million people visit every year.
It is the second-largest man-made reservoir by maximum water capacity in the United States behind Lake Mead, storing 24,322,000 acre-feet (3.0001×1010 m3) of water when full.
However, due to high water withdrawals for human and agricultural consumption, and because of subsequent droughts in the area, Lake Mead has fallen below Lake Powell in size several times during the 21st century in terms of volume of water, depth, and surface area.
Lake Powell was created by the flooding of Glen Canyon by the controversial Glen Canyon Dam, which also led to the creation of Glen Canyon National Recreation Area, a popular summer destination.
The reservoir is named for explorer John Wesley Powell, a one-armed American Civil War veteran who explored the river via three wooden boats in 1869.
3. Lake Sakakawea, North Dakota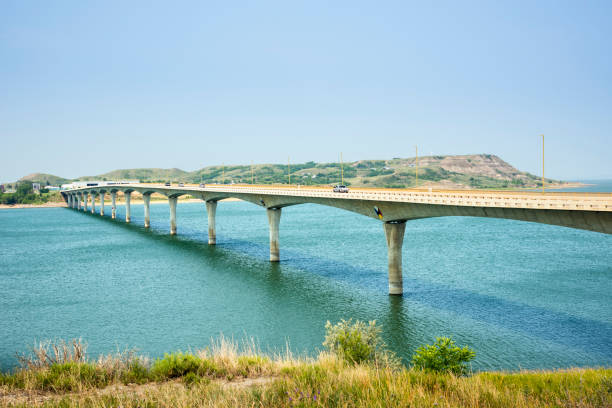 Lake Sakakawea is North Dakota's largest body of water and the third-largest man-made lake by surface area in the United States.
Its shoreline measures 2,832 miles (4,561 km), more than the combined shoreline of California, Oregon, and Washington.
It was created by the construction of Garrison Dam by the U.S. Army Corps of Engineers and named for Sacagawea, a Shoshone woman who assisted the Lewis and Clark Expedition.
The lake lies entirely within North Dakota, with its northernmost point about 1⁄3 mile (540 m) south of the Canada–United States border with Saskatchewan.
Garrison Dam was completed in 1953 as part of a program to provide flood control on the Missouri River and facilitate navigation and development along with it.
The dam impounds Lake Sakakawea, which extends 184 miles (296 km) upriver to Williston and is larger than Lake Ontario.
In addition to providing flood control, irrigation water, hydroelectric power generation, and fish and wildlife enhancement, Lake Sakakawea provides significant recreation opportunities for North and South Dakota residents, as well as other states.
4. Lake Oahe, South Dakota-North Dakota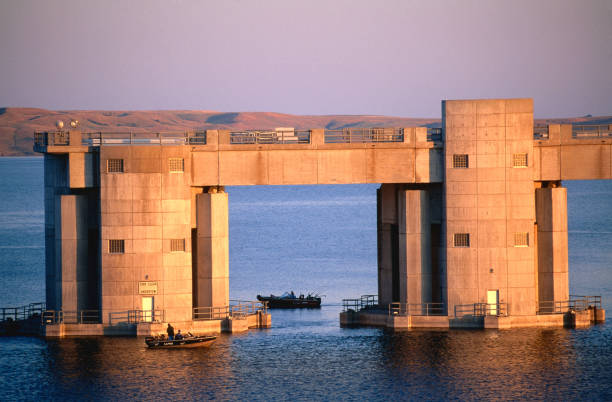 A popular boating and fishing destination, Lake Oahe is the largest man-made lake in the United States.
It stretches from Pierre, South Dakota to Bismarck, North Dakota, offering more than 231 miles of shoreline for visitors to explore.
Named for a Sioux Indian word meaning "a foundation," Lake Oahe was created when the Oahe Dam was built on the Missouri River near Pierre.
Completed in 1962, the dam's reservoir filled with water from the Missouri River to create Lake Oahe.
Lake Oahe's clear blue waters are surrounded by bluffs and prairie grasslands.
The lake is home to a variety of fish species including walleye, sauger, northern pike, and smallmouth bass.
Each year thousands of anglers travel to Lake Oahe hoping to land a record-breaking catch.
Boat ramps provide access to the lake, while campgrounds provide both RV and tent camping sites along the shoreline.
Several state parks offer outdoor recreation activities including picnicking, hiking, and nature trails.
5. Fort Peck Lake, Montana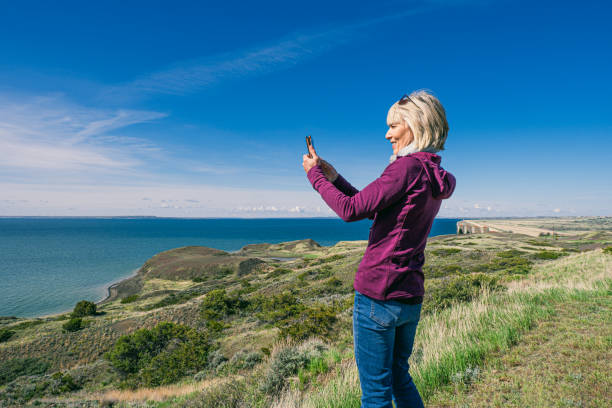 Fort Peck Lake is one of the largest man-made lakes in the country, with over 200 miles of shoreline.
It offers a wide variety of recreation opportunities to visitors who come from all over the world.
Recreation at Fort Peck is centered around the lake, which offers superb fishing for walleye, smallmouth bass, northern pike, and perch.
The Missouri River also provides excellent fishing for trout and other species.
Water sports, boating, and camping are all popular activities on Fort Peck Lake, along with hunting and wildlife watching.
Fort Peck Dam was built during the Great Depression as a federal public works project and completed in 1940.
The Montana Power Company operated the facility until 1999 when it was deeded to the Bureau of Reclamation.
6. F. D. Roosevelt Lake, Washington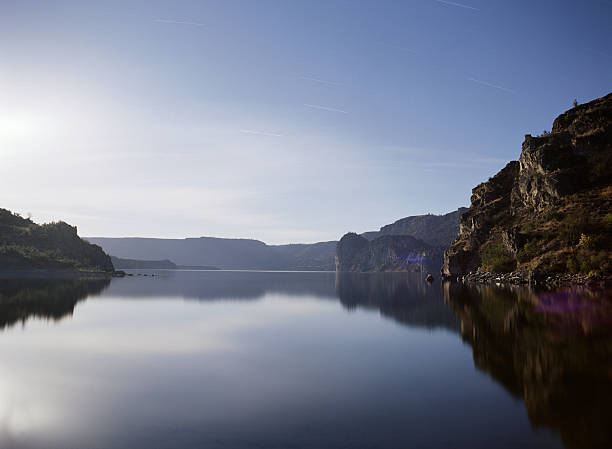 The largest reservoir and lake in Washington is Franklin D. Roosevelt Lake, the sixth-largest man-made lake in the US.
The lake is also home to the Keller Ferry, one of only two free ferries across the Columbia River.
The Grand Coulee Dam was completed on March 22, 1941, and a few months later, on July 4th, the president came to dedicate it.
There's a good chance that you've seen photos of Lake Roosevelt; the first time I ever saw a photo of it I thought it looked like a sea.
With 150 miles of shoreline, there are plenty of things to do on Lake Roosevelt.
The lake is also home to the Keller Ferry, one of only two free ferries crossing the Columbia River.
The ferry can carry up to 16 vehicles, and operates daily from 6 am to 9 pm year-round.
The ferry crosses between Lincoln and Ferry Counties at milepost 7 on Highway 21.
The Grand Coulee Dam Visitor Center offers exhibits on the dam's history, power generation, laser light show, and tours inside the dam (reservations required).
7. Lake Cumberland, Kentucky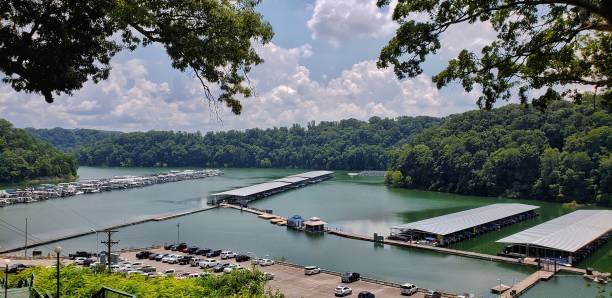 Located in Southern Kentucky, Lake Cumberland is one of the largest man-made bodies of water in the eastern United States.
The lake was built between 1939 and 1951 by the United States Army Corps of Engineers as part of the flood control program along the Cumberland River. Today, Lake Cumberland has over 1,200 miles of shoreline.
Lake Cumberland offers a variety of water recreation activities that include swimming, fishing, skiing, boating, and scuba diving.
The primary area for recreation at Lake Cumberland is located within Daniel Boone National Forest. Many federal campgrounds ring the lake.
Besides boating and camping opportunities, visitors to Lake Cumberland can enjoy an abundance of other recreational activities including hiking, golfing, and horseback riding.
Numerous scenic areas offer excellent views to visitors interested in viewing wildlife or taking pictures.
A number of marinas offer houseboat rentals for visitors who want to stay on the lake during their visit to Lake Cumberland.
8. Lake Koocanusa, British Columbia-Montana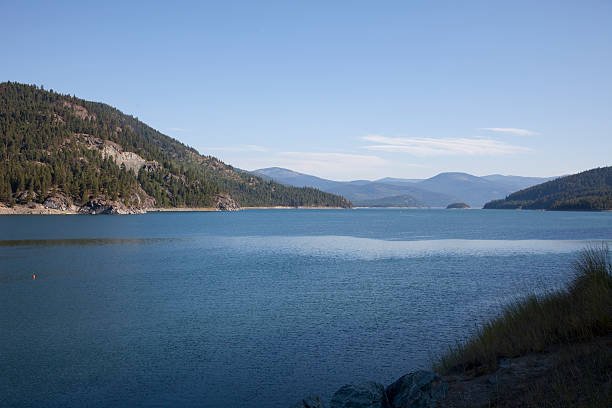 Lake Koocanusa is a reservoir in the West Kootenay region of southeastern British Columbia fed by the Kootenay River. It is one of the largest artificial lakes in western Canada.
The lake was created by the construction of the Libby Dam on the Kootenay River by the United States Army Corps of Engineers in 1972, flooding the river valley upstream in Montana and British Columbia.
The name Koocanusa is derived from a combination of "Kootenay", "Canada" and "USA", hence "Koo(Tenay)-Can-U-SA".
The lake extends 91 km (57 mi) upstream from Libby Dam to Jennings, Montana, occupying a portion of the Kootenay River valley and several adjacent valleys.
The lake's coastline is approximately 1,600 kilometers (990 mi) long.
Koocanusa Lake is stocked annually with approximately 100,000 walleye fry and 500,000 rainbow trout fry by Montana Fish, Wildlife and Parks for recreational fishing opportunities
9. Lake Francis Case, South Dakota
Lake Francis Case is a reservoir impounded by Fort Randall Dam on the Missouri River in South Dakota. It is nearly 110 miles (180 km) long and has an area of over 130,000 acres (530 km2).
The lake stretches from Pickstown in the north to the Nebraska-South Dakota border in the south.
Lake Francis Case is named for Francis B. Case, a former U.S. congressman from South Dakota who served as chairman of the House Appropriations Committee.
The lake borders Charles Mix, Gregory, and Tripp counties in South Dakota and Burt County in Nebraska.
The lake is popular for outdoor recreation, including boating, fishing, and hunting.
Popular fish species include walleye, sauger, northern pike, smallmouth bass, and catfish; other fish include largemouth bass, crappie, and yellow perch.
The area also attracts many species of waterfowl as well as pheasant, deer, and turkey for hunting.
10. Shasta Lake, California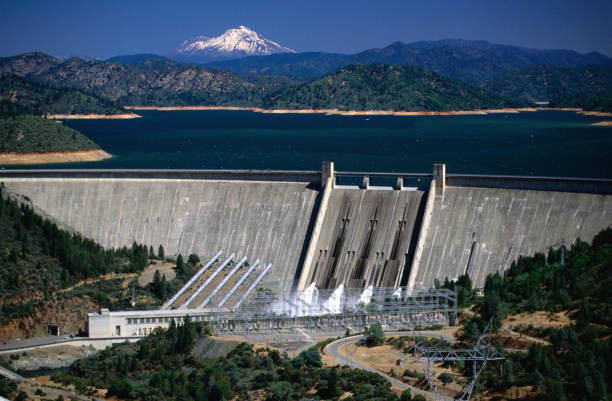 Shasta Lake, a reservoir created by Shasta Dam, is the largest lake in California.  It is located along the Sacramento River in Shasta County, about 9 miles (14 km) north of Redding.
The northern part of the lake extends into Shasta-Trinity National Forest and is accessible from Interstate 5.
At full capacity, Shasta Lake can hold 4,552,000 acre-feet (5.62×1010 m3), making it one of the largest reservoirs in the United States.
It is also known for its small houseboat communities and quality water recreation, such as water-skiing and wakeboarding on the Sacramento River Delta at the mouth of the Pit River Arm.
The lake has over 30 boat ramps as well as 13 marinas & 6 resorts. Though Shasta Lake is large in terms of capacity and surface area, it only has a mean depth of 131 feet (40 m), which is shallow compared to other large lakes in the western United States such as Pyramid Lake in Nevada or Crater Lake in Oregon.