Tanzania has dedicated more than 42,000 square kilometers more than one-third of its territory- a uniquely high proportion of land to the formal protection of its wildlife as National Parks and Game Reserves despite its growing population pressures.
Each park has its own distinct beauty and charm. The diverse environment of Tanzania in East Africa ensures that no two parks are similar.
Tanzania has an abundance of national parks that have unique features, offer great thrill and excitement to visitors and are friendly to people who consider a visit to these tourist attractions very important.
Tanzania has a variety of parks that are divided into national parks, marine parks, UNESCO World Heritage Sites, hunting areas, game reserves and so on. Here are the best national parks in Tanzania
1. Serengeti National Park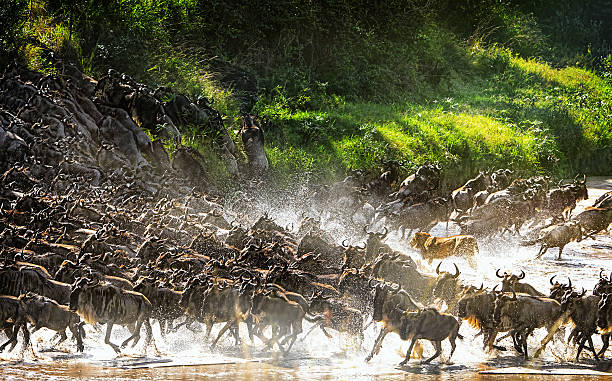 The Serengeti is one of the most striking names in the world. The Serengeti, with its wide savannah panoramas, silhouetted acacia, and stunning crimson sunsets, deserves to be at the top of the safari circuit.
It is Tanzania's most popular and largest national park (14,763 square kilometers, or 5,700 square miles), borders Kenya in the north, Ngorongoro Crater in the east, and Lake Victoria in the west. It was recently designated as a natural marvel and a UNESCO World Heritage Site.
The Serengeti's most renowned occurrence is its yearly migration, in which hundreds of thousands of zebra, Thomson's gazelle, and millions of wildebeest migrate across the plains to richer pastures.
Throughout the remainder of the year, large herds of buffalo, elephant, giraffes, eland, topi, kongoni, impala, and Grant's gazelle may be seen, followed by a pride of lions and lonely leopards, cheetahs and jackals, and a variety of lesser predators.
The Serengeti is well-known for providing interactions between predators and prey, and its broad plains provide an ideal setting for seeing animals interact with one another.
The Serengeti does not disappoint birders, with over 500 species documented, ranging from black eagles to ostriches to the exceedingly uncommon Beasley's Lark.
2. Ngorongoro Conservation area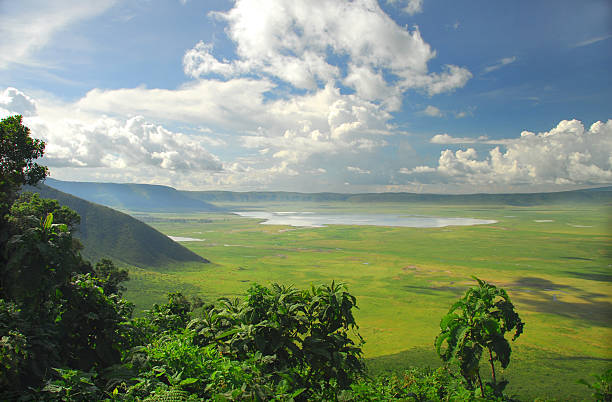 The Ngorongoro Conservation Area is quickly becoming as well-known as the surrounding Serengeti Plains due to its various habitats, famous crater, and huge wildlife populations.
The Great Rift Valley Conservation Area, located between the Great Rift Valley and the Serengeti, is well-known for almost definite sightings of the Big Five (elephant, buffalo, lion, rhino and leopard).
The various habitats of the Conservation Area include grasslands, scrub, woodlands, and rolling volcanic peaks and turrets. Its saline lakes are home to massive flamingo populations, as well as migratory bird species like as cranes, storks, and wagtails.
The Conservation Area contains the Ngorongoro Crater, the world's eighth natural wonder. Almost all of the Big Five live or roam within the crater rim, while Maasai tribesmen graze goats and cattle on the highland plateaus that surround it.
Because the Conservation Region is a protected area, only Maasai (about 42,200 people) are authorized to live within it and graze their animals around and within the crater.
The crater serves as a safe haven for the highly endangered black rhino, which is thought to number approximately 24 within the crater. Olduvai Gorge is another significant element of the Conservation Area.
In 1959, researchers Louis and Mary Leakey uncovered a 1.8 million-year-old hominid skeleton in the rocky ravine.
This, along with a spate of other significant early human fossils unearthed in the canyon, puts Olduvai among the world's most important anthropological sites.
3. Mount Kilimanjaro National Park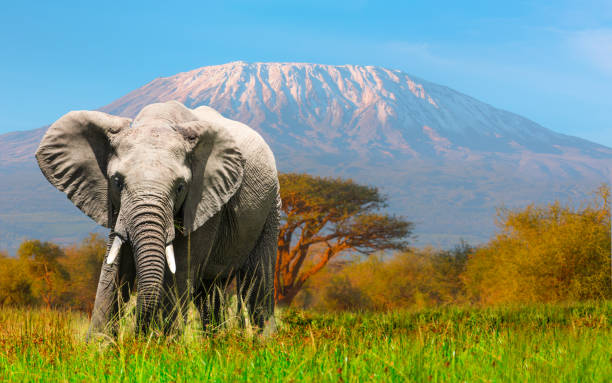 The crowning glory of Kilimanjaro National Park is East Africa's most aesthetically beautiful landmark and the world's biggest free-standing mountain.
The Park encompasses the whole nameake mountain above the natural tree line (about 2,700 meters), as well as six forest trailing sections. Kilimanjaro, Africa's highest peak at 19,336 feet (5,895 meters), is a magnificent and evocative mountain.
It is also one of the few peaks of comparable height in the globe that can be climbed by a wide range of hikers with varied levels of fitness and preparedness. It is regarded as one of the world's great adventures, drawing mountaineers and adrenaline junkies from all over the world.
The Park itself contains a diverse range of environments. At lower heights, a mountain forest surrounds the snow-covered top, providing a habitat for elephants, buffalo, monkeys, and even leopards.
Climb higher, and the woods is replaced by moorland landscape, which is dotted with riotous clusters of massive bluish-purple lobelias.
At higher heights, only tenacious moss and lichen in an alpine desert environment may be visible. The rise finally leads to a glacier of snow and ice. You're on the roof of Africa.
4. Tarangire National Park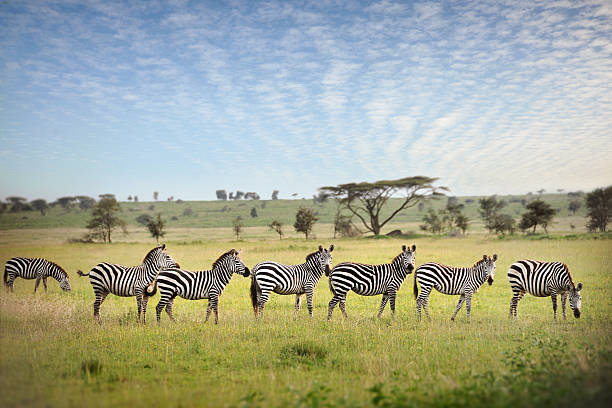 Tarangire National Park is gradually establishing itself as a must-see stop on the northern safari circuit. Tarangire National Park, located about south-east of Lake Manyara, contains the highest concentration of animals outside of the Serengeti.
Dry river beds, Rift Valley natural bushland, lagoons, marshes, and savannah are all on exhibit here, and they are home to a plethora of wildlife.
The convergence of multiple topographies in a very compact area results in an astounding level of biodiversity, with creatures generally seen in dry bushland coexisting alongside wetland species.
Wildebeest, zebra, buffalo, impala, gazelle, and other antelope species congregate in large numbers. Elephant groups of up to 300 have been reported in Tarangire.
Tarangire is one of the rare parks where lions, leopards, and gigantic, prehistoric-looking pythons have been sighted climbing trees. Tarangire is a bird lover's paradise, with over 550 bird species filling it with song.
The Kori bustard (the world's largest flying bird) and ostrich plod powerfully across the Park, while innumerable lovebirds, starlings, and migratory birds keep birders busy above them.
5. Mikumi Mikumi National Park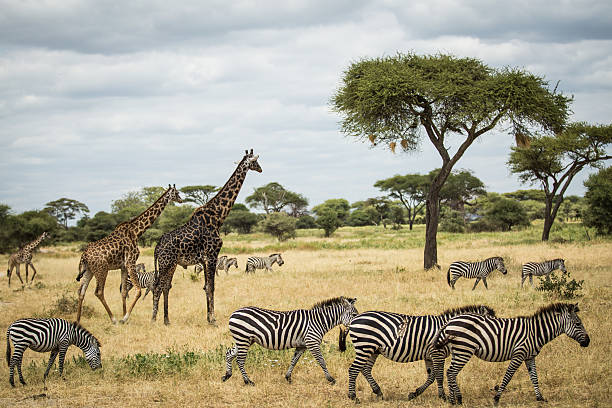 Mikumi National Park is Tanzania's fourth biggest and borders the Selous Game Reserve, Africa's largest reserve. The Uluguru, Rubeho, and Udzungwa Mountains surround the park, which is located southwest of Morogoro.
The Park's geography includes dense woods, grass plains, and hilly slopes. Throughout the year, colorful birds (about 400 species) fly about the Park, occasionally joined by migrating birds from Europe. The Park is home to a rare elephant population, as well as zebra, giraffe, wildebeest, impala, and buffalo.
The Mkata River offers cover and grazing for the Park's herbivore population, and the Mkata floodplain almost ensures a sighting of the world's biggest antelope, the eland. Lions can also be found for the lucky and dedicated watcher.
Mikumi, like Lake Manyara, is one of the few areas in Tanzania where lions have been observed climbing trees to avoid damp ground during the rainy season.
6. Lake Manyara National Park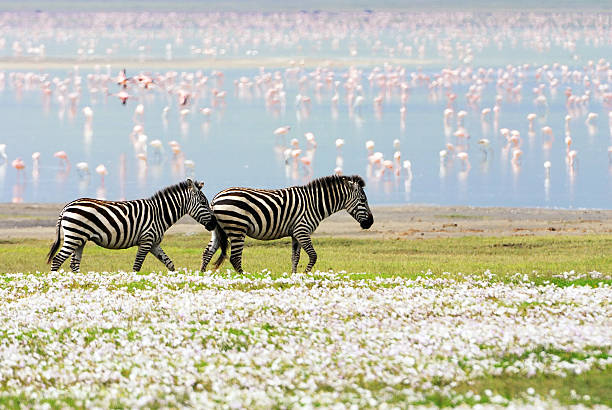 Lake Manyara National Park is a major feature on the safari circuit, and it is frequently combined with the Serengeti and Ngorongoro Crater. The lake's watershed offers a lush, green environment against a backdrop of spectacular vistas of the Great Rift Valley's western escarpment.
Despite its modest size (127 square miles (200 square kilometers), more than half of which is covered by the lake during the rainy season), the park provides a fantastic opportunity to see animals in lake and woodland habitats.
The park's landscape is mostly woodland or dense vegetation, which allows animals to roam more discreetly and makes viewing more personal. Swamp, acacia, grasslands, and lakeshore are some of the other ecosystems.
Elephant, buffalo, zebra, giraffe, warthog, and a variety of ungulate species may be found in these diverse settings. The hippo population in the park is amazing. Leopards and the park's famed tree-climbing lions are among the park's predators.
More than 400 species can be discovered in astounding abundance and variety for birders. Thousands of pink flamingos may be found around Lake Manyara. Hot springs may also be discovered in the park's southern part.
7. Selous Game Reserve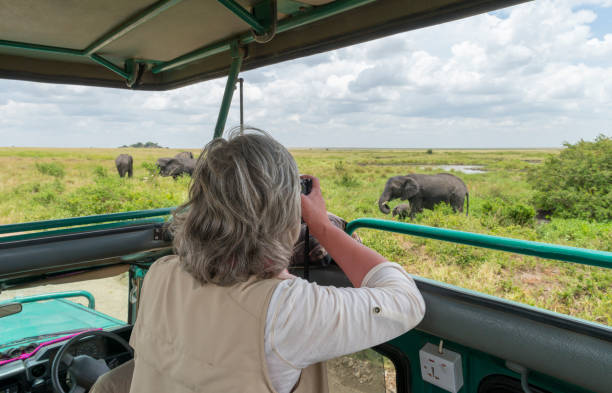 In a country filled of famous game reserves, the Selous Game Reserve is gradually becoming a wildlife-viewing jewel. Tucked away in Tanzania's less populated and less popular southeast, the reserve covers more than 5% of the country's total land and is Africa's largest wildlife reserve.
It's also a short charter flight from Dar es Salaam, making it a popular weekend safari getaway for city dwellers. The Selous Game Reserve provides close-up wildlife experiences in a less crowded setting than the Serengeti.
It is home to some of the world's remaining wild black rhinos and the critically endangered African wild dog, as well as elephants, antelopes, giraffes, lions, and a variety of marine and river wildlife. The Rufiji River Delta flows through the Reserve before spilling into the Indian Ocean just beyond the park's borders.
Hundreds of hippos, crocodiles, and wildlife call the Delta home and give a wonderful viewing platform. Follow the Rufiji River to its confluence with the Great Ruaha River for unrivaled views of Stiegler's Gorge.
8. Arusha National Park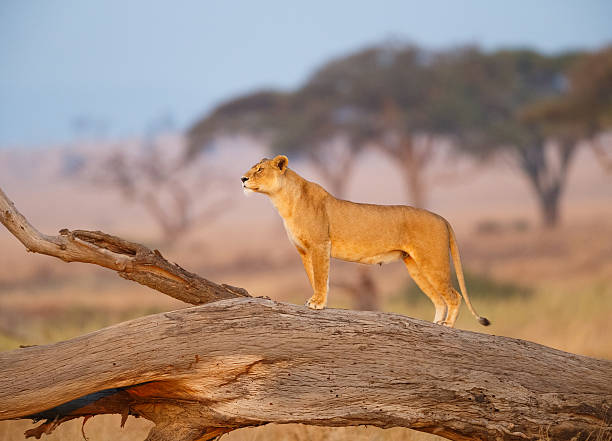 Arusha National Park is sometimes missed by tourists en route to the more well-known Serengeti or Lake Manyara. Those that make the effort to visit, on the other hand, are rarely disappointed by the diverse array of animals that can be found just a stone's throw away from Arusha.
The Park is ideal for a half-day excursion for individuals who are short on time or just want to see more following a northern circuit safari. A substantial chunk of Mount Meru, Tanzania's second-highest mountain, is located within the National Park.
The impressive rock looms over the national park. Their 212 square miles cover much of the mountain's eastern flank, including the summit's 3.5 km-wide Meru Crater and the somewhat smaller Ngurdoto Crater. The Park also includes the small Momela lakes, which are home to a diversity of fauna due to their alkaline waters.
Elephants, giraffes, zebras, hippos, buffaloes, warthogs, antelopes, and primates such as playful colobus and blue monkeys may all be found in the National Park.
If you're lucky, you could even see a leopard or a hyena! Arusha National Park is also a birder's paradise, with around 600 distinct species and a plenty of butterflies.
9. Gombe Stream National Park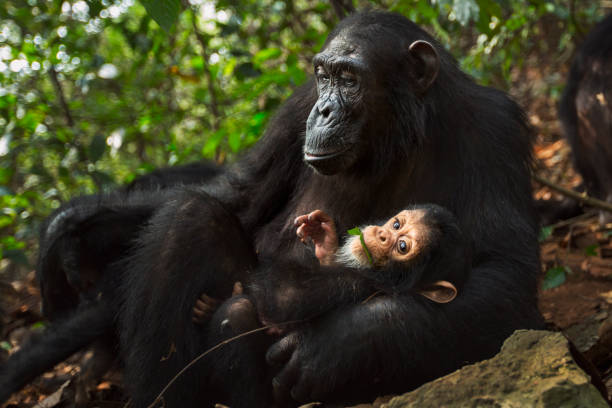 Gombe Stream National Park is a small park with a large and important history in Tanzania. Jane Goodall's pioneering behavioral study program on chimps was conducted there in 1960. The project, which is now a world-famous example of animal research, is still ongoing on the site today.
Tanzania's smallest Park, at only 52 square kilometers, provides ideal habitat for the endangered chimp. The Park, located just north of Kigoma, encompasses the hills and valleys that border Lake Tanganyika's northern shore.
It is one of the greatest spots in Tanzania to see primates. It is home to beachcomber olive baboons (which are also the focus of behavioral study) and two varieties of colobus monkeys.
Baboons are more amicable and acclimated to people, whereas monkeys are more elusive. Over 200 kinds of birds may be seen in the Park, making it ideal for birdwatchers. The Park is also worth a visit for anyone interested in local culture.
Lake Tanganyika is a functional lake with a population of around 10 million people in its basin. The fishing communities in the area are welcoming and lively, with hundreds of small, traditionally made wooden boats bringing in the catch of the day.
10. Ruaha National Park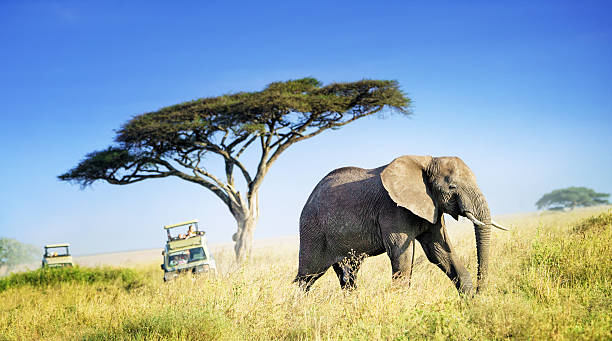 Some safari enthusiasts seek nothing more than wide plains, miles of wilderness, and a multitude of animals. The broad panoramas, outstanding wildlife watching, and few tourists of Ruaha National Park are a delight for those visitors.
Ruaha National Park, located west of Iringa in the eastern rift valley, is the country's biggest at over 10,000 square kilometers. During the heavy rainy season, the enormous Ruaha river borders the Park to the east, nourishing the semi-arid landscape.
During the dry season, the Park's waterways diminish, leaving only valuable ponds to feed both predators and animals. During the dry season, the Park may appear to be a lifeless mass of dirt and rock, yet upon closer inspection, an astounding diversity of game animals call the Park home.
Ruaha contains one of Tanzania's most diverse antelope herds, including one of the country's biggest concentrations of the majestic greater kudu.
The greater kudu is one of the biggest antelope species, and its horns are recognized for their spectacular twisting. The greater kudu, like many other antelope species, is pursued in Ruaha by a huge pride of lions as well as lone cheetahs and leopards.
The enormous packs of African wild dogs, one of the most endangered creatures in the region, are one of Ruaha's crowning achievements. Hyenas have been observed in the park as well.
The Park, like most Tanzanian parks, has a remarkable number of bird species – about 450. Ruaha is a meeting spot for birds from various habitats due to the confluence of acacia grassland and semi-arid woodlands.
11. Katavi National Park
If you're bored of the tourist traps on the safari circuit, Katavi National Park will undoubtedly heal your ailment. The Park is remote and difficult to get, but the committed visitor is rewarded with practically unequaled animal watching during the dry season.
At 2795 square miles, the park is Tanzania's fourth-largest (4471 square km). While no view in Africa is uninteresting, the Serengeti is less impressive until you see the Park's inhabitants.
The Park's rich animal population is abundant all year, but when water supplies dry up during the dry season, it concentrates in an incredible quantity and variety.
There are elephants, giraffes, zebras, lions, elands, gazelles, and many more animals to view, as well as over 400 bird species. The hippo pools, on the other hand, are unquestionably Katavi's feather in her wildlife-viewing cap.
Water recedes farther and further as the dry season progresses, causing hippos to congregate in ever-tighter areas. The notoriously hostile creatures can only withstand so much close contact, and conflicts and rivalries between male hippos are common and brutal.
This uncommon (in other parks) sight provides a once-in-a-lifetime opportunity to witness the sheer force of some of Tanzania's most infamous creatures.
12. Rubondo Island National Park
Rubondo Island National Park emerges from Lake Victoria's southern shores, encircled by little islets. These sentinels greet you as you enter one of Tanzania's best-preserved wildlife preserves. Because Rubondo is an island, its waterways are teeming with freshwater fish.
Nile perch weighing more than 100kg have been taken by recreational game fisherman. Tilapia are numerous and constitute the primary source of food for the island's permanent otter population.
Onshore, sandy beaches fade into a wall of unspoilt forest, a rich, enigmatic wood of sycamore figs, palms, and tamarinds fragrant by wild jasmine and home to over 40 distinct orchid species. This oasis is home to a diverse bird species, both permanent and migrating.
Papyrus wetlands provide an ideal habitat for the shyest antelope species, the sitatunga, as well as hippos and a variety of waterbird species. Mongoose, hippos, and other monkey species are native to the island, although other species such as chimp, elephant, and giraffe have been imported.
13. Mkomazi National Park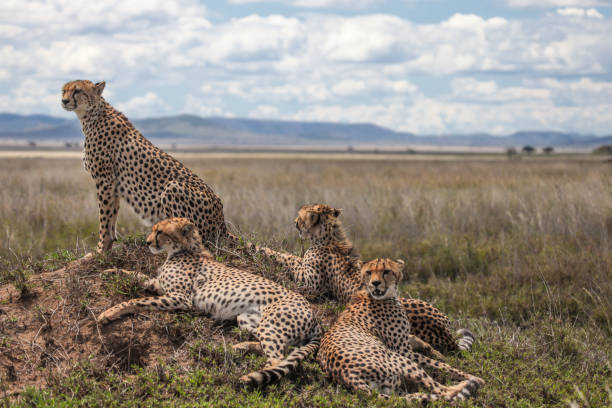 Tanzania's newest park, Mkomazi, connects the well-traveled northern circuit and coastal districts. It borders Kenya's Tsavo National Park to the north and includes the spectacular Usambara and Eastern Arc Mountains.
While it is still in its early stages and is less well-known in the region, the Park contains a significant black rhino population.
The critically endangered species was reintroduced to the area in the 1990s and currently lives in a guarded refuge while the population remains vulnerable.
The African wild dog, which is likewise endangered, was brought into the Park's refuge in the 1990s and may now be spotted throughout the park.
Elephant, giraffe, eland, zebra, and buffalo are among the other animals. The spiral-horned lesser kudu and the gerenuk, a kind of gazelle known to stand on its hind legs and stretch its long neck to consume the top tiers of grazing foliage, are two of the more interesting ungulates to be found.
There are around 450 bird species to be seen, ranging from arid savannah to soaring alpine birds. The Park features a magnificent vision of savannah dotted with huge baobabs, rolling hills, and two major mountain systems.
14. Saadani National Park
Saadani National Park offers travelers a once-in-a-lifetime opportunity to combine a Tanzania wildlife safari with the gorgeous Swahili coast's white sand beaches. Saadani is a 1,100 square kilometer (430 square mile) land region north of Bagamoya.
Within the Park, typical east African bushland is divided by the Swami River and meets the Indian Ocean's azure waves. Grazers like as buffalo, warthogs, various antelope, hartebeest, eland, and greater kudu may be found in the park.
Up to 30 elephant herds join them, occasionally venturing onto the beach for a stroll. There are many primates, including vervet monkeys and golden baboons.
Spotted hyenas, jackals, leopards, and many lion prides may be seen in the park. The swami river is surrounded by mangroves, making a boat trip down it both unusual and a wonderful opportunity to see hippos, crocodiles, flamingos, and other marine and freshwater animals.
Another feature that distinguishes Saadani is the presence of hundreds of tiny turtle eggs beneath the white sand of its beaches. Because of its status as a national park, Saadani is one of Tanzania's last significant green turtle nesting places.
15. Mahale Mountains National Park
A vast park on the outskirts of Lake Tanganyika is dominated by the Mahale mountain series and one of Tanzania's most remarkable chimp populations.
The Park is situated on a protruding peninsula of Lake Tanganyika, affording breathtaking views of the highlands and the sandy beaches of the country's most beautiful lake. With six conspicuous peaks creating the skyline, the mahale mountains are a photographer's fantasy. Nkungwe is the tallest at 8,069 feet.
The Park's biggest draw is its population of around 800 of the region's remaining wild chimps. Since the 1960s, a small number of them (about 60) have become acclimated to people.
In the Park, certain restrictions for contact with the chimps are enforced. Other fauna can be viewed includes red colobus and blue monkeys, as well as a wide variety of birds.
The tongwe people, who live in the area, have a complex historical link with the park region. Cultural excursions and hearing the group's stories are an intriguing approach to experience the region.