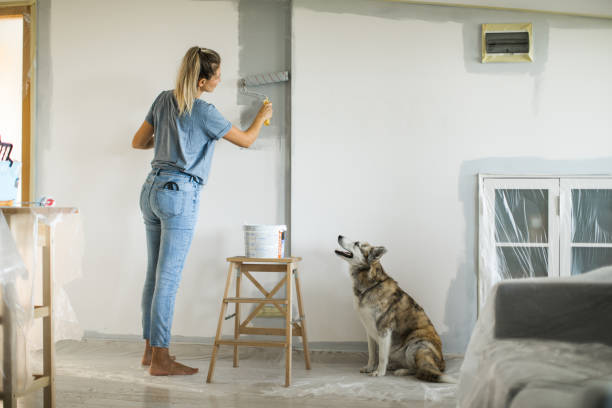 Painting is a popular business idea. It's easy to start, you don't need a lot of money, and the costs are low.
You can make a living from painting if you have the right tools and techniques.
If you're looking for a fun business idea that's easy to get started with, painting may be for you.
This business can be done as a part-time job or a full-time career, depending on your goals.
The most important thing to remember when starting this type of venture is to become licensed and insured as soon as possible.
A painting business can be started by an individual who has some experience in the field or someone who just wants to learn how to paint.
---
Related: The 20 Most Profitable Transportation Business Ideas
---
Here is how to start your own painting business
If you're thinking about starting a painting business, there are a few things you should consider first. Here are some tips on how to get started:
Decide on your niche market
Once you've decided to go into business as a painter, you need to decide what kind of painting you'll do and who will be your customers.
This can be tricky because there are so many different types of painting jobs and so many different types of customers.
If you're just starting out, it's best to start by working for other people and learning their business before branching out on your own.
Working for someone else will give you the experience and confidence needed to start your own business.
Attend a professional painting convention
When you first get started in the painting business, it's important that you learn from other people who are also in the industry.
Attending a professional painting convention can help you meet other people who have experience in the field and learn from their mistakes so that you don't make them yourself.
One way that these conventions can help is by providing you with information about local contractors who may be hiring painters or who may need extra laborers for big jobs.
This way, if somebody needs help with their home or office renovation project, they can hire someone locally rather than having to wait for someone from out-of-town to arrive at their property.
---
Related: 16 Profitable Lash Business Ideas
---
Research opportunities in your area
When researching how to start a painting business, there are two areas in which you'll want to look into local opportunities and industry trends.
Start by looking at different industries in your area — both residential and commercial — and see if there's a demand for painters.
If you can find out which types of jobs are popular in the area, then you can tailor your services accordingly.
You should also consider what type of painter is needed for these jobs.
For example, if most of the work is exterior painting or interior wall covering, then an exterior or interior painter might be more suitable than an industrial painter or another specialty type.
You also need to consider whether you want to offer only one service or multiple services such as stripping wallpaper, patching holes in drywall, and priming walls before painting them with latex paint or an oil-based primer that may contain solvents.
Creating A Business Plan
You need to create a plan for your business before you jump into it headfirst.
This will help you figure out what needs to be done and how much it will cost.
Once you have this information, then you can begin planning how much profit you want from each job and when it will be completed.
You also have to think about what customers will pay for their services and where they will come from.
---
Related: 15 Most Profitable Automotive Business Ideas
---
Costs And Expenses
One thing that most people don't think about when starting a business is the cost of running one.
When thinking about how much money you need for equipment and supplies, don't forget about things like insurance or even gas for your car if it is required by law that vehicles be insured while working on someone else's property (such as on their driveway).
You also have to think about paying yourself while learning how to run the business as well as any taxes that may apply depending on where you operate your business
Find a Location
Finding a location for your painting business can be tricky.
You need a place that's accessible to customers, but not so busy that you'll have to compete with other businesses for parking or foot traffic.
If you're just starting out, you may not want to invest in an expensive storefront location.
Look for an area with high foot traffic so that people will see your signs and come into your store.
If you're planning on running a mobile business, there are fewer restrictions on where you can set up shop.
You'll also save money on rent since you won't have a storefront to pay for on a regular basis.
---
Related: 20 Most Profitable Construction Business Ideas
---
Find a source of funding and financing options
You need to have enough money to purchase all of the necessary equipment, supplies, and other materials needed for your painting business.
If you don't have the financial resources to start your own business, consider getting a loan from a local bank or credit union.
Borrow money from friends or family members who believe in your idea enough to give you money without any sort of guarantee that they'll get it back someday down the road when you make a profit.
Choose the best legal structure for your business
Once you have determined that you are ready to start a painting business, it is time to choose the best legal structure for your business.
Choosing the wrong legal structure can cost you money and time.
You need to decide whether to incorporate or operate as a sole proprietorship, partnership, or limited liability company (LLC).
Each business structure has its advantages and disadvantages. Incorporating is more expensive but offers more protection from liability than other structures.
A sole proprietorship is inexpensive, but it could expose you personally to liability if your business fails.
Partnerships are similar to sole proprietorships in many respects, but they offer greater protections against personal liability than do sole proprietorships.
Some states allow LLCs to be taxed as partnerships in some circumstances, while others treat them as corporations for tax purposes.
---
Related: 20 Most Profitable Real Estate Business Ideas
---
Choose a name for your painting business
Choosing the right name for your painting company can be one of the most difficult parts of starting your own business.
There are many factors involved in choosing a name and it's important that you understand them before making any decisions.
The first thing to consider is whether or not you want your business name to be unique or if it's okay if it sounds similar to other companies in your area.
If so, then there are plenty of options available. You can choose something very colorful like "Colorful Painting Company" or something more subtle like "Expert Painting Service."
When choosing a name for your company, make sure that it isn't too long or complicated because this will only cause confusion among potential customers who may not remember what they heard.
Purchase insurance for your painting business
One important step to starting your own painting business is to purchase insurance for your business. This can be done through an insurance agent or online.
Insurance is a must for any business, especially one that involves working with people's homes.
The cost of coverage will vary depending on what type of work you do and how much coverage you want.
You'll want to make sure you have enough liability coverage in case someone gets hurt while in your care, as well as enough coverage in case something happens while you're away from home.
If you're going to be working around electricity, natural gas, or propane tanks, it's important that you purchase a policy specifically designed for those types of jobs.
Hire employees for your painting business
If you run a painting business, you're going to have to hire employees eventually.
There are many ways that employees can benefit your business, whether it's by increasing productivity or decreasing costs.
You may be able to complete certain tasks faster than an employee can, but it may be worth it to hire someone else so that you don't have to do everything yourself.
An employee can also perform tasks that require more attention or skill than you possess, such as trimming out doors and windows or installing molding around doorways and ceilings.
---
Related: 15 Profitable Drone Business Ideas
---
The 15 Most Profitable Painting Business Ideas
Commercial Painting
Commercial painting is one of the fastest-growing industries in the United States today.
With so many new buildings being built and older ones being renovated, there is an endless supply of work for commercial painters who have experience and talent.
The pay rates vary depending on what type of job you are doing but can range from $8-$15 per hour on average.
If you already have some painting skills and don't mind working hard then this could be a great opportunity for you!
Residential House Painting
If you're a handy person who enjoys painting, starting your own residential house painting business can be a rewarding and profitable venture.
Before you start your business, however, make sure you have the necessary skills and equipment to do the job well.
In addition to being able to paint, you must know how to prepare surfaces for painting and how to apply a variety of finishes.
You should also be familiar with the safety regulations associated with working with chemicals used in painting projects.
Start Painting Classes
If you have a love for painting, then why not share it with others?
Starting a Painting Class is the perfect way to combine your passion with a business venture.
This is a great opportunity for a stay-at-home mom or dad who wants to earn extra income while raising their family.
There are many different ways to teach painting classes, but the most common is through a local community college or university.
Kids Art Businesses
If you have a passion for art and children, then you are well on your way to starting a lucrative kids' art business.
Kids' art is a great way to show your own children the joys of creating something beautiful out of nothing.
It can also be a wonderful way to teach them about their own creativity and how their imagination can take them far.
The first thing that you need to do is decide what type of kids' art business you want to start.
There are many different types of businesses that provide services related to kids' art.
Decorative Painting
If you have a knack for painting and decorating, then you can start a decorative painting business.
This is a great business idea for those who love to do art and crafts and want to turn their passion into a money-making venture.
You can choose to paint anything from walls, doors, furniture, etc.
A decorative painting business is not just about painting but also about creativity and imagination.
You have to come up with some unique designs for your clients so that they get something different from what others have offered them.
You can use your own creativity or get ideas from magazines or websites.
You do not need any special training for this type of business but you should be able to draw well and have good hand-eye coordination skills in order to create beautiful paintings.
Mural and Faux Finishing Painting
If you love creating art, then this business idea is for you.
You can start your own mural and faux finishing painting business and earn extra money by working on your own terms.
If you are good at drawing, then this business idea can help you earn extra income from home.
Mural painting involves the creation of large-scale paintings on walls using a variety of techniques, such as spraying or rolling the paint onto the wall.
The art of muralism dates back to the 16th century when artists began to use large-scale murals for religious purposes in churches and cathedrals.
Nowadays, murals are used for decorative purposes in homes or offices.
Epoxy Floor Coatings and Polishing
If you enjoy working with your hands and have a knack for making things look great, consider starting an epoxy floor coatings and polishing business.
You can offer this service to businesses, government agencies, and private homes.
A one-person operation can be very profitable, but you may need to hire employees as your business grows.
It's important to do your homework before deciding on a location for your shop or office.
If possible, find a location that is near customers so that you don't have to transport the materials from your home or warehouse to the worksite.
Exterior deck staining and painting
If you're looking for a new business to start and have some painting experience, then consider starting an exterior deck staining and painting business.
If you have ever looked at the prices of professional deck staining and painting, you will see that it is not cheap.
But if you have the right tools and equipment, you can do it yourself and save hundreds of dollars.
The hardest part is finding someone to teach you how to stain and paint decks.
Start by buying a good-quality brush from your local hardware store.
Make sure that it has natural bristles (not plastic) because natural bristles hold more paint than plastic ones.
Buy two brushes, one for stain and one for paint. If you want to get really fancy, buy separate brushes for each color of stain or paint that you plan on using.
Next, buy good-quality rollers with synthetic bristles that are designed for use with latex paints (not oil-based).
When using these rollers make sure there are no loose hairs sticking out of the roller frame so they don't get caught in the wood fibers when rolling over them during the application of the stain or paint.
Automobile Painting
If you are an artist and love to paint, you can start an automobile painting business. This is a profitable business idea with low investment and high returns.
If you decide to start this business, then make sure that you have all of the necessary equipment to get started.
You will need a paint gun and paintbrushes, as well as other items such as sandpaper and masking tape.
You will also need a spray booth or enclosed room where you can spray paint cars without damaging anything else around them.
Finally, make sure that your vehicle meets all state and federal regulations before starting any work on it!
Paint Custom Signs for Businesses
If you like to paint, why not make it into a business?
You could paint the signs for businesses in your area or even sell them online.
It may take some time to get started because most people will want to see examples of your work before they hire you, but once they know that they can trust your work, they will come back again and again!