Best Potjie Recipes in South Africa – Nothing says "traditional" like offering a wonderful potjie during your next social gathering! "Potjiekos" is a South African traditional Afrikaner dish.
A "potjie" differs from a stew in that it is never stirred throughout the cooking process and is always cooked slowly over hot coals in a cast iron pan.
Cooking oil is put to a potjie and heated over a fire. Meat is usually lamb or pork. The meat is seasoned and typically flavored with alcohol, most often beer, Old Brown Sherry, or a dessert wine like Humbro. In terms of spice, Afrikaner chefs tend to be cautious; garlic, for example, is used sparingly, if at all.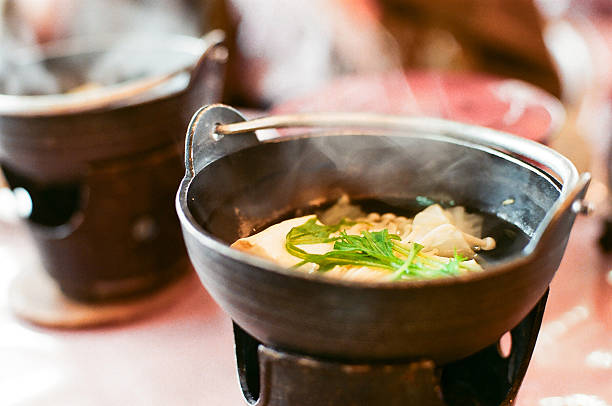 Let's get one thing clear: a potjie is not a stew. There is one significant characteristic that distinguishes this meal from any other slow-cooked food. Everything you need to know is right here.
What is potjiekos?
A "potjiekos" (literally "little pot food") is a meal cooked in a cast-iron pot known as a "potjie" (pronounced "poi-kee"), although the dish itself is also known as a potjie.
It is often composed of meat and vegetables and is made outside and slowly cooked over an open fire.
The first rule of potjie pot cooking is: DO NOT STIR THE POT. As a consequence of this process, all of the components cook correctly yet aren't too influenced by one another, so you get a variety of flavors and textures with each bite.
You should also be able to recognize all of the components visually, which is frequently not the case with a stew.
This, along with the distinct smokey flavor only obtained by cooking over a flame, is what distinguishes potjie.
Potjie pot
This three-legged cauldron was imported to South Africa in the 17th century from the Netherlands. Another variant of the original potjie pot is now known as a Dutch oven, which is popular in the United States and across the world.
Potjie pots come in a variety of sizes, and although some people place them directly over hot embers to cook, there are also safer potjie supports that resemble pyramid-shaped fire pits.
How to make a potjie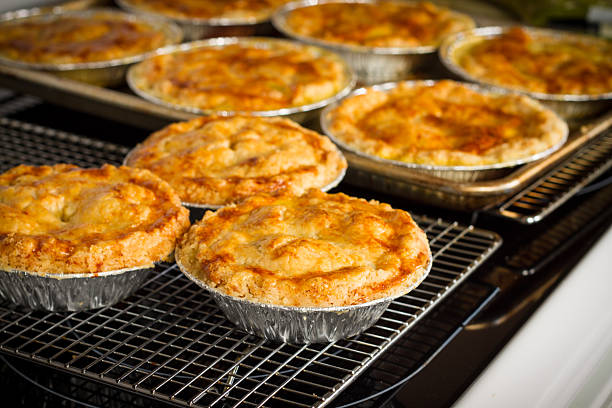 Over an open flame, a potjie pot is heated, and oil is poured until it begins to smoke. The meat is browned before adding spices and liquids such as stock and/or alcohol (typically beer or wine).
The meat is meticulously stacked with veggies and starches, and the contents of the pot are allowed to gently boil for hours, much like a slow cooker. Potjie is often eaten alone, with rice, or with simple baked bread.
Types of potjie recipes
Potjie is traditionally made with meats, vegetables (typically carrots, cauliflower, or pumpkin), and starches (potatoes or rice), as well as African spices.
Previously, game meats such as deer were used, but beef, lamb, and chicken are now more regularly used.
Top 12 Best Potjie Recipes in South Africa
1. Creamy beef potjie
9 Ingredients
1 kg Beef stewing
1 Stock cube beef
2 cup Brown mushrooms
2 Garlic cloves
4 Leeks only white part
1 Parsley, fresh
1 Butter
1 Cream
1 Red wine
Method:
Melt the butter over the embers in a potjie. Season with black pepper and cook the leeks and garlic for approximately 10 minutes, or until the leeks are soft.
Add the mushrooms, crumble the beef stock cube into the potjie, and top with the meat. Pour in the wine and cover the potjie with its lid (tightly).
Allow the beef potjie to simmer for approximately 2 hours over medium heat. (Alternatively, bake it at 140°C for approximately 2 hours.) When the beef is soft, add the cream cheese and mix well. Serve immediately with the parsley sprinkled on top.
2. Mutton and vegetable potjie
20 Ingredients
125 ml oil
2 kg mutton knuckles
2 onions, sliced
6 potatoes, quartered
1 red pepper, cut into cubes
1 green pepper, cut into cubes
5 large carrots, sliced
8 patty pans, quartered
8 courgettes, sliced
250 g fresh button mushrooms
500 ml mixed frozen vegetables (optional)
410 g chopped tomatoes
61 g mushroom soup mix
30 ml ground coriander
30 ml dried marjoram
30 ml allspice
15 ml garlic, crushed
15 ml sugar
60 ml white vinegar
15 ml paprika
Method:
Brown the meat in a big potjie with the oil. Layer the veggies on top of the meat, beginning with the onions and finishing with the mixed vegetables, in the sequence given above.
Serve with the chopped tomatoes and their juices on top. Pour the remaining ingredients and 1 litre of boiling water into the prepared saucepan.
Allow for an hour of gentle cooking without opening the cover. Thicken with cornflour if required.
3. Chicken and vegetable potjie
17 Ingredients
8 chicken thighs (or mixed pieces)
Salt and pepper to taste
30 ml cooking oil
2 large onions, sliced
4 medium-sized carrots, sliced
2 celery sticks, chopped
2 tomatoes, skins removed and sliced
1 green pepper, finely sliced
1 red pepper, finely sliced
250 g whole button mushrooms
250 ml spring onions, chopped
15 ml fresh parsley, finely chopped
10 ml dried mixed herbs
500 ml uncooked shell or screw noodles
5 ml freshly ground black pepper
3 ml dried rosemary
250 ml dry white wine or chicken stock
Method:
Season both sides of the chicken with salt and pepper. In a potjie pot, heat the oil and cook the chicken, a few pieces at a time, till golden brown. Cook for a few minutes after adding the onion.
Arrange the potatoes on top of the chicken in a layer. Layer the Rhodes Quality Mixed Vegetables on top of the potatoes. Pour in the beer or chicken stock, as well as the brown onion soup.
Close the potjie with the lid and cook for 40 minutes over low embers. Continue to cook for 5 minutes without the cover. Season with salt and pepper to suit, and serve hot over rice or pap.
4. Rich Beef and Mushroom Potjie
15 Ingredients
1 kg Beef stewing, steak
4 Carrots
4 Cobs of corn
3 large cloves Garlic
1 large handful Green beans
2 Leeks
1 Onion, large
2 Punnets button mushrooms
5 ml Robertsons thyme
1 Knorr beef stock pot
1 sachet Knorr rich beef and tomato soup
100 g Tomato paste
45 ml Vegetable oil
250 ml Red wine
1 liter Water
Method:
Fry the onion, garlic, and leeks in the oil in a big cast iron potije over hot coals or in a heavy-based pot on the stove until tender.
Fry the meat cubes until fully browned. Add the red wine and tomato paste, stir well, and let it reduce by almost half.
Combine the carrots, mushrooms, mielies, thyme, Knorr Beef Stock Pot, and water in a large mixing bowl. Allow the veggies to rest in layers on top of the meat without stirring the pot.
Simmer, covered, for 12 to 2 hours, or until the meat is tender. 10 minutes before serving, prepare a smooth paste with the contents of the packet of Knorr Rich Beef and Tomato Soup and put it into the potjie with the green beans.
Cook, stirring occasionally, until the green beans are cooked and the sauce has thickened. Serve with rice, pap, mashed potatoes, or steam bread.
5. Oxtail potjiekos
19 Ingredients
1kg Oxtail joints
3 tbsp of olive oil
1/2 cup of flour ( for dusting)
1 med onion chopped
3 cups of red wine
1 cup of water
Freshly ground salt and pepper
1 tin of chopped tomatoes
3 tbsp of tomato paste
2 tbsp of crushed garlic
10 black peppercorns
2 bay leaves
3 sprigs of Rosemary
8-10 whole baby onions peeled
8 med-large carrots coarsley chopped into rounds
10 -12 baby potatoes unpeeled and halved
2 cups of green beans with ends removed
25g packet of oxtail soup powder
Freshly ground salt and pepper
Method:
Build a fire using wood, briquettes, or charcoal, ensuring sure you have enough hot coals to start your potjie. After cleaning the oxtail joints, pat them dry using a paper towel and gently dust them with flour. Heat the olive oil in a saucepan over medium heat, then add the chopped onion, garlic, and oxtail.
Brown the oxtail pieces lightly, taking care not to burn them. After sealing the meat, add the red wine, water, tomatoes, tomato paste, peppercorns, bay leaves, and rosemary.
Season with freshly ground salt to taste. Place the cover on and cook for about 2 1/2 hours on a medium to low heat. Check in on a regular basis to check if more water is required.
The meat should only be submerged in liquid, not drowned. Cook for another hour after adding the baby onions, carrots, and divided baby potatoes.
Combine the oxtail soup and water in a mixing bowl, then return it to the saucepan with the green beans and cook for another hour or so, until the meat starts to come off the bone.
If desired, season with freshly ground salt and pepper. Serve with rice and fresh-baked pot bread.
6. Spicy seafood potjie
20 Ingredients
15 ml brown sugar

15 ml sweet soy sauce

30 ml fresh basil, roughly chopped

30 ml fresh parsley, roughly chopped

1 kg fresh white fish, filleted, or frozen hake steaks

500 g fresh or frozen prawns, shelled and cleaned

1 kg frozen marinara mix

2 lemons (juice only)

250 ml thick cream

10 mussels in their shells

20 ml olive oil

30 ml butter

2 large onions

10 ml garlic, crushed

10 ml ginger, freshly, grated

20 ml seafood spices

250 g fresh black mushrooms, sliced

410 g Mexican tomatoes

375 ml fish stock

125 ml sherry
Method:
Heat the oil and butter in a large potjie. Cook for 2 minutes after adding the onions, garlic, ginger, and seafood seasonings. Simmer for 15-20 minutes with the mushrooms, tomatoes, fish stock, sherry, sugar, and soy sauce.
Remove three-quarters of the mixture from the saucepan and cover it with the seafood, alternating with the basil and half of the parsley. Begin with the white fish, then the prawns, and finally the marinara mixture.
Add the lemon juice, cover the top, and let to boil for 20 to 30 minutes, stirring occasionally. Add the cream, mussels, and remaining parsley just before serving and cook through for approximately 5 minutes.
Serve with white rice and a green salad on the side.
7. Simple oxtail potjie
14 Ingredients
fresh chillies — 573
2 – 3 oxtail — sliced
250 g bacon — diced
2 onion — large, chopped
3 – 4 carrots — diced
1 garlic — cloves, chopped
1 tomatoes — peeled
salt
freshly ground black pepper
fresh thyme
4 bay leaves
1 kg baby potatoes
300 ml wine — red
250 ml cream
Method:
First, season the oxtail with salt and black pepper. Bring no. 3 potjie to a boil and lubricate with olive oil. Braze the oxtail and bacon.
Step 2: Remove the oxtail and bacon from the potjie and add the onions, carrots, garlic, tomatoes, bayleaves, and wine. Bring to a boil. Season with salt, black pepper, and thyme after adding the oxtail and bacon. 3 hours in the oven
Step 3: Cook for 15 minutes after adding the baby potatoes.
Step 4: Stir in the cream and simmer for 15 minutes.
Remove from the heat and set aside for 15 minutes.
Serve with brown rice, grilled vegetables (optional), and your favorite red wine (not negotiable).
8. Malay lamb curry potjie
17 Ingredients
Ingredients
30 ml sunflower oil
1 kg lamb knuckles
2 large onions (thinly sliced)
10 ml garlic (crushed)
10 ml ginger (freshly grated)
60 ml fresh coriander (chopped)
5 ml ground cumin
5 ml coriander
5 ml tumeric
5 ml chilli powder
3 cinnamon sticks
3 cardomom pods
4 whole cloves
2 large tomatoes (finely chopped)
10 ml sugar
4 medium potatoes (peeled and quartered)
Method:
In a large potjie, heat half of the sunflower oil. Set aside the meat after browning it in batches. Cook the onions in the remaining oil for 5 to 10 minutes, or until golden brown.
Fry for another two minutes after adding the garlic, ginger, and spices. Put the meat back in the potjie. Cook for roughly an hour, covered, over medium embers with 250ml water (or enough to cover the meat).
Cook for another 10 minutes after adding the tomatoes and sugar. Cook, stirring occasionally, until the potatoes and meat are soft. Season with salt and freshly ground black pepper to taste after adding the fresh coriander.
9. Thai chicken potjie pie
17 ingredients
6 Chicken breast, fillets
1 Cherry tomatoes
2 tbsp Coriander, fresh
2 cloves Garlic cloves
3 cm Ginger, fresh
1 Onion
1 Eggs
1/2 can Coconut cream
1/2 tsp Curry powder, mild
2 cup Flour
2 tsp Robertson's baking powder
1 Salt and freshly ground black pepper
1 tbsp Sugar
2 Oil
1/4 cup Butter
1/2 cup Lancewood buttermilk
1/2 can Sweetcorn on the cob
Method:
Fry the onion until it is soft. Cook for 2 minutes after adding the chicken, ginger, garlic, and curry powder.
Simmer for 3 minutes after adding the tomatoes. Simmer for 3 minutes after adding the coconut cream. Combine the fresh coriander and sugar in a mixing bowl. Season with salt and pepper to taste.
Combine the crust's dry ingredients. Rub in the butter with your fingertips until the mixture resembles dry bread crumbs. With a wooden spoon, stir in the other ingredients until a wet batter forms.
Divide the pie contents into four small potjies or tin cups and top with the batter. Place the potjies over medium-hot coals, with a few embers on top of the lids, for approximately 20 minutes, or until the batter has risen and is cooked through. If you're using tin cups, bake the pies uncovered at 180°C until golden brown.
10. Shank and potato potjie
14 Ingredients
1 1/2 kg Lamb shanks
10 Patty pans
573 15.00 ml fresh chillies, fresh
500 g Baby potatoes
10 Courgettes
500 g Mushrooms
1 Onion
3 Tomatoes
50 ml Water boiling or stock
5 ml Black pepper, freshly ground
5 ml Indian potjiekos spices
5 ml Lemon and pepper spice
5 ml Salt
15 ml Vinegar balsamic
Method:
Season the shanks liberally with salt and pepper and cook them in a hot saucepan, a couple at a time, until browned all over. Remove the shanks and sauté the onion till tender in a little olive oil.
Pour in the vinegar and whisk to combine. Stir in all of the spices softly. Toss in the tomatoes and stir well. Return the shanks to the saucepan, reduce the heat to low, add a little boiling water or stock, and continue to cook until the shanks are tender.
After approximately 2 hours, add the baby potatoes. Simmer until the potatoes are nearly soft, then add the other veggies and heat until they're done but still crunchy.
Season with salt and pepper to taste, then top with another drizzle of balsamic vinegar if desired. Serve with brown rice or parsley rice as a side dish.
11. Tomato lamb neck potjie
13 Ingredients
8 slices lamb necks
250 ml red wine (Pinotage of course! you can be liberal with this)
250 g new potatoes, chopped (halved if small)
1 large onion, roughly chopped
2 red peppers, sliced
12 vine tomatoes, halved
1 1⁄2 teaspoons ground cloves
1 1⁄2 teaspoons ground cinnamon
2 teaspoons sweet paprika
3 cm fresh ginger, finely chopped
2 garlic cloves, crushed
1 tablespoon chopped fresh coriander
3 tablespoons vegetable oil
Method:
Heat the cloves, cinnamon, paprika, ginger, and garlic in a potjie pot with some oil until aromatic. Place the meat and potatoes in the saucepan, followed by layers of onion and pepper.
Finally, arrange the tomatoes on top of the saucepan and sprinkle with coriander. Pour the wine over the top and allow it to drain.
Place the top on the saucepan and let it to boil. After 30 minutes, thoroughly stir the pot so that the meat is on top. Cover once again, reduce the heat if required, and let to simmer cook for as long as possible.
After two hours, it's good, and much better the following day. If you have space, serve with rice.
12. Mushroom potjie
14 ingredients
12 Baby potatoes
250 g Brown mushrooms
4 Carrots
125 g Cherry tomatoes
2 Chilli, red
2 cloves Garlic cloves
15 ml Ginger, fresh
30 ml Herbs parsley, fresh mixed
1 Onion, large
250 g Portabellini mushrooms
125 ml Stock vegetable
15 g Sugar snap peas
3 Tinned tomatoes
1 Red pepper
Method:
In the potjie, layer the potatoes, carrots, brown mushrooms, onion, red pepper, garlic, ginger, and chili, snap peas, cherry tomatoes, and portabellini mushrooms (in this order).
After each layer, season with salt and pepper. Combine the canned tomatoes and vegetable stock in a mixing bowl. Cover and simmer for about 1 hour, or until the veggies are soft.
Sprinkle the fresh herbs over top. Serve with couscous, rice, or spaghetti.