Gombe Stream National Park is one of the best places in Africa to track chimpanzees. First researched in the '60s by Jane Goodall, the primates are remarkably habituated. The project now ranks as the world's longest-running study of any wild animal population. The experience is one that you are unlikely to forget.
Gombe's chimps are the main attraction, but the park is also home to a troop of habituated olive baboons that can usually be found on the lakeshore. Several other monkey species present, including the red colobus monkey, which are sometimes hunted by the chimps.
Gombe lies at the shore of Lake Tanganyika. The forest is lush and divided by 13 streams that run down the escarpment to the sandy beach. To swim out and look back at how the forested slopes climb up the steep escarpment is an unforgettable experience.
1. Gombe Stream National Park Location
The tiny Gombe stream national park is located on the north-eastern shore of Lake Tanganyika near Burundi's border. Even though it is the smallest park in Tanzania, it has become world-famous through the passionate Dr. Jane Goodall's pioneering work, who came to study chimpanzees' behavior.
The landscape of the park is made up of steep valleys, streams, and rivers. The vegetation changes from tropical rainforests, alpine bamboo to grasslands, similar to neighboring Mahale Mountains National Park. Air charters land in Kigoma, but accessibility into the park is limited to boats departing from Kigoma town.
2. How to Get to Gombe Stream National Park
The only way to get to Gombe is by boat from Kigoma town. Depending on your itinerary, you might book your international flight to Kilimanjaro International Airport (JRO) in Arusha town or Julius Nyerere International Airport (DAR) in Dar es Salaam.
In most cases, your tour operator will pick you up from the airport or, if not, you can take a taxi. Your tour operator will also book your ongoing domestic flight to Kigoma Airport (TKQ) and charter a private motorboat to Gombe. The boat trip takes less than an hour.
It is also possible to take a public motorboat or 'lake taxi' from Kigoma to the park. This trip takes about four hours.
3. Wildlife in Gombe Stream National Park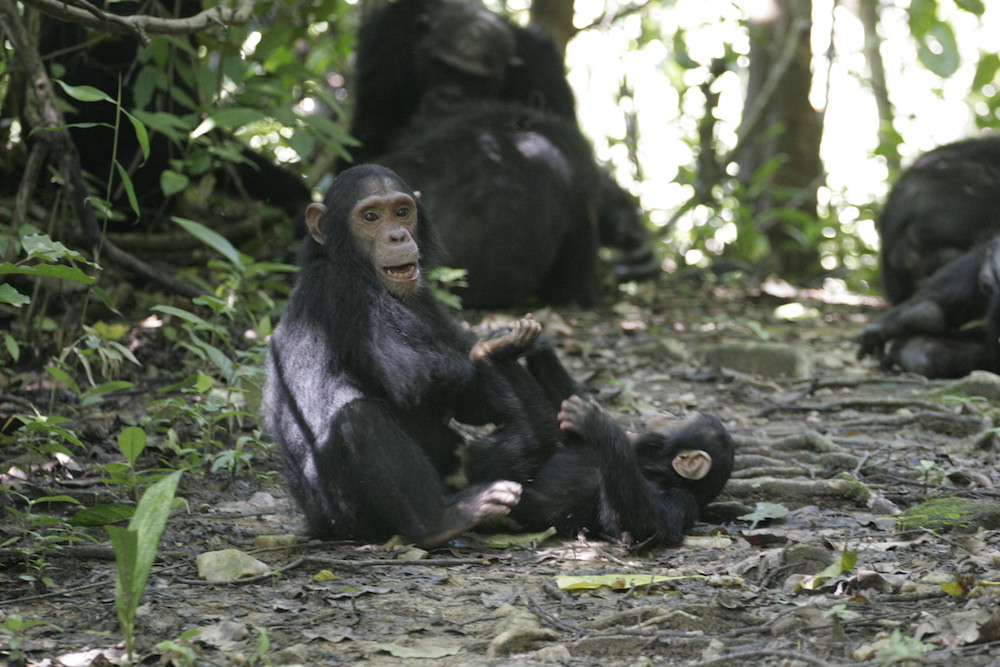 The main attraction in Gombe Stream is its population of habituated chimpanzees. There are about 100 chimps in the small park. Your guide will take you, on foot, along the forest trails to find them. Once found, you can observe them for one hour, whether they're feeding, resting, or walking (usually resulting in a challenging pursuit).
Aside from the chimps, other primates are often encountered. A troop of an olive baboon, also under study since the 1960s, is exceptionally habituated. At the same time, red-tailed and red colobus monkeys – the latter regularly hunted by chimps – stick to the forest canopy. One of the more secretive inhabitants of the forest is the bushpig.
Best Time for Wildlife Viewing
The Dry season (from May to October) is the best time for trekking chimpanzees. At this time, the chimps tend to stay close to the lakeshore and are easier to find. The park stays open throughout the year, but the trails might be difficult to walk in heavy rain.
4. Birds in Gombe Stream National Park
Gombe Stream has about 200 bird species listed. Most of them are forest birds, which are quite difficult to spot. Particularly since walking in the forest, unguided is not allowed, and the guided walks are focused on chimpanzees.
The lakeshore is a good place to see fish eagles and palm nut vultures perched in the palm trees. Peter's twinspot, a normally elusive forest bird, is quite tame and easily spotted in the camp. Migratory birds are present from November to April.
Notable Birds in Gombe NP
African fish eagle
African broadbill
Black saw-wing
Crowned eagle
Double-toothed barbet
Kenya rufous sparrow
Livingstone's turaco
Palm-nut vulture
Peter's twinspot
Red-capped robin-chat
Red-chested Cuckoo
Ross's turaco
Yellow-rumped tinkerbird
5. Climate at Gombe Stream National Park
The climate in Gombe is warm to hot and humid. Daytime temperatures are around 26°C/79°F, and it cools down at night to around 16°C/61°F.
The Dry season is from May to October. Unlike the coastal areas and northern parks (which have two Wet seasons with a dry spell in between), Gombe has one continuous Wet season from November to April. It rarely rains all day, but afternoon thundershowers can be expected.
Dry season –May to October
May – This is the end of the Wet season. It might still rain a bit over this month.
June, July & August – Afternoon temperatures are usually around 27°C/81°F. Skies are mostly cloud-free and full of sun. It rarely rains over these months. June to August have the coldest nights but are still moderate, with minimum temperatures of about 15°C/59°F on average.
September & October – September and October have the highest temperatures of the year, but the difference from other months is just a few degrees. October is the end of the Dry season. Rain can be expected some days, and humidity will slowly increase.
Wet season –November to April
November, December, January, February, March & April – It is slightly cooler in the Wet season, but the humidity can be oppressive.
Afternoon temperatures are usually about 25°C/77°F, and night temperatures are about 17°C/63°F. It will rain for many days, but it rarely lasts all day.
6. Gombe Stream National Park Entrance Fee
Gombe Stream National's entrance fee is $100 per 24 hours, the highest for any Tanzanian National Park, though this applies only to time spent in the forest, not to time spent in camp.
7. Things to Do in Gombe Stream National Park
Chimpanzee trekking
Visitors can explore the park by trekking Chimpanzees and also come along with other primates like the vervet monkey, red-tailed monkey, blue monkey, and beachcomber olive baboon, to mention a few.
Game viewing
Apart from chimpanzee trekking, tourists on a safari to Gombe national park can view animals like bush pigs, bushbucks, and reedbucks are often seen within the forests. Apart from viewing wildlife, tourists can also have opportunities of coming across many plant species.
Bird watching
Gombe national park is blessed with both migratory and residential birds. The most commonly seen are trumpeter hornbill, palm nut vulture, fishing eagle, and pied kingfisher among the rest Birding can be done while on nature guided walk or during Chimpanzee trekking.
Sportfishing
Tourists interested in making their safari more memorable can add fishing to their itinerary; tourists must engage in this activity with an experienced fishing guide and a fishing permit and must do this activity in the designated areas.
Nature guided walks
A nature-guided walk can be taken to a Goodall foundations old feeding station. This the first place where Dr. Goodall was when studying the behavior of Chimpanzees. This is also the place where Henry Stanley met Dr. Livingstone in 1871.
Apart from the above activities, tourists to Gombe national park can also engage in recreational activities like snorkeling the splendid Lake Tanganyika or swimming.
Gombe national park will provide you with a thrilling wilderness experience make it a must-visit when on a safari to Tanzania. The park can be visited all year round. However, June to October is the best time for viewing wildlife.
Other Attractions are:
Chimpanzees and 8 other species of primates
View Jane Goodall's world re-known research station
Mountains, valleys, waterfalls, and streams
Lake Tanganyika
Rift Valley
Kakombe and Mkenke Riverine waterfalls
Meeting place by Dr. Livingstone and Stanley at Ujiji in Kigoma town.
Snorkeling with Cichlids(colorful fish)
8. Best time to visit Gombe Stream National Park
In the dry season from June to September, there is very little rain or none at all, with plenty of sunshine, although later in the year, a fine haze can impede viewing conditions. There are a few mosquitoes, especially during the day.
Chimps generally stay on the lower slopes during the dry period and are easier to find. Sometimes they can even be seen close to the camps or wandering along the sandy shore. In intermediate periods, conditions are widely variable but generally tolerable and well worthwhile because of other incentives.
Between December to March is bird watching time, with hundreds of migratory and resident species, such as pelicans, storks, ospreys, vultures, rollers, barbets, cuckoos, hawks, eagles, owls, cormorants, and many more in full breeding plumage. Many of them are forest species, require more time in Gombe to spot, but most rewarding.
9. Accommodations in Gombe Stream National Park
There are few lodges and guesthouses in Gombe Stream National Park
Remarkably, there is a huge volume of accommodation options in Kigoma town, near Gombe Stream National park, particularly on Lake Tanganyika's shoreline.
Comfortable and spacious safari tents are elevated on timber platforms, each with a covered and furnished private deck overlooking the tranquil forest.
Each guest tent is carefully positioned under the shade of huge mango trees around the main lodge, minimizing the disturbance and impact on such a stunning environment.
Tents have twin or double four-poster beds with mosquito nets, a dressing table, chair, and electrical charging point, as well as en-suite facilities with showers, flush toilets, and hot and cold running water throughout the day.
10. Safety and Security in Gombe Stream National Park
General Safety
Gombe National Park is very safe to visit in our opinion. Gombe's remote location and the fact it can only be reached by boat makes it inherently safe. When following normal safety precautions, you shouldn't have any issues.
Malaria & Vaccinations Safety
It would help if you got advice about vaccinations before your trip to Africa. Malaria is present in Gombe. To protect yourself, you should apply mosquito repellent (those that have DEET in them are most effective), take antimalarial medication, and wear long-sleeved clothing during evening hours.
Chimp Trekking Safety
Chimp trekking is very safe. The animals generally ignore humans and go about their daily activities while we watch them. To ensure your safety, you'll get a briefing before your chimp trek. Your guide will also give directions while you're with the chimps.
Conclusion Summary
The pioneering work of Dr. Jane Goodall, who studied the chimps of Gombe, have helped make this park world-renowned. Accessible only by Lake Tanganyika's crystal blue waters, the entry into Gombe is by small boat. A true adventure!
Gombe is the smallest of Tanzania's national parks. The park is a fragile strip of chimpanzee habitat straddling the steep slopes and river valleys that hem in Lake Tanganyika's sandy northern shore.