1. Mikumi Selous Game Reserve Location
Selous Game Reserve is one of Africa's largest game reserve, but most of it has been set aside for hunting. The animal viewing area that is open to the public is relatively small but very rewarding, with many predator sightings and excellent boat safaris on the Rufiji River.
The Rufiji River is teeming with hippo and crocodile, and the birdlife is fantastic. Lion sightings are very common as the opportunistic creatures tend to laze around the lakes waiting for animals coming to drink. One of the attractions of the park is the chance to encounter a wild dog.
The part of Selous – north of the Rufiji River that is open to the public – is particularly scenic. The main wildlife-viewing circuit follows a string of five connected lakes fed by the Rufiji River. The Rufiji is one of Africa's great rivers, with palm-fringed channels and swampy islets.
The Dry season (June to October) is when you should travel to Selous, even though you'll be joining the crowds attracted by this period's clear blue skies. It's at this time animals converge on rivers and waterholes, and the dry bush is sparse enough for views of wildlife to be unobscured. If you do visit in the wetter months, be aware that numerous lodges close their doors from March to May.
2. How to Get to Selous Game Reserve Park
The reserve is located in the southern part of Tanzania along the southern Tanzania safari circuit and offers the best escape from the large tourist crowds in the northern safari destinations like Serengeti while offering you a remarkable wildlife experience. It is considered to be among the hidden gems in the county and offers a wide range of Selous Game Reserve Camps for accommodation. The reserve is located about 219 kilometres. from the busy city of Dar es salaam and may take about 4 hours drive.
3. Wildlife in Selous Game Reserve
Selous Game Reserve offers very good wildlife viewing, in general. The string of lakes along the main circuit is a good place to see unusually large groups of giraffe alongside other ungulates (animals with hooves) such as buffalo, waterbuck, impala and zebra. Opportunistic, a hungry lion is often found near these waterholes, and seeing a kill here isn't unusual.
Selous is home to several unusual antelope species such as the majestic sable and puku, a localized wetland special. The black rhino is rare but can sometimes be tracked down in some remote areas. Wild dog is present in the park and can be spotted when they are denning in the area accessible to tourists.
The Dry season, from June to October, is the best time for wildlife viewing in the park. Wildlife is easier to spot because the vegetation is thinner and animals gather around the Rufiji river and the lakes. Roads become impassable after heavy rain, and most camps close towards the end of the Wet season, in April, and reopen late May or the beginning of June. The best chance to see the wild dog is during their denning season, from June to August.
4. Birds in Selous Game Reserve
With over 440 species recorded, Selous is an excellent birding destination. The most conspicuous birdlife is attracted to the sandbanks, lagoons, islands and channels along the Rufiji River. A good way to enjoy the birdlife is on a boat safari. Common birds include yellow-billed storks, kingfishers, lapwings and colourful bee-eaters. Fish eagle and palm-nut vulture can be found perched high in the trees and skimmers can sometimes be seen flying across the water. Migratory birds are present from November to April.
Birding Specials

–

Treats for Avid Birders
African skimmer
Black-winged stilt
Böhm's bee-eater
Broad-billed roller
Brown-headed parrot
Brown-necked parrot
Dickinson's kestrel
Northern carmine bee-eater
Palm-nut vulture
Pearl-spotted owlet
Pel's fishing-owl
Racket-tailed roller
Rock pratincole
Thick-billed Cuckoo
White-backed night heron
White-backed vulture
White-headed lapwing
Yellow-billed stork
[su_note note_color="#cef5e8″]Selous is a good birding destination all year. In November and through April, migratory birds from Europe and northern Africa are present, making this the best time for bird watching. This is also the time that resident birds nest, and you'll be likely to see them in their colourful breeding plumage. Most camps close towards the end of the Wet season, in April, and reopen in June. For wildlife viewing, the Dry season – from June to October – is best for visitors.[/su_note]
5. Weather and Climate at Selous Game Reserve
The climate of Selous can be described as warm to hot and humid. Being so close to the equator, temperatures are relatively consistent throughout the year. The period of October through March consists of the warmer months, while June to August is cooler. The Wet season occurs from November to May. It rarely rains all day long.
Dry season

 

–

June to October
June, July, August, September & October – Most days are full of sunshine and have a clear sky. Afternoon temperatures are usually around 28°C/82°F. Night temperatures drop to about 19°C/66°F.
Wet season

 

–

November to May
In the Wet season, high temperatures are common, along with great humidity. Afternoons are usually around 29°C/84°F and nights drop to 22°C/72°F.
November & December – November is the beginning of the Wet season, although the exact start is hard to predict. Rainfall tends to be occasional and short (mostly in the afternoon) and probably won't hinder your safari.
January & February – It is further along in the rainy season, and there will be several days with short intervals of rain, usually in the afternoons. Daytime temperatures range close to 30°C/86°F, while night and early mornings average 22°C/72°F.
March, April & May – March and April are the rainiest months. Most days are wet, although it hardly ever rains for the entire day. The average maximum temp is usually 28°C/82°F and the minimum 21°C/69°F.
6. Selous Game Reserve Entrance Fee
Currently, the Selous Game Reserve Charges USD 50 per adult and an extra USD 25 per adult as concession fee making it a total of USD 75 per adult. That is for all persons staying within the Park and the fees are charged for a duration of 24-hour basis.
While staying outside where several camps have been set up in recent years the Selous Game Reserve charged at USD 50 for entry fees plus an extra USD 15 as Concession fees.
7. Things To Do in Selous Game Reserve
Selous Game Reserve is one of the largest reserves in Africa and a UNESCO Heritage site. Selous Game Reserve covers over 50,000 sq km in size. It is part of the protected area in the southern part of Tanzania.
Let us discuss the Activities that are available in Selous Game Reserve:
Boat Safari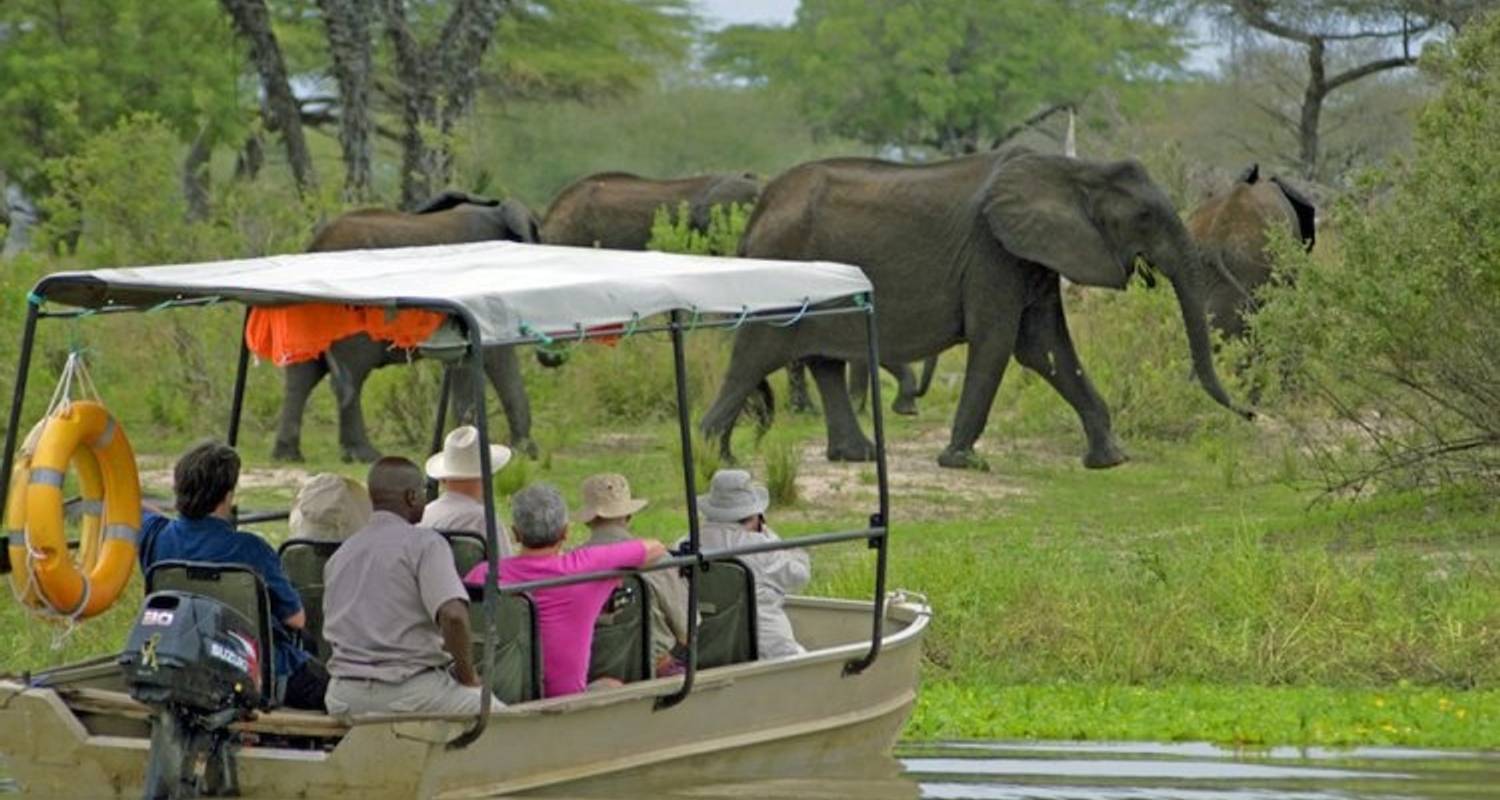 Boat Safari is one of the famous four (4) activities performed in Selous Game Reserve. It is performed on the Almighty Rufiji River that connects into the Indian Ocean.
You will encounter hippos and crocodiles in good numbers. Some 350 bird species have been recorded in the Selous Game Reserve. These are typical of miombo woodlands, and the birdlife supported by Rufiji swampland is of particular interest.
The Boat safari starts around 1600 hours from the camp where you can watch the animals and birdlife. This safari will continue until the sunset. The heavenly sunset will make you feel out of this world with the tranquillity of the river.
You can perform half-day boat safari for around 2.5 to 3 hours (as discussed above) or a full day boat safari that starts around 0600 hours and lasts for around 6 to 8 hours; wherein, you will return to the camp after lunch at the sandbanks of River Rufiji. Next week, we will post a description about the Walking safari.
Walking Safari
Walking Safari will give you a particularly intimate feel for the African wilds. It starts in the morning with the guidance of an armed ranger, takes 2 hours before you meet the driver at the reserve gate. Walking safari offer a good chance of seeing giraffe, zebra, elephant and good birding.
It specifically allows for viewing 'small five' or 'little five animals of the reserve such as ant-lion, elephant shrew, buffalo weaver, rhino beetle and leopard tortoise.
It starts at 0700 hours from the Mtemere Gate, walking inward with an armed ranger leading the group.
Game Drive
The Selous Game Reserve is the largest in Africa, covering 54,600 square kilometres. The reserve gets its name from the hunter and explorer Frederick Courtney Selous. He was killed here during World War 1. Selous is famous for elephants. Other species commonly seen are lions, wild dogs, buffaloes, bush-bucks, impalas, elands, baboons, zebras and greater kudus. It was originally set aside as a hunting area where animals are abundant but shyer than the Northern Parks. Excursion by Safari prepared (4×4) vehicle will permit you to have good photographic opportunities and the chance to explore different sections of the vast park.
The gates of Selous Game Reserve are open from 0600 to 1800 hours. Therefore, the best game can be found before 1100 hours and after 1500 hours, when the sun is not at its peak.
Masaai community visits
While you'll travel to Selous for the wildlife, don't discount the region's human residents. Maasai villages dot the edges of the reserve, and many lodges have fostered community links which support local people and allow visitors an insight into the Masaai's unique bush knowledge and tribal way of life.
Fly-camps
Some lodges are also able to arrange overnight fly-camps but don't be fooled by the name, no aircraft are involved this time. Instead you'll experience a journey by truck or on foot into a remote patch of wilderness accompanied by park rangers and a chef for a comfortable, yet back-to-basics night under the African stars.
Cultural Tour
The cultural tour is performed in the village where the camp is located. The village is called Mwaseni Village, which has local mud-hut houses, schools, shops, etc. The tour will start from the camp, hiking using the inner alleys into the village. The guide will show you the mud-huts and request one of the villagers to permit to view the hut from inside.
You will also visit the government schools. It is preferable to take some gifts for the students such as stationery or candies.
If you are lucky, you might see villagers performing their daily activities such as fetching water, African style grinding and many others.
8. Best time to visit Selous Game Reserve
Most safaris to Selous Game Reserve are fly-in packages from Dar es Salaam.
Julius Nyerere International Airport (DAR) just outside Dar es Salaam is the main international airport and entry to the country. In most cases, your tour operator will pick you up and handle all further arrangements.
Selous is often visited as a safari extension to a beach holiday on Zanzibar Island, or one of the beaches around Dar es Salaam. To accommodate this, there are daily scheduled flights from either departure point to both Selous and Ruaha. Flights from Arusha town, the base for the northern safari circuit, are also available.
Another option is to drive to Selous from Dar es Salaam on a road safari, but the trip is bumpy and uncomfortable and will take a full day. Time permitting, there is the option of a stopover at Mikumi National Park to break up the trip.
Domestic Flights
In most cases, charter flights are booked by your tour operator as part of your tour package. Scheduled flights to Selous can be booked with a domestic carrier:
9. Accommodations in Selous Game Reserve
There are a number of types of accommodations offered with the Selous varying from the budget, mid-range and then the luxury facilities. Below we have highlighted some of the best Accommodations you can stay at.
Siwandu Camp
Formerly known as the Selous Safari Camp, this was the very first safari camp in the Selous to offer luxury accommodations in this part of the reserve. It offers accommodation in 13 rooms and its great location offers its guest an opportunity to enjoy the beautiful scenery and landscape to the fullest. This beautiful facility offers value for money and will surely satisfy every desire of a traveller will to spend some extra dollars on their accommodation.
Lake Manze Camp
Comprised of 12 well furnished beautiful tenets, the mid-range Lake Manze Camp is situated within the prime areas for wildlife viewing the Selous Game reserves along the shores of Lake Manze after which it was named. It will offer you comfort and exclusive service
Beho Beho
Located within the cooler Selous highland in the northern part of the Game reserve, this facility was the very first luxury facility to be established in this part of the Selous. It offers accommodation in 8 permanent bandas constructed using stone and each cottage has a thatched roof to offer its guest a true African ambience.
Sand River Selous
The Luxury Sand River Camp is located on the banks of River Rufiji the lifeline of Selous Reserve. Guests here will enjoy an idyllic ambience from where they can base to explore this vast wilderness. All its rooms are built with stone and have a thatched roof. It offers a variety of accommodation options including 5 standard cottages, 2 suites and a honeymoon cottage (the Rhino House)
Sable Mountain Lodge
This budget lodge is found just outside Matambwe Gate in the northern region of the Selous Game Reserve, it is a good base for safaris continuing to Mikumi as well as Morogoro as well as those arriving in the park by train. This intimate camp offers good hospitality and it offers 8 stone cottages, 3 tented bandas that are raised ib high wooden platforms offering sweeping views of the neighbouring area.
10. Safety and Security in Selous Game Reserve
General Safety
Travel in the Selous Game Reserve is safe in our view. Crime against visitors is rare in Tanzania and the little crime that does occur mostly happens in major urban centres, similar to the rest of the world. When visiting cities during your trip you should take normal safety precautions (see 'Cities & Urban Areas: Safety Precautions' below). When on an organized safari, your guide will ensure your safety at all times.
Malaria & Vaccinations
Malaria is present in Selous GR. You should protect yourself by wearing clothing with long sleeves in the evening hours. Also, apply a mosquito repellent (those containing DEET work best) and take antimalarial medicine. Several vaccinations are recommended as well and can be administered by your local travel clinic or doctor before you travel.
Wildlife Viewing Safety
Following the instructions of your expert guide will ensure your safety while viewing wildlife. Serious incidents on organized safaris are very rare. Also, take note of 'Wildlife Viewing Safety Precautions'.
Conclusion Summary
June to October is Selous' dry season. This time of year offers excellent game-viewing opportunities; waterholes start to dry up and high concentrations of animals are found around the reserve's more permanent sources of water. Cooler temperatures make for pleasant walking safaris and game drives.
THIS IS THE PARK TO VISIT IN SAFARI HIGH SEASON. EVEN AT ITS MOST POPULAR, RELATIVELY SMALL VISITOR NUMBERS MEAN SELOUS RETAINS ITS UNTOUCHED WILDERNESS FEEL.
During the November to May rainy season wildlife disperses, routes become blocked and remote Selous becomes more inaccessible. Much of the available accommodation will close during this season, although the short Jan – Feb dry season can offer excellent off-peak options.