The Serengeti is one of the most famous places in Africa for a luxury safari, and this is no surprise – the area it covers is vast and with everything from rivers, rolling plains, forests and hills one can never get bored of returning there. The Serengeti boasts abundant wildlife and a fantastic culture, with the Tanzanian Masai being prevalent in the Eastern Serengeti.
Luxury safaris here can be a combination of small luxury tented camps and larger lodges. You can always find the right accommodation for you, as there are so many, and contrary to other parts of Africa you can still get off the beaten track and into areas where you will not see another soul.
Serengeti safaris will often take in the famous Wildebeest Migration, which happens there all year, they continue on their mad annual circuit which briefly passes into the Masai Mara between July and October (although this can still be seen from the Northern Serengeti).
Even when the migration is not in certain areas of the Serengeti one can still have some of the best game viewings in Africa, which is what continues to make this one of Africa's top luxury safari spots. Here are our top 14 Best luxury Serengeti safari camps – in no particular order:
Grumeti Serengeti Tented Camp (AndBeyond Tented Camp)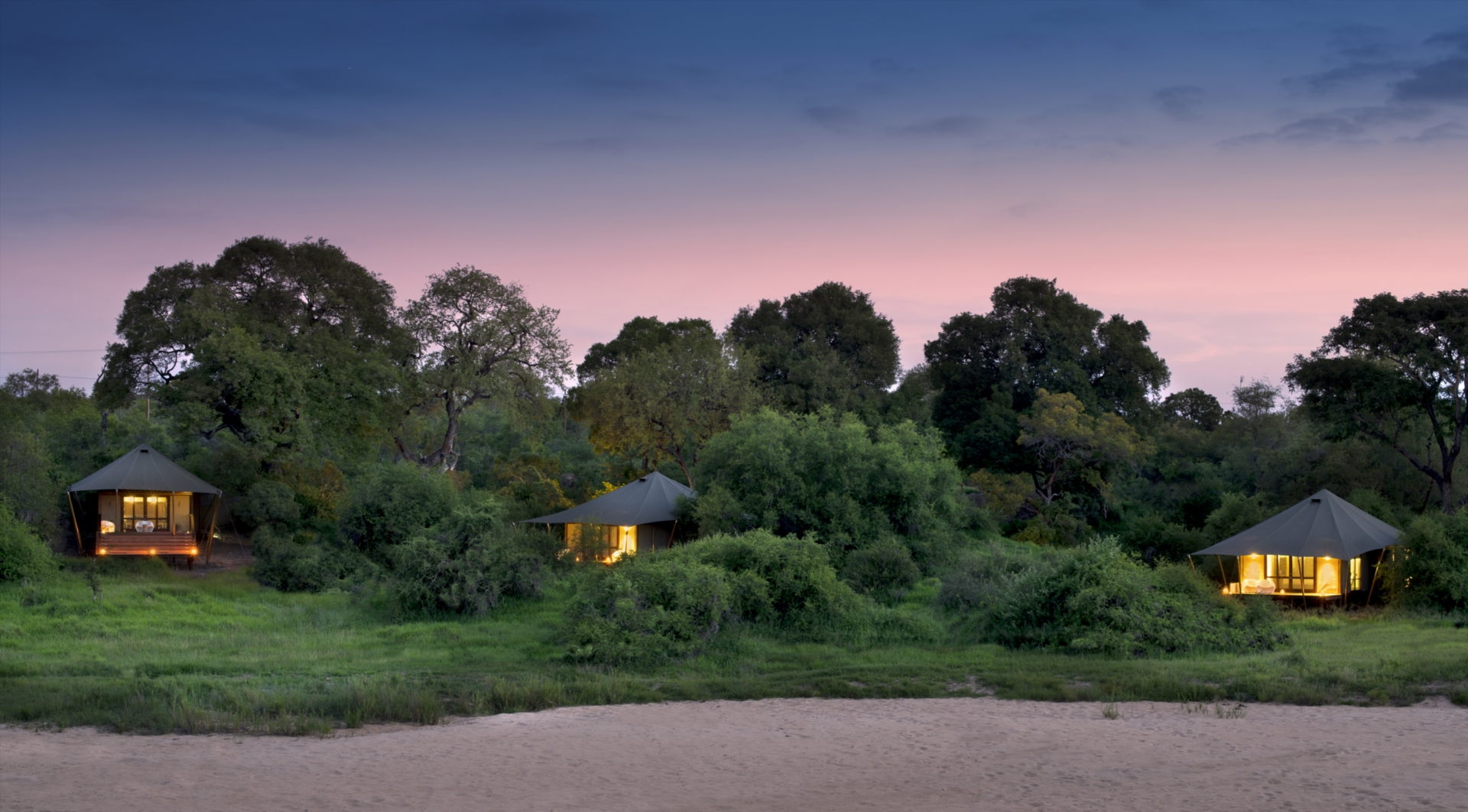 It's ideally situated on the banks of a tributary of the Grumeti River. The proximity to water draw a profusion of the game looking for water and seasonal resident hippo pods can be seen in the river pools, right in from your tents.
Located in the remote western reaches of the Serengeti, there are few other lodges here, and one rarely sees other vehicles. This makes for an exceptional game viewing experiences with the feeling of the ultimate exclusivity.
Spacious decks are perfect for enjoying sundowners overlooking the river and the camp's rim-flow swimming pool provides a view of the seasonal hippo pools below. Meals can be enjoyed in a variety of dining areas and traditional fires known as jikos produce mouth-watering aromas.
The sounds of the African night provides a gentle backdrop to tales of the day's safaris. Game drives from the camp can expect to encounter large lion pride and clans of a hyena, big herds of resident plains game and black and white colobus monkeys, found nowhere else in the Serengeti.
Sanctuary Kichakani Camp
An elegant contemporary take on the classic campaign look, Sanctuary Kichakani Serengeti Camp offers accommodation under canvas with 10 new five-star tents, all of which have been styled with distinction. Each tent has a wooden deck perfect for pausing for a just-brewed cup of Tanzania's finest coffee, and ensuite bathrooms feature authentic bucket showers.
Sanctuary Kichakani Serengeti Camp's two set locations throughout the year are based on the natural migration path offering wildlife viewing from open plains, sweeping grasslands and rocky kopjes. The stars of this seasonal path are wildebeest, zebra, Thomson's gazelles, and the predators that this migratory journey attracts. The Serengeti is known for having the Big Five; cheetahs are a highlight, along with the wild dog, giraffe, waterbuck and impala.
Ikoma Tented Camp
Set in the midst of an incredible scenery of savannah and skies, you find Ikoma Tented Camp, sheltered in a grove of acacia trees. Ikoma has 35 traditional Meru tents, each under thatch with a private veranda overlooking the impressive plains of the Serengeti.
The central restaurant and bar area boasts a large campfire – an ideal spot to unwind with a chilled drink after a long day of exciting game viewing. Ikoma Tented Camp is ideally situated at the border of the world-renowned Serengeti National Park, along the path of the migrating wildebeests between Kenya and Tanzania.

Remote and unspoilt, Singita Mara River Tented Camp meets the demands of an increasingly discerning traveller for an authentic and meaningful connection with nature that leaves behind a lighter footprint. Close to the ground and off the grid, the concept and design of the camp encourage constant engagement with nature.
Located on a dramatic bend in the Mara River within the Lamai triangle in Tanzania, this solar-powered camp provides unsurpassed viewing of the wildebeest river crossings during the annual migration.
Lemala Ewanjan Tented Camp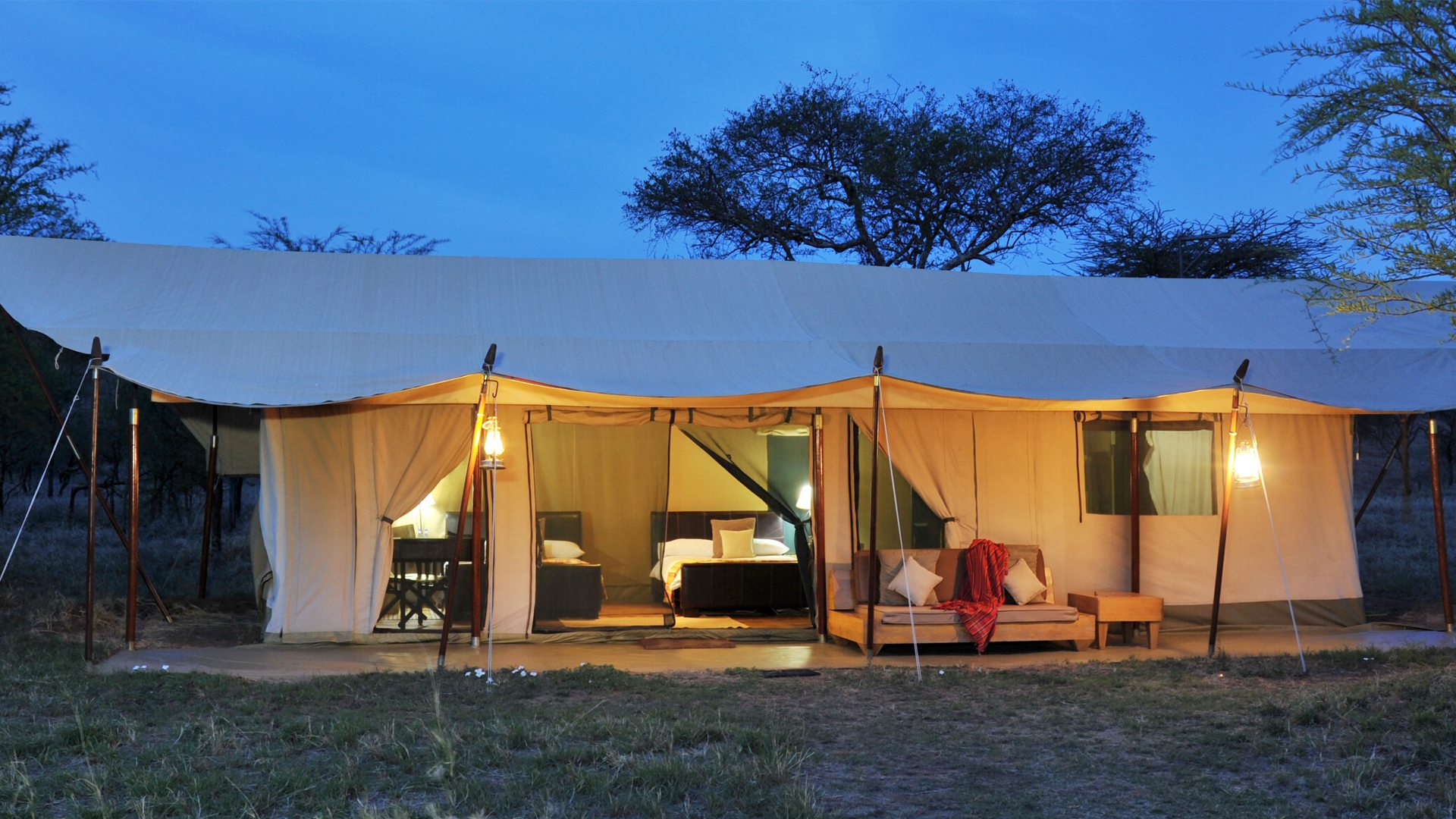 Lemala Ewanjan is set in the game-rich Seronera Valley in a spectacular location in the Central Serengeti, Tanzania. This wonderful tented camp offers spectacular views and is easily accessible to the area's other major game-viewing spots.
Take advantage of the fantastic year-round game-viewing on exciting guided 4×4 game drives. Optional hot-air balloon safaris are also available for a unique game-viewing experience. After a day of adventuring, return to camp to enjoy great service, food and ambience.
In the game-rich Seronera Valley
Offering excellent views of the bush
Great for leopard and lion sightings
Ideally located to view the annual Wildebeest Migration in season
Spacious and comfortable tents
Optional hot-air balloon rides for a unique experience
Kenzan Mara Tented Camp
Located on the edge of the Northern Serengeti wilderness in Tanzania, home to the greatest Wildlife reserves in Africa; the Kenzan Mara Tented Camp offers incredibly spectacular viewing of naturally preserved eco-system. The Camp is enriched with ever-present pleasing sounds and gives you a chance to explore the outdoor wilderness while connecting with hidden gems of nature.
Kenzan Mara Tented Camp is peacefully located and decorated with a tasteful selection of colours and pieces of art to set the tone for cool and soothing relaxation away from the stresses of life. The living spaces of this tented camp are filled with light and with blissful breezes blowing in; these would be the right places for couples to chill and view the awe-inspiring sunset.
Singita Sabora Safari Tented Camp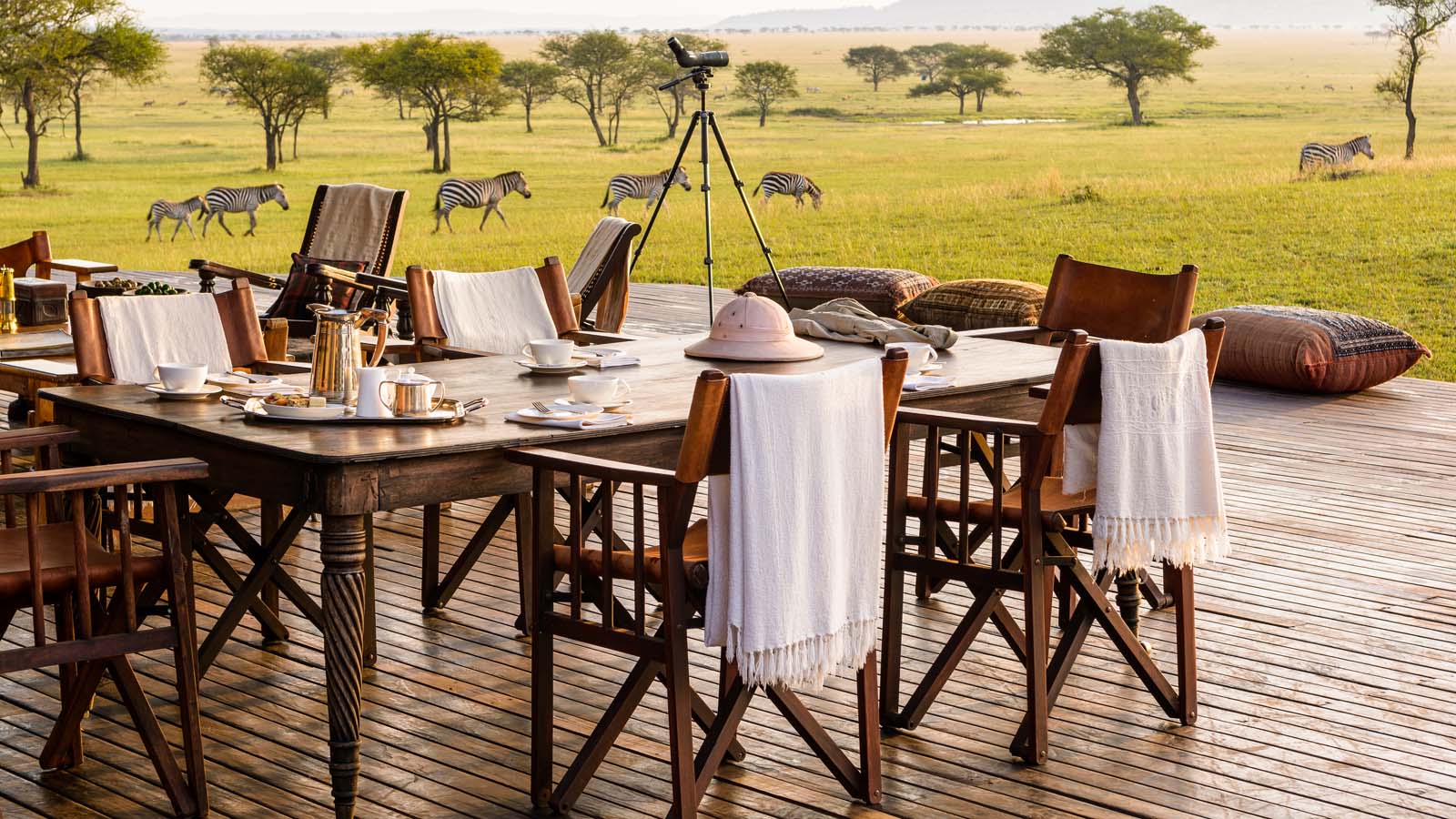 Striking the perfect balance between the spirit of classic tented safaris and timeless modernity, Singita Sabora Tented Camp is located right on the Serengeti plains, allowing guests to immerse themselves in the camp's unrivalled setting and maximising the thrill of sleeping under canvas.
In the main lodge, a unique "Guest Deli" boasts wicker baskets and fridges filled with gourmet bites, from which guests can select treats to enjoy in their suites. There are a separate pool area, two intimate dining rooms and an open-plan bar and lounge – all adding to Sabora's understated look, which emphasises tailored luxury.
Offering superb game-viewing opportunities all year round, the camp is also set on the Great Wildebeest Migration route; and guided game walks on foot further enhance experiencing the Serengeti plains up close. Featuring nine tented suites set close to the ground, the camp echoes the earthy colour palette of the bush, while modern interpretations of campaign furniture evoke the romance of East African adventures.
Each immaculate suite offers sweeping views, a meditation deck, a private fitness area and a secluded outdoor sala with daybeds and scatters cushions from where to marvel at the wildlife passing by. They also boast a beautifully curated kitchenette and dining area.
Serengeti Kati kati Tented Camp
Immerse yourself in nature in this bushcamp, Kati Kati is a mobile camp strategically situated in central Serengeti, ideal for exploring the extensive Serengeti plains. The camp offers comfortable accommodation together with the unique opportunity to enjoy a real safari experience on a camp.
In its comfortable tents, one will feel completely immersed in the surroundings and one can enjoy the rich animal life and vegetation of the area. An original form of accommodation which resembles the old camps of the first explorers in Africa, with all the commodities of today.
Located a two-hour drive along a panoramic route from the Olduvai Museum and the river Grumeti, two of the indispensable visits for all travellers to Tanzania. The camp has been designed to cause a minimum impact on the environment. All of the infrastructures is mobile and the philosophy of the company is not to leave anything behind.
The tents are situated at ground level with a private porch. They overlook the savannah. Ample and comfortable. There is a choice of one double bed or two twin beds. The tents have a bathroom with a bucket shower. The family tent consists of two tents interconnected and a shared bathroom and private porch.
Mbuzi Mawe Tented Camp
Situated 37 km from Serengeti Visitor's Centre Seronera, Mbuzi Mawe Serena Camp offers a restaurant, a bar and accommodation with a patio and free WiFi. The tented camp offers a continental or buffet breakfast. Nyamara Kopjes is 38 km from Mbuzi Mawe Serena Camp, while Thach Kopjes is 44 km from the tent.
Scenically located in a glade, known as 'the place of the klipspringer' (mbuzi mawe), and guarded by three million-year-old granite towers, this luxury tented camp in the Serengeti is unique.
Cleverly located on one of the main annual migration corridors for over one million wildebeest, half a million zebras and gazelles, and their accompanying cast of predators it is also located at the very epicentre of one of the world's most famous national parks.
Heritage luxury tented camp
Heritage Camps and Lodges are a collection of unique and luxury tented camps located in northern Tanzania, at the Famous Serengeti National Park. Serengeti Heritage Luxury Tented Camp provides its guests with the most authentic Africa experience due to its old-school camp ambience.
Sitting snugly in a clearing surrounded by Acacia trees its 13 spacious walk-in tents creates an intimate atmosphere for only 40 guests while indulging them with the amenities of a big lodge, as all tents are equipped with running water, flush toilets, hot and cold water shower.
They also offer nightly campfires where you can warm up while sharing some memories from your safari. The friendly staff will go above and beyond to ensure that you have a wonderful, satisfying and memorable stay. Serengeti Heritage Luxury Camp offers a spectacular view of the worlds great animal migration while it's in town.
Kananga Special Tented Camp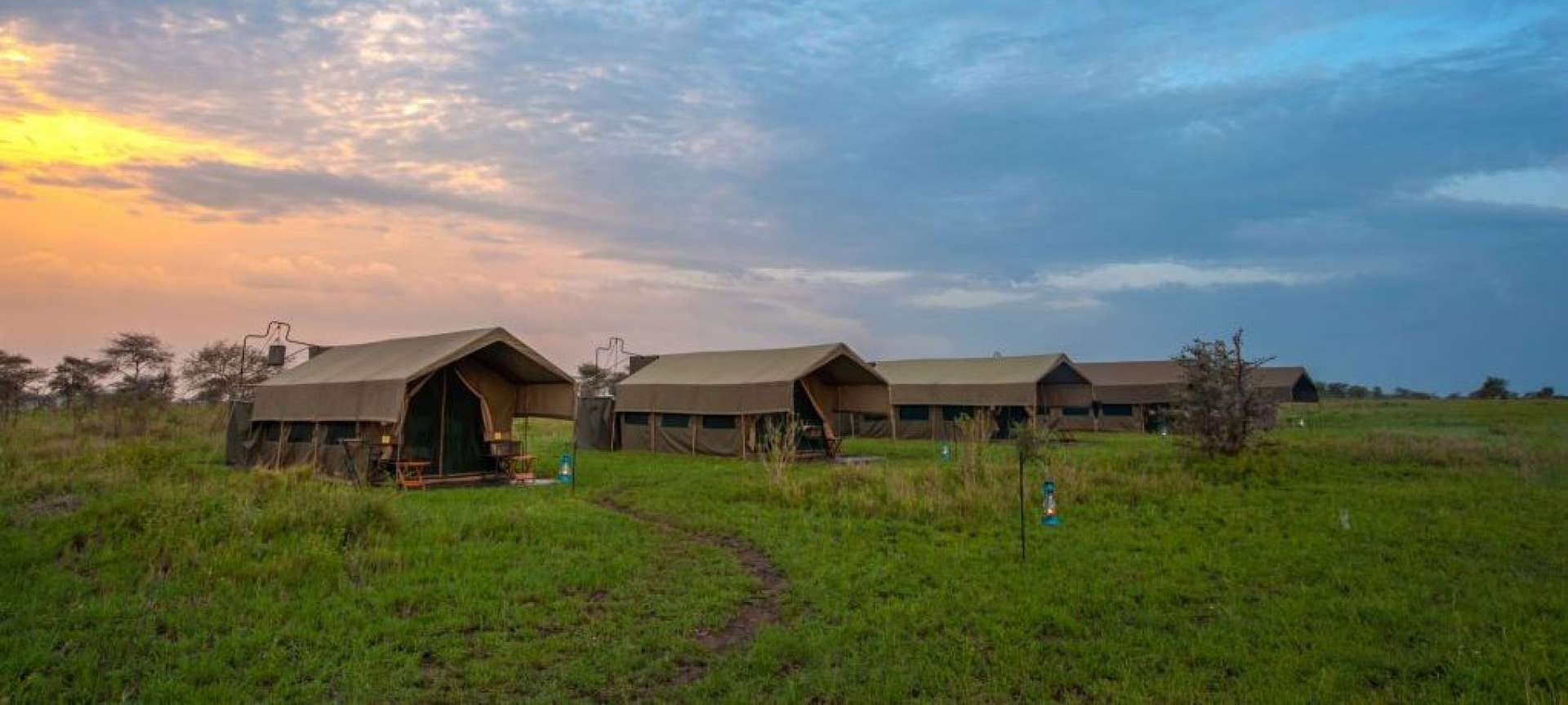 Located in the heart of the Serengeti, surrounded by spectacular views and abundant wildlife, our special tented camp overlooks a beautiful savannah dotted with the emblematic East African Thorn tree.
With Classic or VIP tents to choose from, each tent has its own ensuite bathroom, private verandah and comfortable beds and our exclusive mess tents offer a relaxing atmosphere for dining.
The tents are carpeted and equipped with bedside tables and luggage racks. The bed is dressed in high-quality linen and traditional Masai blanket. There is an en-suite open-air shower and toilet. Each tent is equipped with LED reading lights powered by solar energy.
Kananga Special Tented Camp also includes a terrace. Guests can enjoy the on-site restaurant. Special diet menus and packed lunches are available on request. Guests can hire a 4×4 vehicle with a private driver when requested in advance.
Mbugani Camps Tent Camp
The semi-permanent Mbugani Seronera Camp is ideally located in Central Serengeti and provides serene views of water and wildlife. In addition to the Seronera camp, Mbugani Camp offers a mobile camp that follows The Great Migration of the Wildebeest. The camp is situated in a truly prime location with a wide range of wildlife passing through the camp going towards the turner river which is just behind the camp.
The camps are powered by solar energy and a backup generator to keep essential systems running at all times. From Seronera airstrip to Mbugani Camp is an approximately 30-minute drive away. Mbugani camp is also accessible by road from Arusha on a distance of 345 kilometres which takes approximately 8 hours.
The intimate tented camp comprises of a main lounge and a dining area which offers plenty of sitting plus 14 specious sleeping tents all with en-suite facilities including Eco-friendly flush toilet with showers. The tent rooms offer double bed/Twin beds/Triple beds and Quad for a family with young children.
Bushtops Luxury Tented Camp
A Tanzanian haven for serious safari seekers, Serengeti Bushtops is an oasis of 5-star luxury within one of the world's most magical settings. Picture yourself gazing out over the stunning scenery of the Serengeti. Imagine returning from safari and watching the sunset from the comfort of your tent's private hot tub.
Consider the thrill of watching the annual migration thunder across the mighty Mara River. Or simply revel in the thought of being pampered by your butler and our friendly staff, before enjoying our fabulous cooking and fine wines in the comfort of our restaurant and shared spaces. This combination of safari adventure, first-class facilities and blissful relaxation has delivered Serengeti Bushtops' unwavering promise of Wild Luxury ever.
Ang'ata Camp Serengeti
Open all year-'round, the camp is situated in the central Serengeti in the Seronera area, Ang'ata Serengeti is ideally situated for game drives in all directions throughout the Serengeti all year-round. Large tents and a comfortable lounge will ensure you enjoy your free time at Ang'ata Serengeti.
Our chefs will make sure you enjoy not only the sights and sounds of the Serengeti but also the taste of their outstanding cuisine and will happily organize a bush lunch in the middle of the wilderness, the ultimate wildlife experience just for you.