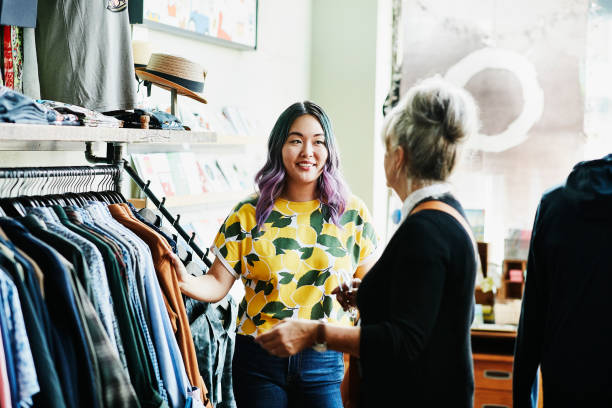 A boutique is a small store that sells a variety of different items. The term can be used to describe a store that sells clothing, shoes, and accessories.
Boutiques are also known for selling handmade items or high-end designer brands.
Boutique stores have been increasing in popularity over the last few years due to the rise of social media.
Consumers are looking for unique products they can't find in big box stores, so boutiques are becoming more popular with customers who want individualized items.
The best things to sell in a boutique store are unique items that are not readily available at other retailers.
These are the must-have items that customers will come looking for, and they're the ones that will help you stand out from the competition.
If you're thinking about getting into the business of selling boutique clothing and accessories, we have prepared a list of several items that are sure to be hot sellers.
---
Related: Top 20 Best Items To Sell In A Gift Shop
---
20 Best Selling Items in A Boutique Shop
If you're thinking about starting a boutique, one of the first things that you'll need to consider is what kind of products you're going to sell.
There are many different categories of products that can be sold in a boutique store, but if you're just getting started it's best to start with something simple.
When it comes to the best things to sell in a boutique store, there are so many options.
It just depends on what you want your customers to buy and how much space you have to work with.
Here are some of the best products that you should consider selling in your new boutique:
1. Handbags
Handbags are a very popular item that people often have an emotional connection with.
This means that they will be willing to spend more money on them than they might on other types of clothing or accessories.
Also, handbags can come in all different styles and colors which makes them extremely versatile when it comes to selling them in your boutique store.
2. Tshirts
T-shirts are another great product to sell at your boutique store because they come in different colors and styles for people to choose from when buying them.
Also, t-shirts make great gifts for people who love buying things that they can wear on any occasion or event without having to worry about how expensive they will be.
3. Jackets
Jackets are the perfect example of a product that can be sold in a boutique store.
They're popular, they come in a variety of colors and styles, and they can be worn both in the summer and winter.
The best jackets to sell are those that are fashionable but not too expensive.
Jackets are also a great way for you to showcase your store's brand!
4. Trousers
Trousers are one of the most popular items to sell in boutiques. They come in all shapes, sizes, and colors and can be worn year-round.
They can be worn for any occasion and they make you look good while doing it! You can choose from different styles, colors, and fabrics when it comes to trousers.
If you're looking for something more casual, then go with jeans or chinos.
If you want something more professional, then try pantsuits or suits instead.
5. Sweaters
Sweaters are one of the best things to sell in a boutique store.
The sweaters you sell can be made from a variety of materials and they can be casual or formal.
In addition, you can find sweaters in a variety of colors, so you will be able to meet the needs of many different customers.
If you are looking for ways to boost your sales at your boutique store, then one option is to sell sweaters.
6. Skirts
Skirts are another great item for women's boutique stores because they're both fun and functional.
They can make any outfit look cute or elegant depending on where you wear them and how much skin is showing underneath them.
Skirts come in all kinds of styles from empire waists to pleated skirts that go all the way down to the floor!
7. Shirts
Shirts are an easy sell in any boutique store. They come in all colors, prints, and styles, so you can sell shirts to both men and women.
You can also sell shirts with matching accessories like hats and scarves.
Shirts are also a great way to sell your brand on the cheap.
If you have a logo that works well with a shirt design, try making some custom t-shirts for your boutique store.
8. Panties
If you have the space, you should definitely consider selling panties in your boutique store.
Panties are not only fun and sexy, but they can also be very profitable.
You can purchase panties from wholesale distributors and resell them at a higher mark-up than what you paid for them.
If you have an online store, then you can also sell panties directly to customers over the Internet.
9. Bras
Bras are one of the most popular items to sell in a boutique store.
They come in many different shapes and sizes, so you can offer something for everyone.
The best part about selling bras is that you don't have to buy them from a distributor or manufacturer.
Instead, you can buy them from local department stores or even thrift stores, then resell them for more money.
10. Customized clothing
If you have a customer who likes a particular article of clothing but wants it in a different color or with different details, then you can customize it for them at no extra cost.
This is especially good if the customer is willing to pay extra for the customization; this way, they can get exactly what they want without having to spend hours searching online for something similar.
11. Socks
Socks are a great way to make money in a boutique store. They're relatively inexpensive and can be sold in pairs or as a set.
The best thing about socks is that they are always needed by the customer and never go out of fashion.
Socks can be sold individually or in sets, such as 3 pairs for $10 or 5 pairs for $15. You can also sell them with other items such as T-shirts or shorts, which are often worn together.
It's best to stock up on socks when they're on sale at places like Walmart and Target.
This way you'll have plenty of inventory to sell throughout the year.
It's also a good way to get your customers coming back.
When someone comes in to buy socks, you can easily upsell them on other items or even ask them if they want to donate money to a cause like the homeless or animals in need.
12. Coats
Coats are a great item to sell in a boutique store. They are functional, and stylish and can be worn all year round.
Coats can be made from different materials so it is easy for you to find something that suits your customers' tastes.
You can choose between wool, leather, and other materials, depending on the type of coat that you want to sell in your boutique store.
For example, if you want to sell fur coats, then you should look for stores that have fur coats for sale at good prices so that you can buy them at an affordable price and make a profit when selling them in your store.
13. Hoodies
Hoodies are a staple of the boutique clothing industry and can be worn by both men and women.
Most people wear hoodies as an outer layer during the fall and winter months, but they can also be worn as an inner layer during the spring and summer months.
They come in a variety of styles, colors, and sizes. As such, they can be sold at any time of the year.
The best part is that hoodies are easy to find at a low cost — making them a great way to add some variety to your store without breaking the bank.
14. Shoes
Shoes are also another product that you should consider selling in your boutique.
Whether it's sandals for summer or boots for winter, shoes are one of the most in-demand items in boutiques across the country.
Shoes can also be sold online or through wholesale channels to other boutiques or retailers.
Choose from trendy flats or high heels in every color imaginable — there's sure to be something here that will fit your needs!
15. Backpacks
Another item that is both fashionable and practical is a backpack.
Whether it's a small backpack or a large travel one, people need them for school or work.
If you can find a supplier who has unique designs with good quality materials at an affordable price point, this will be a great addition to your store inventory.
16. Dresses
Dresses are another item that is always in fashion and can be worn at any time of the year.
They come in many different styles from short dresses to maxi dresses to bodycon dresses.
You can even sell different styles of dresses for different events such as proms or weddings!
Dresses are also very popular among teens and young adults because they're so versatile and easy to wear with other pieces of clothing.
17. Fashion Accessories
Fashion accessories such as scarves, belts, gloves, and hats are also popular items in boutiques.
These types of items can be sold quickly because they are usually impulse buys.
If a customer sees something she likes and doesn't own it already, she'll likely buy it on the spot rather than put it back on the shelf and forget about it later.
18. Aprons
Aprons are another great item to sell in your boutique store because they're cheap and easy ways to decorate your store and make it look more professional.
You can find aprons at second-hand shops or thrift stores for very cheap prices, which means you'll have an easy time making money off of them too!
19. Scarves
Scarves are another popular item that can help boost sales in your boutique shop.
The great thing about scarves is that they come in all types of styles, from simple linen ones to elegant silk scarves that are perfect for special occasions.
20. Leggings
Leggings are also very popular among women who want to look great without spending too much money on clothing items for their wardrobe.
Leggings are comfortable, versatile, and easy to wear — all qualities that make them great for selling at your boutique store!
35 Important Things to Sell in a Boutique Store
Belts
Blankets
Nightdresses
Caps
Cufflinks
Skirts
Tights
Shorts
9. Stockings
Dresses
Dressing gowns
Make-up products
Suits
Belly bags
Shoes
Pajamas
Wallets
Gloves
Ties and bow ties
Suitcases
Bandanas
Hats
Cosmetic bags, make-up bags, and wash bags
Turtlenecks
Flip flops
Jewelry
Scarves
Swimsuits
Purses
Water bottles and thermoses
Nail polish
Watches
Hair clips, hairbands, and hairpins
Leggings and Athleisure
Handkerchiefs
10 Best Wholesale Boutique Suppliers
Sugarlips Wholesale – USA
Bloom Wholesale – USA
Wholesale Central – USA
Magnolia Wholesale – USA
Parisian – UK
City Goddess – UK
Alibaba – China
Aliexpress – China
Chinabrands – China
Indiamart – India